With a successful first month that featured Dami Im and a host of local performers, HOTA (Home Of The Arts) will extend its FIRESIDE programme into August and September with another round of artists, unique experiences and delectable food on offer for Gold Coast residents.


Since re-opening in July, FIRESIDE has featured 16 events, 90 artists and had 1,000 (socially distanced) people attend.
The new run of events (from 21 August to 12 September) kicks off with cult cabaret favourites Club Briefs promising to deliver glorious chaos in an entertaining, 18-plus evening (21 August).
ARIA Hall Of Fame member, Australian singer-songwriter, guitarist Russell Morris will perform his greatest hits as well as a few numbers from his 2019 album 'Black And Blue Heart' (22 August).
Queensland Ballet and Queensland Symphony Orchestra will take over HOTA's Lakeside Room (29-30 August) for a weekend of enchanting and unforgettable performances.
Movie buff? Step right up on 11-12 September as The History of Animation unfolds alongside a concert by master percussionist Ben Walsh and string virtuoso, Shenzo Gregorio. While The Honey Sliders bring their 'party-rock dirty-country' sounds when they perform songs from the iconic film, 'Easy Rider'.
"It was a real privilege to welcome back artists and audiences, and the extension of FIRESIDE enables us to keep giving extraordinary experiences to our community," HOTA CEO, Criena Gehrke says.
"With another exceptional line-up of artists, there's no doubt this will be another sell-out success."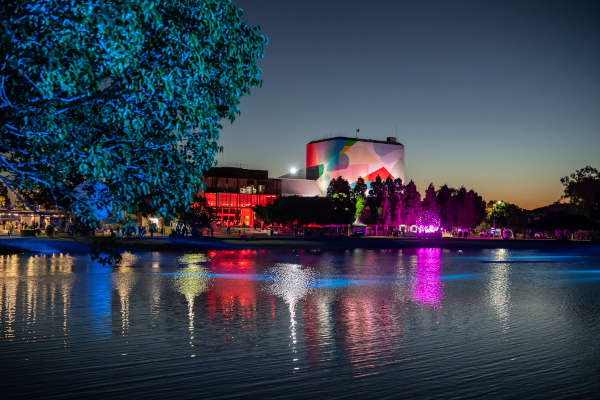 HOTA (Gold Coast)
Those wanting to get creative can enjoy workshops with a twist with the Larger than Life Drawing session (6 September) and Storyfest's Write In The Moment workshop (22 August), where real-life prompt cards starring 'unusual characters living in strange moments' provide inspiration for writers.
Gold Coast artists will battle it out in front of a live audience to create the best artwork in an hour at FIRESIDE's Art Battle (4 September), and those wanting to show off their literary prowess can enjoy an afternoon of Book Trivia on 12 September.
Tickets to FIRESIDE are on sale now.
For more information click here.