The Tivoli in Brisbane continues to reinvent itself.


After opening earlier this month as
a cafe and shop
, the live music venue has upped the ante, with food and music lovers now able to book the space for their very own, intimate in-venue takeover experience.
Before you do your best Elaine "Get out!" impersonation, you should let the details seep in: Commune at The Tivoli will see the art deco venue transformed into an intimate 10-person restaurant with dining, entertainment and theming expertly curated to individual bookings.
That's right, when you book a VIP dining experience you'll get to takeover the entire space.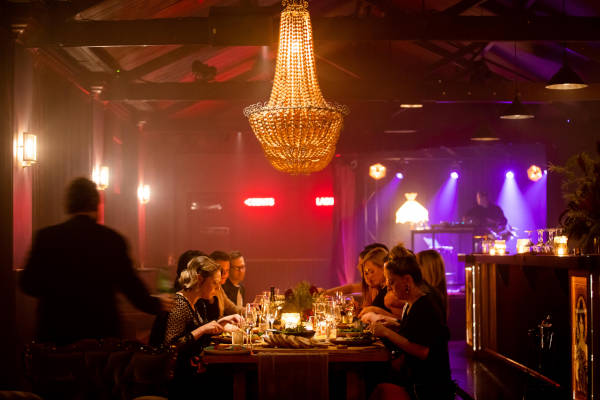 You and your group will receive champagne on arrival, followed by a four-course shared meal from Dalton Fine Dining, and matched wines by Bacchus Wine Merchants. You'll also be able to programme the night's music by curating a personal playlist (via CrowdDJ by Nightlife) that'll be pumped through's the Tivoli's sound system.
Guests will have the option of booking a live band or DJ for the evening as well, which The Tivoli will handpick based on your personal taste.
Other rock star extras include:
• An Access All Areas historical tour of the venue, led by owners Dave and Steve Sleswick, for the history buffs
• Full venue and table theming
• A professional photographer to capture all the special moments
• A murder mystery or poker night
• Caviar and oysters for those feeling extra fancy-free
"COVID-19 has changed the way people are allowed to gather and experience live music, so instead of focusing on what we can't do during this time, we're focusing on what we can," The Tivoli's Co-Owner and Creative Director Dave Sleswick says.
"For the first time ever, we're opening up The Tivoli to intimate groups for an evening of decadence, incredible food, and excellent music. This is a fantastic time to diversify our offering and get creative.
"We've brought in the experts to deliver Brisbane's best food and wine, allowing The Tivoli to do what we do best; bringing unforgettable events to life with the city's best live music, entertainment, and a guaranteed bloody good time."
For more information
click here
or
This email address is being protected from spambots. You need JavaScript enabled to view it.
.