It's perfectly apt to tell a story about a writer, who's been silenced, without words.
Disorientating and confronting, three figures on stage swap the role of the main character throughout the performance.
The dance loosely describes the life of Dorothy Lawrence, a 19-year-old girl who disguised herself as a man, in the army, rode her pushbike to the frontline of World War I to record the stories of the soldiers there, and was ultimately shunned, redacted, and institutionalised.
Initially eerie and harsh, the mood relents as swing music kicks in and the gentlest of comic relief soothes for a short time, with some kind of geriatric character at the side of the main action.
There are cat-and-mouse acrobatics, distortion drawing traditional chaos, physical abstrusions painting exhaustion, and anguish expressing futility and what must have been actual bodily injury.
Yet the performance canvas is splashed with moments of bright thrill, because even in every tragedy it can't be 'every moment of the day' horror. A sparrow on a twig in the trenches, how sunlight hovers, the way a trench coat fits – regal, resplendent and restrictive.
Are you itchy yet? She was. It could have been the army uniform, or the rash of the human condition of war.
What are you looking up for, Dorothy? Is that really where hope resides? Are you even looking for it anymore?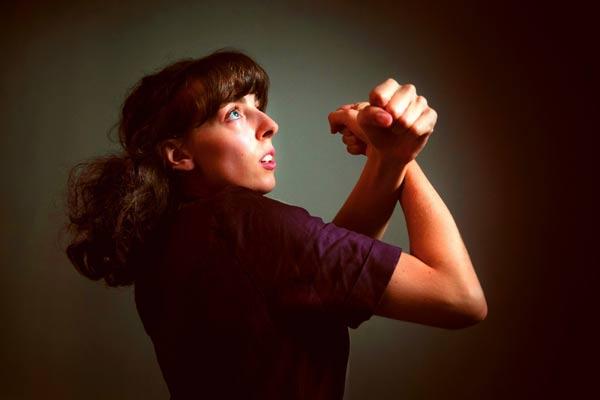 Although we hold a piece of paper to spell out some of what we're witnessing, a crucial element to '(un)written (un)heard' is, in fact, the missing parts.
From Dorothy's writings, only 70 pages remain, and the complete story cannot be reconstructed.
Further questions are begged. Is militant always malicious? Is it tender, or mutant?
The bodies in front of us, showing their backbones, are a reminder that whoever this character was, she was the opposite of spineless.
The costumes and commitment here are outstanding. It seems such an obvious connection now that a military jacket can become a straitjacket, but it's not something I'd connected before.
Salute hard and fall softly, soldier. Thank you for writing your story, even if we may never be able to read it all.
'(un)written (un)heard' continues until 9 February at Girls School (Fringe World).