As a child ballerina, 'Werk It''s Malia Walsh, who is the granddaughter of a clown, bounced off her school classroom's walls and pestered teachers with her exuberance and abundance of energy.


As part of a late-night circus ensemble in 'Werk It', Malia will channel her frenzy into a cheeky performance inspired by the music, fashion, and early morning aerobics routines of the '80s and '90s.
For Circus Trick Tease's Malia, her artistic career began with a chance encounter while working at a pub. The art form, she soon discovered, was an ideal form of self-medication.
"I think that a lot of performers are either OCD or ADHD and it's such a positive way of dealing with somebody who's got too much energy. Before I did circus I was running around annoying teachers and climbing the walls but once you have something like circus to put your attention to, it's a rewarding outcome," she says.
"I know people who have OCD who gravitate towards juggling because it's such an exact science and it's never-ending because it's something that you can always develop upon and you're striving for this excellence."
Mastering the hula hoop, for example, as Malia explains, is a multi-layered form of brain training.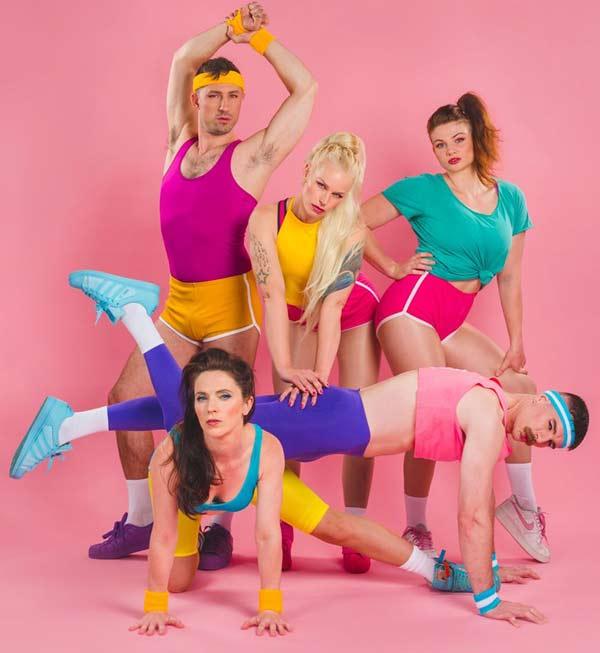 "You first learn how to control your body and then you learn to control your breath and then your face and eventually you learn how to do it in stilettos; there's all sorts of levels. You have to learn how to control your face in front of an audience to make it look as though it's easy but on the inside you're doing 150 sit-ups at the same time."
In 'Werk It', Malia has reunited with the artists she directed in Circus Oz to make tricks that few others have ever attempted before look easy, as she explains.
"It's like a big giant pyramid of skills and inspiration when we get together. You know how, like, when the Power Rangers get together, we all get together into this super Power Ranger.
"We've just brought in a massive giant swing into the rehearsal room and we're spinning around on the swing and jumping on it and all four of us are on it. It's all the fun, and all the joy, and all the danger. . . All at the same time."
"There's a few tricks in this show that not a lot of people would have seen on the festival circuit, especially the swing. It's going to be something else, this show."
The annual Adelaide Fringe, for Malia, is like the circus community's festive season, which is why they are pulling out all the stops.
"Adelaide Fringe to me is better than Christmas and New Years combined; it's all my family, it's all my carny friends, it's when we all get together. It's inspiring and encouraging and terrifying.
"I always like to come with something new and exciting and fresh for Adelaide because you're my favourite audience.
"They always give everything a go. You speak to some Adelaide people and they'll go 'I haven't seen any dance this year, what's on at seven o'clock' and they'll just go and no-one else in the world does that. Everyone's up for something a little bit cheeky and fun."
'Werk It' plays Corona Theatre at The Garden of Unearthly Delights from 14 February-15 March.