ASUS, with their latest Republic of Gamers laptop, seek to simultaneously deliver the grunt necessary for intensive gaming marathons and the portability and convenience of a laptop; to untether the gamer from the darkened bedroom and open a world of possibilities: gaming without limits.
We put this new beast through its paces.
Out of the box impressions

As you lift the STRIX from the box, you are immediately struck by its unanticipated lightness; a computer so powerful shouldn't be this easy to lift.
The heft of some gaming laptops effectively renders them a home computer unless the user has biceps as chiselled as the heroes on their screen. The STRIX weighs in at 2.5 kg, which is heavier than a business machine but sleek for a gaming laptop.
It has a solid and sturdy metal casing and its orange and black design looks sufficiently badass. The RGB LED backlighting and isolated arrow keys are essential for nimble and precise finger work.
Performance
We tested the STRIX's performance with the Novabench benchmarking software, which gave it a Novabench Score of 1294. It should be noted that we used the home edition of this software. 1294 is slightly above average. A higher-end gaming machine may score more than 3000. The 16GB of DDR4 RAM is perhaps the bare minimum that you would expect from a gaming machine.
When you really start imposing demands upon the system, the ROG-exclusive Cooling Overboost system swiftly whirs into action, ensuring efficient cooling. This is perhaps one of the most distinct and advantageous aspects of the machine.
Laptops, as with smartphones, often live and die depending on the longevity of their batteries. A gamer in full flight will not realistically be able to venture too far from a power point for more than an hour, while very light use could be accommodated for a little less than five hours by a fully charged battery.
Who is this computer for?
Gaming is now an internationally competitive sport. Elite gamers analyse the minutiae; much can hinge on a frame per second. This is not a machine for people like them.
It is ideal, however, for teenagers and casual gamers who want assurance that they can insert and install any current game on the market and their device will respond with ease.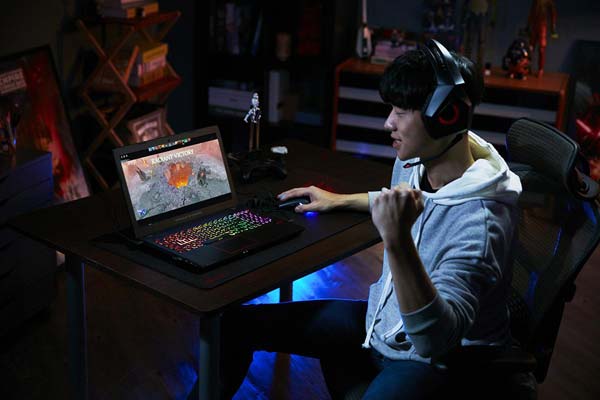 Key features
Features the latest 7th Gen Intel® Core™ i7-7700HQ processor, 16GB of DDR4 RAM, up to 512GB SSD, 1TB HDD and NVIDIA GeForce GTX 1050/1050Ti graphics
Full size keyboard featuring 2.5mm of key travel distance, 4-zone RGB LED backlighting, isolated arrow keys and anti-ghosting 30 key roll-over
ROG-exclusive Cooling Overboost lets you adjust fan speeds, and features an intelligent thermal design for maximum cooling efficiency
15.6" FHD 1920x1080 resolution display featuring 178 degree wide-view angle technology and matte finish ensuring there are no glare or reflections
ASUS ROG STRIX GL553VE Laptop is available now from the ASUS Shop and select channel partners from $AUD 1,899 (RRP).