Brisbane singer-songwriter Sahara Beck has won the 2019 Carol Lloyd Award, which was presented at the Queensland Music Festival launch (20 May).
Born on the Sunshine Coast and a finalist in last year's competition, Sahara is also the recipient of a $15,000 grant that will help her continue to grow her career as an Australian recording artist.
Sahara was the stand-out contender in a shortlist of nominees featuring Ella Fence, Angharad Drake, Andrea Kirwin and Asha Jefferies.
"Every one of these finalists have worked incredibly hard on their music and their art," Sahara says of winning the coveted award.
"Putting yourself and your art out there - it's a very hard thing to do, to keep believing in yourself especially when you have no money in your pocket. It is such an honour to get the acknowledgement from people within my industry but to then have the financial support to be able to continue releasing my music - it is the thing I hold closest in this world."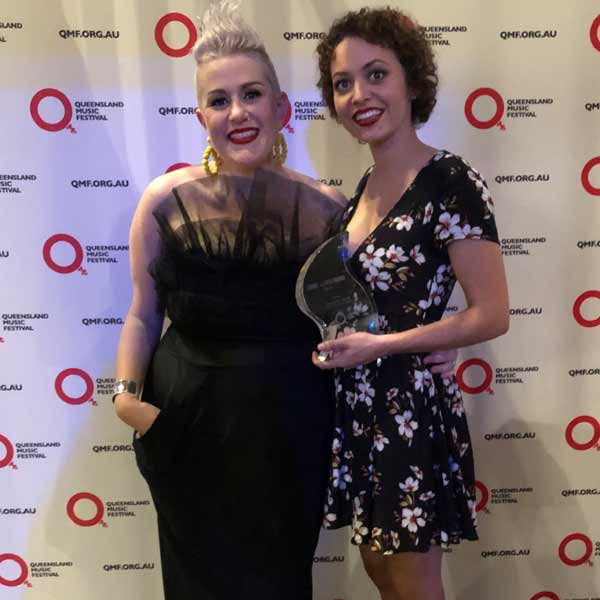 2019 Carol Lloyd Award winner Sahara Beck (right) with Katie Noonan.
The Carol Lloyd Award will pair nicely with the Regional Award Sahara picked up back in March at the Queensland Music Awards, and comes at a time when she is preparing to release the new music she has been working on with producer Tony Buchen.
Sahara has already released two of the singles, 'Here We Go Again' (2018) and most recently 'I Haven't Done A Thing Today', her first single for 2019.
"It's part of a whole bunch of songs I recorded over in LA," Sahara says of her new material.
"A lot of it hasn't been released yet… but it's the sort of music I was ready to make, and it is very different to my old stuff but that's exciting."
Now in its third year, the Carol Lloyd Award is named in honour of iconic Australian performer and Railroad Gin frontwoman Carol Lloyd, and is proudly presented by the Queensland Music Festival.
Sahara Beck performs as part of the 2019 Queensland Music Festival (5-28 July) live music programme.