A bold selection of performances spanning classical to comedy and circus to satire awaits in the 2020 season for Redland Performing Arts Centre (RPAC).
In 2020, RPAC presents another grand year of live entertainment featuring a mix of local, national and international performances and events that will delight and enthral theatre-lovers of all types and tastes.
Those with classical leanings will enjoy the sounds of Queensland Symphony Orchestra conducted by Guy Noble as they take audiences to 'Vienna And Beyond' as well as Orava Quartet delivering a thrilling programme of chamber music firsts. Black Square Quartet will perform a combination of classic and new pieces, while more than 20 dancers will take to the stage of the Concert Hall when Queensland Ballet performs 'Tutus On Tour'.
The season then takes a comedic turn with an exciting line-up comprised of some of Australia's funniest, including a scathing look at first-world problems in 'Spirit Animal' from "over-privileged comedy duo" #FirstWorldWhiteGirls, the stage production of George Atherden's beloved Aussie sitcom classic 'Mother & Son', while Maeve Marsden and Libby Wood take a satirical look at musical theatre's greatest (thinnest) leading ladies in 'Fat Musicals: A Body of Work'.
Drama and '60s hits mix beautifully in 'The Sapphires' when four Indigenous women find themselves trying to spread joy through music, against the backdrop of the Vietnam War. The effects of war on Australian culture are also explored in a different light with 'The One Day Of The Year', where family conflict comes to a head on ANZAC Day.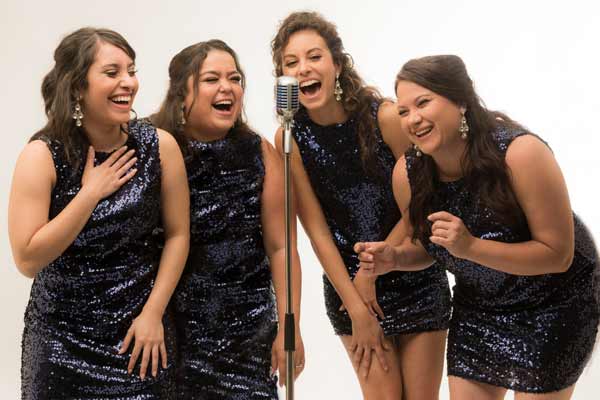 Singer-songwriter
Jessie Lloyd
brings to life the songs of indigenous people who lived on Christian mission and reserves in 'Mission Songs Project', and later in the year RPAC put on their annual NAIDOC Week Showcase. There is also an evening celebrating the music of Australian-based Pasifika and First Nations choirs at the Pacific Choirs Project.
Internationally, RPAC will welcome an extravaganza of contemporary and traditional PNG music and culture in the Papua New Guinea Showcase, while shakuhachi Grand Masters from Japan will perform in concert as part of the Australian Shakuhachi Festival, and Brazilian guitar sensation Chrystian Dozza partners with our own Karin Schaupp for 'Brasileira!'.
Children (and childish adults) have plenty to look forward this season as well, with the next instalment of 'The 91-Storey Treehouse' plus performances of 'The Owl And The Pussycat', 'The Gruffalo's Child – Live On Stage', 'Edward The Emu' and 'Wilbur The Optical Whale'.
For edge-of-your-seat, family-friendly thrills, there's 'Backbone' by Gravity & Other Myths and later in the year One Fell Swoop Circus brings seven acrobats and 30 metres of rope to the stage for the breathtaking 'By A Thread'.