The high-octane rock musical 'We Will Rock You' is set to tour Australia in an all-new arena spectacular from Harvest Rain.
Australian singing superstar Paulini ('The Bodyguard', 'Hair') features as Killer Queen in the show which features Queen's greatest hits such as 'Bohemian Rhapsody', 'Another One Bites The Dust', 'I Want To Break Free', 'Crazy Little Thing Called Love', 'Somebody To Love', 'Under Pressure', 'A Kind Of Magic' and more.
The story is one of love and music. Set some time in the future, live music is banned on earth and the all-powerful Globalsoft Corporation controls everyone's lives, insisting they only hear bland, synthesised pop. But the kids are rebelling, and they need a hero to help them discover their dreams and find the 'live' music.
Starring in the role of Galileo will be Ross Chisari. Audiences will remember Ross from national tours of 'Shrek', 'The Rocky Horror Show' and 'Aladdin'.
Kirby Lunn takes on the role of Scaramouche, direct from the US national tour of 'Kinky Boots' and Australian productions of 'Hairspray' and 'Rolling Thunder Vietnam'.
'The Wizard Of Oz' saw Carly Bettinson star as Dorothy, now she'll be playing Oz. . . A very different kind of Oz for this show!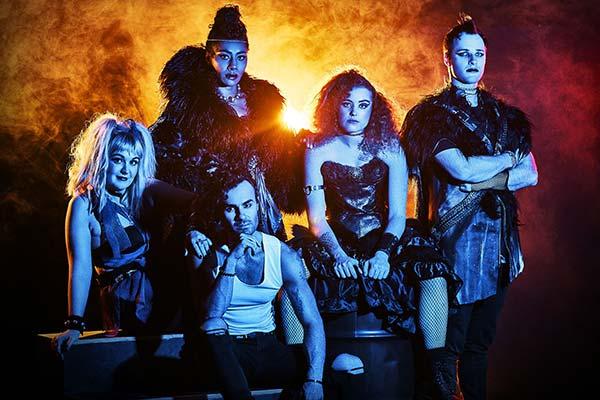 'Mamma Mia', 'Jesus Christ Superstar' and 'Rent''s Chris White will play the role of Brit.
Rounding out the principal cast will be Josh Whitten ('Wicked', 'Grease', 'Rent') as Khashoggi, Grant Couchman ('Footloose', 'The Wizard Of Oz') as Buddy, and newcomers/graduates of the Brisbane Academy Of Musical Theatre, Cristian Robba-Colley and Victoria Roberts.
This principal cast will be supported by an ensemble of more than 500 performers. . . Making this the largest production of 'We Will Rock You' ever staged.
"This show is a celebration of some of the best rock music ever written - it's just hit after hit after hit! For the last two decades, 'We Will Rock You' has played in theatres all over the world," Director and Harvest Rain CEO Tim O'Connor says. "With this new show, we're taking it back where it belongs, in an arena setting with pumping sound and lights and all the energy of a rock concert that we've so missed through the pandemic. Rock is back, baby, and we will rock you!"
'We Will Rock You' Australia 2021/22 Tour Dates
1-2 October – Brisbane Entertainment Centre 14-15 January – Qudos Bank Arena (Sydney) 28-29 January – Adelaide Entertainment Centre 22-23 April – Melbourne Arena 15-16 July –RAC Arena (Perth) 7-9 October – Newcastle Entertainment Centre