Byron Writers Festival has opened an exciting new chapter as it welcomes Artistic Director Zoe Pollock and a new site at North Byron Parklands.
The 2022 festival will feature popular and provocative voices, familiar names and new talents – all set to entertain, and spark vibrant conversations.
International bestseller Trent Dalton, award-winning contemporary artist Ben Quilty and broadcaster/author Indira Naidoo make up just a bit of this year's offering of guests. Also announced is 2022 Stella Prize-winning poet Evelyn Araluen, acclaimed Northern Rivers author Jessie Cole and award-winning author and historian Yves Rees.
This is just a taste of things to come – with the full programme of more than 140 writers, thinkers and commentators to be revealed.
"I am delighted to be bringing a stellar line up of writers and storytellers to the Byron Shire in my first year as Artistic Director. Some of our best authors have published new books since the festival was last live so it's been fantastic fun selecting who to invite. We've got a sizzling line-up to announce in July and a thought-provoking and stimulating array of conversations to share. The authors we are announcing today are a just taste of the talent and diversity we will be presenting this year. In short, it's great to be back."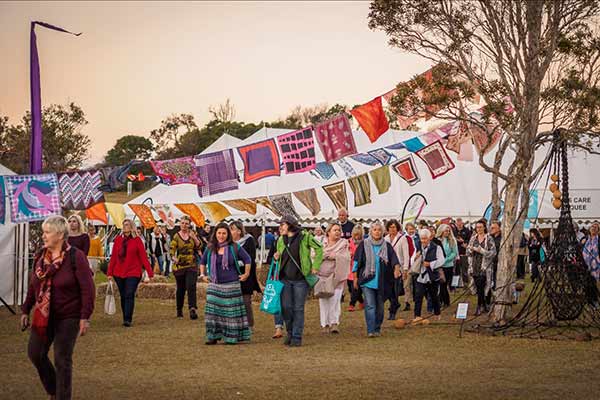 Trent Dalton gained international recognition with his bestselling, semi-autobiographical novel 'Boy Swallows Universe', followed by 'All Our Shimmering Skies' journeying deep into the heart of Australia.
Evelyn Araluen is a descendant of the Bundjalung Nation. She's an exciting, vibrant young voice in Australian writing. Her debut collection of poetry and prose 'Dropper' was awarded the 2022 Stella Prize.
Ben Quilty is constantly critiquing notions of identity, patriotism and belonging. A celebrated war artist, his latest series of work 'Free Fall' revisits the iconic images taken by photojournalist (and cousin) Andrew Quilty, of the 2005 Cronulla riots.
During her 30-year journalistic career, Indira Naidoo has hosted and reported for some of the country's most distinguished news and current affairs programmes. She's the author of the bestselling 'The Edible Balcony' and 'The Edible City'.
Local Northern Rivers author Jessie Cole has garnered acclaim for her novels 'Darkness On The Edge Of Town' and 'Deeper Water'. Her latest book 'Desire' is an unabashed, thrilling exploration of the very nature of desire, a story of vulnerability and strength, loss and regeneration.
Dr Yves Rees is an award-winning writer and historian, a lecturer in History at La Trobe University, co-host of 'Archive Fever' podcast and a presenter on ABC Radio Melbourne. Their memoir 'All About Yves' tells their moving journey of re-becoming, and lays bare the messiness of bodies, gender and identity.
Byron Writers Festival is on from 26-28 August.