The sound, style and embrace of the new Audio-Technica CK3TW earphones make a true statement in a crowded in-ear headphone market.


Packed with Bluetooth 5, microphone and a flush in-ear fit, I was instantly drawn to get these new, in-ear, wireless earphones connected to my phone and head.
There are so many different styles of earphones that have captured our ears and imaginations over the past few years.
Advances in not only Bluetooth® (now at version 5.0), but styling and audio components have seen companies create smaller and more versatile in-ear headphones.
Over the past week I have been testing the CK3TW Earphones from Audio-Technica and I have been really impressed at a various things that have annoyed me about other earphones in recent years.
Headphones and earphones that were once the domain of the professional musician or cashed-up audiophiles have fast become the norm for every day use.
Since they arrived just a few weeks ago, I have been listening to the CK3TW earphones and totally losing myself in the sound.
I have tested headphones for almost two decades now and finding earbuds that don't move or get uncomfortable is rare. I really enjoyed the tight seal and the IPX2 drip-proof rating meant that even when wet or sweaty, the CK3TW simply wipe clean with no worries. While they are packed with technology, the housing of the earphones is small and even in my small ears, felt comfortable.
Noise may be easy for any headphone company to create, but it takes great components and development to create sound that is easy to listen to.
Whether I was running, sitting on a train or walking down the street, the Audio-Technica sound was perfect at low, medium or loud volumes. Tech including Qualcomm ensure that you both hear and sound voice calls or your favourite tracks with perfect clarity.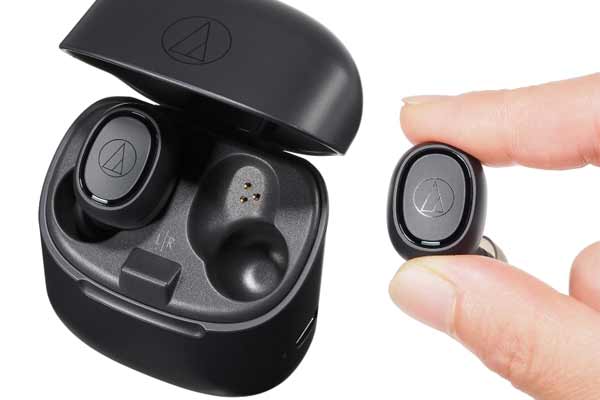 I know that we get free earbuds every time we update our mobile phones, but these suck. They create noise, not sound and should be illegal as I am sure they do massive damage to young ears.
Investing in a pair of earphones like the CK3TW give you instant gratification of greater sound and sexier styling, but also pay-it-forward, ensuring your ears will deliver you clean hearing for the decades ahead.
Powered by the case that contains enough power to deliver 30 hours of charging, the CK3TW earphones are always ready to go. Take them out of the case and they will power on, pair with your phone and last up to six hours of use.
There are also smart sensors included, so the CK3TW know when they are removed/ inserted from your ears and will pause/ play. . . That I really liked, as I listen to many audiobooks and is a silent and instant way to pause and start your audio.
I don't need a stick hanging out of my ear, nor do I like the feel of many earphones, made with solid plastics that never really fit my ears properly. The CK3TW have three rubber caps for your ears, giving you a perfectly sealed fit for any size head and the flush fitting, touch-control outer surface lets you control transport, volume and voice/ phone controls.
Another great option from world leading audio brand Audio-Technica, the CK3TW are available in black, blue, red and white.