Sydney's electronic art community is set to converge on 107 Projects for Electrofringe 2017 (EF17): a free-to-attend melting pot of performers, hackers and artists with skills across a variety of areas in their world.
Through this annual programme of unique exhibitions and events, Electrofringe brings together artists, entrepreneurs, technologists and educators to present innovative works, ideas and creative practices that aim to push the boundaries of art and technology.
EF17's Artistic Director Kimberley Bianca is super keen for the showcase event.
"We're trying to make something somewhere between an art exhibition and experimental music showcase, a hacking meet up and a networking event," Kimberley says.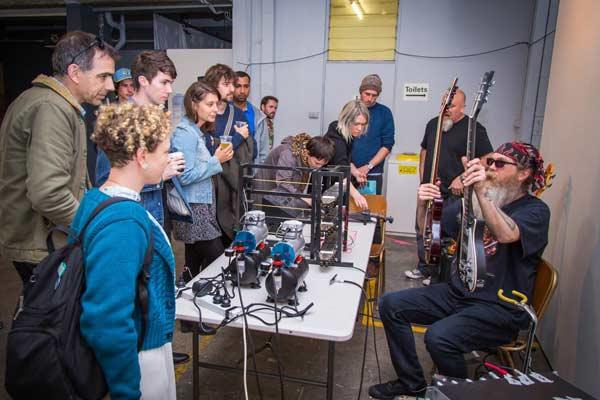 Spectral Om Ensemble will play this year.
"We're trying to generate a new format inspired by events in Europe where there's no hierarchy as such, there's no Festival Director in control, everyone is involved in some way in creating the showcase vision, programming where they want to be and how long they want to play for."
Electrofringe is only on for one day but that doesn't mean limited experiences and opportunities. 107 Projects in Redfern will be open for a huge 12 hours and there's no shortage of things to see and – most importantly – do.
"There will be a central exhibition area as you walk in where there'll be 11 electronic artists exhibiting standalone pieces, from interactive VR [virtual reality] works to video projections to sound pieces where you put on headphones and you listen.
"Then, in the performance space we have eight audiovisual music performances, one after the other. Upstairs we have another co-curated programme where one of our regular artists has actually helped contribute to hiring the venue so he can curate his own music programme."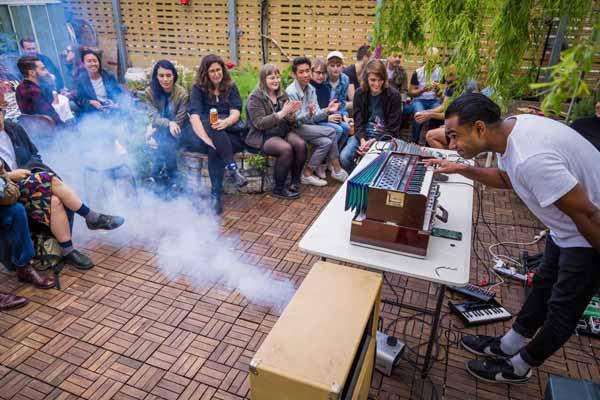 NEWT performing at last year's event.
Exhibitions and performances aside, expect to get your hands dirty, literally. Workshops will teach you how to infiltrate and investigate... Ethically of course.
"This year we have the Platypus Initiative hacker collective from Sydney who will be running two workshops at the front of the space and they're going to do one really old-school way of hacking which is lock-picking," Kimberley reveals. "Then they'll also run a more structured workshop where you will learn how to hijack people's mouses and keyboards through Bluetooth. It's all for fun though!" she assures.
Thirty artists, hackers and musicians will be given a spotlight for the day and this year's Electrofringe is completely open registration with no 'headline acts' as such. This means electronic artists and hackers of all ages, genders, experiences, education levels and cultural backgrounds can apply to be a part of the show.
Not only is the event open to practically anyone, it's also aiming to be as interactive and immersive as possible. When an artist finishes a workshop or a performance, don't expect them to walk away never to be seen again!
"The artists stick around, they talk to people, after a music act ends people come up to the desk and they can talk to the acts... There's a real community spirit there," Kimberley gushes.
"I think electronic art is not a new, weird thing anymore. It's kind of a given in any institution now, it's a common unit that you study, people are working with digital and electronics all the time, so I think it's just really important to display that artists are taking control of the media that people feel so controlled by."
EF17 takes place at 107 Projects Redfern on 4 November.