In the sporting simulation genre, evolution is key.
The latest iterations of proven engines such as EA Sport's 'FIFA' and 'NBA 2K' are released each year like clockwork, incrementally honing and refining the realism each time, slowly narrowing the gap between fantasy and reality.
With 'AFL Evolution', Tru Blu Entertainment and Wicked Witch Software have laid strong foundations, delivering a game that is a welcome and enjoyable outlet for footy fanatics but that is not without faults.
Graphics
Much care and attention has been devoted to creating faithful and realistic renderings of the players from each club; it is all there: Tex's mo, Buddy's tatts, Dyson Heppell's surfie mop. Each club has an array of alternative strips, while the more flamboyant stars from each club have appropriately laced up in flashier pairs of boots.
While each player's external shell is distinct, there isn't as much differentiation regarding their movement and playing style. Some guys take high-flying speccies when their feet never leave the ground in real life marking contests; my ruckman consistently gathered more possies through the midfield than my ball-hungry midfielders.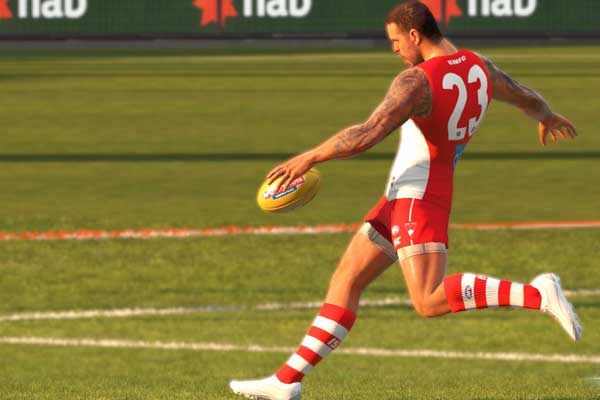 For the marquee names, adding custom animations such as Buddy's natural arc while kicking for goal would heighten the realism.
Gameplay
This is not a game where you can button mash, haphazardly punting chaos balls into your forward line; marking contests are fierce and take some time to master. It is vital to gain front position and time your leap. If you advance to the higher difficulty levels before grasping this skill, you have a flogging coming your way.
There is a learning curve before becoming proficient at some skills, such as evading tackles and accurately kicking out after an opposing team's unsuccessful shot on goal. The challenge simply makes hard-won possessions feel more valuable.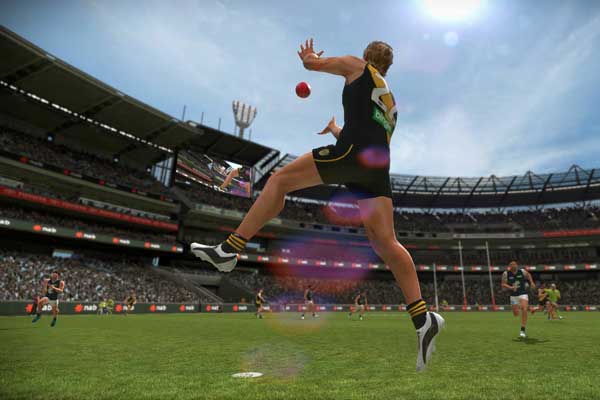 There are some glaring gameplay deficiencies, though. In the modern game, interchange-bench rotations are essential. The game's automatic interchange function does not work, while the manual swapping of players also suffers from glitches. Hopefully this can be rectified with a patch.
Presentation
Dennis Cometti's recorded commentary for the game eases the withdrawal symptoms arising from the play-by-play doyen's recent retirement from television. His witticisms, delivered with his customary panache, provide amusement no matter how often you hear them.
Matthew Richardson's contribution is less inspiring. While the content of the recorded commentary is entertaining, often the content does not properly align with the events taking place on the field, which can be jarring.
Longevity
'Evolution' grants access to every rung of the professional footy ladder. You can be an under-18 rookie on a quest to be drafted; you can be an AFL-listed player seeking to chase the Brownlow; or you can be an over-stressed coach or CEO, pouring over balance sheets and scrawling tactics on a whiteboard.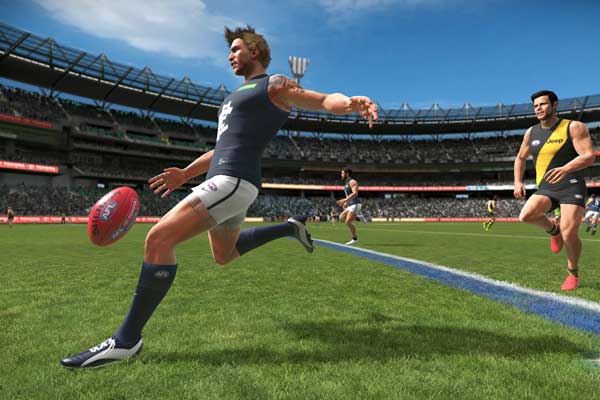 Fans can recreate glories of yesteryear through the player-creation function. The diversity of gameplay options, when combined with the challenging gameplay, ensures this is a game that has a shelf life at least as long as the gruelling AFL season.
Bottom Line
On the evolutionary scale, this game is neither a monkey or a modern Homosapien. It is better than most if not all AFL games that have preceded it. But work is needed before it can confidently sit beside the simulations at the apex of the sporting genre.
'AFL Evolution' is available now on PS4 and Xbox One.
Click here to win a copy of 'AFL Evolution'.