On a warm, January night (27 January) in Brisbane, the day after Australia Day on what should be a sleepy recovery for most, The Tivoli embraces a completely sold out and ready-to-go crowd who have fronted up for their long-time Queenie, Polly Jean Harvey.
PJ Harvey's most recent album, and the premise for her current tour, 'The Hope Six Demolition Project', draws from several journeys undertaken by Harvey, who spent time in Kosovo, Afghanistan and Washington D.C. over a four-year period.
Image © Charlyn Cameron
Her vast catalogue of work and diverse vocal and instrumental style have changed theme and direction time after time, through so many beautiful stories so passionately and poetically told.
Click here for more photos.
PJ Harvey's latest album proves that she is a master of her talent, a poet and a storyteller of the world, painting pictures of darkness and light, love and emotion, with strong, political force and grace.
PJ Harvey has always been a definitive force in rock music and witnessing her perfection live on stage is a now reminder of her absolute and unquestionable talent. The show begins in darkness, and backed by a glorious nine-piece male band, made up of extraordinary musicians and indisputable masters of their instruments, including long-time friend and Bad Seed Mick Harvey and life-long collaborator John Parish.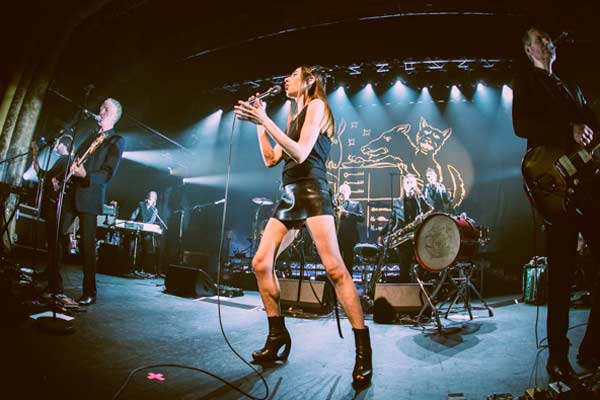 Image © Charlyn Cameron
Her band walk on stage in procession to the sound of a marching beat and somewhere on stage the beautiful Polly Jean is hiding in the shadows, playing a brooding and deeply resonant saxophone. As she steps from the darkness into the light the first song begins to play, 'Chain Of Keys', setting the tone for what is to be an emotionally beautiful, dark and powerful live music performance.
The performance is dominated by the new album and features glimpses of 'Let England Shake', 'To Bring You My Love' and 'White Chalk'. Many well-known songs are avoided and an unexpected lack of PJ on guitar was overcome by powerful brass, percussion and fiercely powerful vocals.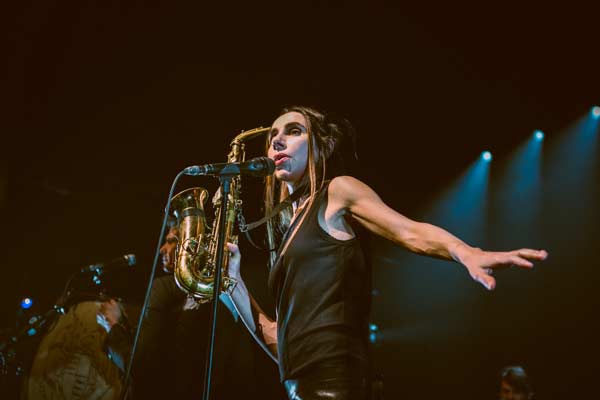 Image © Charlyn Cameron
PJ conducts her stage with open hands like a princess wearing her usual black and leather with feathers in her hair, and somehow looking almost exactly the way that she did in in '90s; stunning and effortlessly feminine.
Her vocal style has clearly evolved from her earlier albums and she pierces the room with her extraordinarily strong and controlled voice. The sound is unmistakably sexy and dark, leading into brighter melodies and backing vocals performed by her band singing in unison in a somewhat demonic style.
Her music is beautiful and poetic and every word is full of emotion, light and shade, vulnerability and feminine conviction. Her voice is reflective of a traditional folk song-style, while her band bring a darker vocal and instrumental component; my first thought was a modern day Kate Bush fused with Bowie's 'Black Star' album.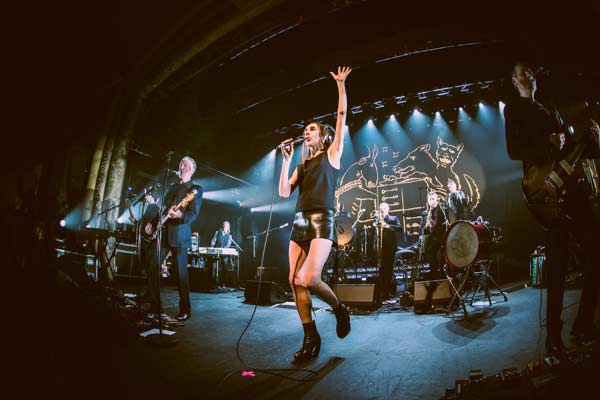 Image © Charlyn Cameron
'Ministry Of Social Affairs' from the latest album is a spectacular highlight of the show, as all ears turn to the saxophone and all of its glory. The beat is made up of a dirty and bluesy repetition, while three saxophones including one for PJ, destroy the stage with a screaming, dark, sexy and disjointed melody.
The song is overtly manic and wild and showcases the band's extraordinary talent. PJ wraps up the night, and the second last show of her Australia tour, with an encore performance 'Highway 61 Revisited' and 'Is This Desire'; her beautiful vocals soaring through The Tivoli and the audience growing more energised and perfectly in love, as the show draws to a climatic close.
Click here for more photos.