As overheard from one theatre goer at the end of the evening "That was brilliant! I loved it... But it was totally creepy, right?" Right.
'
Wondered
', by Elodie Boal and performed by the Mira Ball Theatre Company, is indeed truly flesh crawling. A riff-off 'Alice In Wonderland', the short piece (it is only 45 minutes long) tells the tale of what happens next, after the end of the original story. The play was accompanied by a tea party for the audience at the beginning of the night, with pre-show entertainment.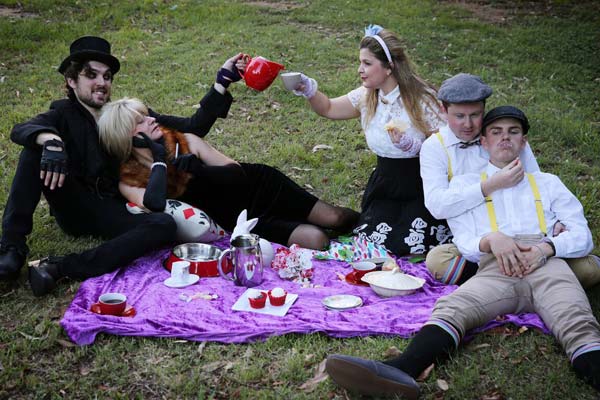 In the single scene, Hatter is sitting with Ches (Cheshire cat) and the Tweedles (Dum and Dee) at a tea party, waiting for Alice to arrive. When will Alice get there? When she arrives. And when will that be? When she gets here, etc.. The dialogue is dexterous and witty, with the Tweedles speaking in rhymes to the deep annoyance of Hatter.
A side note on the Tweedles, they are disturbing, and oddly hard to watch. Sitting on the floor, legs intertwined, hands grasping thighs, and sucking on the same lollypop, it was difficult to tell if there were twins or publicly-inappropriate lovers. Not that it mattered, they were meant to be too close for comfort, and slightly off-putting. Gary Farmer and Jonty Martin were fantastic in these roles.
Elodie Boal, the award-winning writer, director and star of the play as Alice, is obviously multi-talented and impressive, but the stage truly belonged to Reagan Warner as Hatter. Get the man a ticket to Broadway or London's West End; he was wonderful (no pun intended). Fully committing to the part of Hatter, at turns oozing charm and charisma then dropping his voice an octave as he muttered murderous rumblings from a face devoid of all expression, he was a ghoulish sociopath.
As guests dropped like flies, victims of their murderous host, the audience is left wondering if we were indeed transported to a Wonderland dystopia, or into the mind of a sanatorium patient, guilty of killing his friends at a dinner party. The end clearly haunted the audience as they filed out of the theatre.
'Wondered' has now completed its run at the Brisbane Arts Theatre, but if it happens to be playing again it is worth the visit. While not suitable for children, it won over 40 awards on the South East Queensland Drama Festival circuit in 2015, and the performances of the Mira Ball ensemble clearly demonstrate why.