When people diss disco music, it's easy to forget one crucial element that made it so powerful in it's heyday – it had to be LOUD.
'Velvet' presented the music in its natural habitat and coupled with the stunning outfits, conceived by James Browne, the crowd were in for one hell of a show. The tone was set with the DJ (Joe Accaria, also the Music Director) spinning Chic's 'Open Up'. Wearing a Daft Punk-style visor, he also provided tribal like drumming on his drum machine to accompany the breathtaking 80-minute tour de force of disco classics.
The dazzling light show Matthew Marshall had put together heard gasps from the audience. It's clear that Joe has a genuine love for Chic as three of their songs made an appearance. He cleverly morphed their timeless 'Le Freak' with 'Chic Cheer' for the incredible gymnastics Mirko Kockenberger displayed.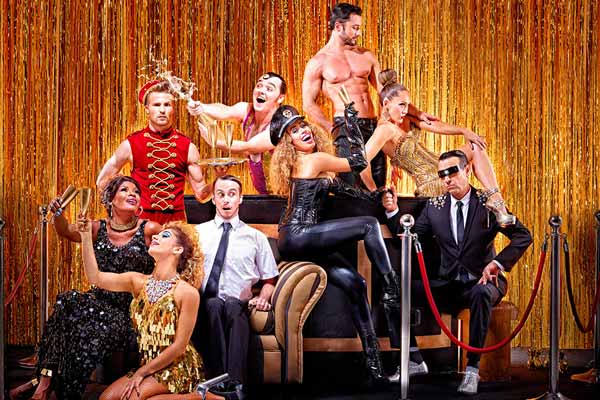 First balancing upside down on a suitcase, he soon received roars of approval as he wiggled out of his trousers down to his briefs. He then balanced on a foam roller sandwiched between three suitcases and with one hand, slipped himself back into his pants.
Rechelle Mansour and Chaska Halliday, clad in gold, took to the stage and sung backup throughout the show. They utilised hula hoops as they sung 'Boogie Wonderland' and it was at this point Craig Reid entered the stage, providing one of the show's most memorable moments. Looking like a novice from the audience wanting to try out hula hoop for himself, his pedestrian clothes and clumsy moves were so convincing. After a couple of twirls, he mastered it.
Not being the most svelte of lads, it was the next move he made that wowed an already high spirited crowd. 'Shake Your Groove Thing' was the most appropriate song to accompany Craig – he ditched the office clothes and stripped to a pink jumpsuit. Gyrating with seven, flashing hoops around his waist, this was truly awe-inspiring.
The show had no dialogue but the premise, it seemed, was its main star Brendan Maclean was a naïve guy (think Ryan Phillipe in '54') stumbling across a boogie wonderland he wasn't quite comfortable in and his journey into becoming himself.
It was then
Marcia Hines
graced the stage, firstly singing the mellow 'Never Knew Love Like This Before', then turning up for the camp for a medley of 'It's Raining Men' and her own 1977 smash 'You'. In a snug, gold glittery dress, it was clear Marcia suited the role of the penultimate disco diva perfectly.
Using a pulley to catapult themselves into the air, Emma Goh and a leather clad Stephen Williams contorted themselves around each other with stunning co-ordination to the relentless soundtrack.
Marcia and Brendan warbled 'No More Tears (Enough Is Enough)' which had the 300-strong audience grooving. But it was the haunting acoustic version of 'Stayin' Alive' sung by Brendan that sent chills down the spine and completely changed the song's vibe. Allowing him to fully showcase his stunning vocals, it provided a brief respite from the beat. Looking forlorn, and comforted by Rechelle, he was soon brought out of his funk into the funk for Donna Summers' 'Last Dance' which Marcia sung with gusto. Assuming that would be the finale, the cast came out to the strains of 'Disco Inferno' and showcased Lucas Newlands amazing choreography as they line-danced to a standing ovation.
'Velvet' performs Queensland Performing Arts Centre from until 8 May.


★★★★★