Brisbane theatre-maker Margi Brown Ash presents two plays from her Belonging Trilogy, 'He Dreamed A Train' and 'Eve' at Brisbane Powerhouse.
The first work presented is the personal 'He Dreamed A Train'. Opening on a dusky and bare lounge room, a frustrated Margi (playing herself) enters to give the place a tidy. Margi talks of her brother's dream of building a train from an old plane he bought, but the dream slowly dies as he is diagnosed with an illness that slowly deteriorates his body. Meanwhile, a young man enters – a younger version of her brother (played brilliantly by Margi's son, Travis Ash), or rather her memory of him.
Margi's memories of her brother come to life as the two recreate loving and painful recollections. The younger version leaps on tables as he excitedly tells legends of dragons while clutching a fire torch. However, the older version that Margi speaks of is slowly losing his mobility, barely able to speak, but too stubborn to accept help, even when lying bleeding on the street.
Margi's mourning to anger come to life with the help of some stunning projections that make paintings melt and doubles of the two appear. It's mesmerising to see the projections work as they open a whole new world of special effects in live theatre. But it is Margi's performance that really brings the play to life, as she mourns the dreamer her brother was, rages over the great divide between them, and understands who he is now.
'He Dreamed A Train'
The second performance for the evening is 'Eve', an imagining of later life of the author Eve Langley. The stage is now the interior of a dirty shack in the bush. When Margi as Eve appears, we are introduced to a comical character typing away in her bathtub. Laughs are induced as she goes through multiple locks on her door, plays characters and confesses she isn't mad, but was institutionalised.
As the play goes on, cracks emerge. Eve confesses she dresses as a man to be taken seriously as a writer. She incites sympathetic groans when her husband demands she be a normal wife. We hear her resentments at being a mother and wife, at men who are able to achieve and those who locked her away for being different. Then, we see the rage of the housewife.
The play has less of an arc, and more of a descent into one woman's hell. Margi's performance has emotional depth, showing a woman who isn't mad, but driven mad by society's rules. At times it's difficult to watch – describing child murder while her son Travis, who provides musical accompaniment, is particularly hard – but the raw emotion on display is captivating.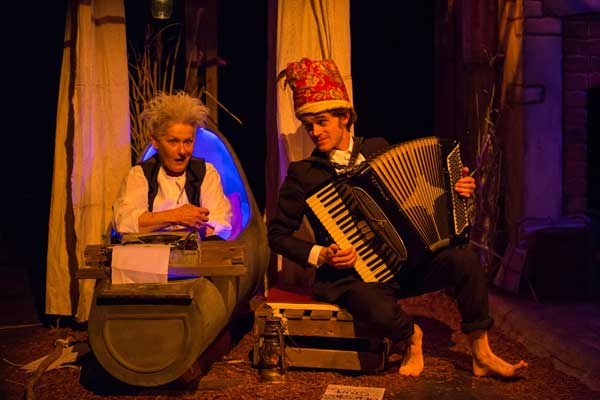 'Eve'
Introducing the plays, Margi gave the provocation, "What if this is where you belong?" Even as her characters struggled to find if they belong, both her and Travis' brilliant and difficult performances made us feel welcome in the theatre. What does belong are 'He Dreamed A Train' and 'Eve'; two incredible productions that deserve to reach the heights their characters dream of.
'He Dreamed A Train' and 'Eve' play at Brisbane Powerhouse until 16 July.