Remakes are popular, but they're hard to get right.
Whenever you take a pop-culture icon and try and revamp it, it runs the risk of annoying the fans, and those who haven't really seen the original, but know the references and memes enough to know how it's meant to look and feel.
It can be hard enough to sell an updated version of a movie or show, but to try for a live performance with an all new cast? Even with John Cleese at the writerly helm, can you really capture the look and feel of a show like 'Fawlty Towers' on a single stage? I'm a little surprised to say that the answer is yes.
'Fawlty Towers Live' is a remake done right. It gleefully maintains the character of the original show, rather than trying to shoehorn it into the modern world. It's a retro feel without feeling kitsch or overdone, populated with actors who are clearly enjoying their work.
The set is phenomenal, managing to capture the constant motion of life in a hotel in a surprisingly small amount of space. The behind the scenes work in designing the sets and costumes had to have been epic, and it's a staggeringly impressive effort.
There's always a risk that a new cast can never live up to their more nostalgic peers. And when you're filling a role made iconic by John Cleese, it's got to be an intimidating prospect. But it's the cast who truly make 'Fawlty Towers Live' a success.
Stephen Hall absolutely nails his portrayal of Basil Fawlty, managing the balance between hyper-angry snark, sympathetic lunacy, and visual humour like he was born to play the role. In fact, it's hard to find fault with the casting or the cast's portrayals.
Blazey Best makes for an engaging, dynamic Sybil Fawlty, with a laugh that could stop traffic and a commanding presence you can't help but love. Aimee Horne's portrayal of Polly Shearman is a warm and soothing balm to Basil's raging, played to utter perfection.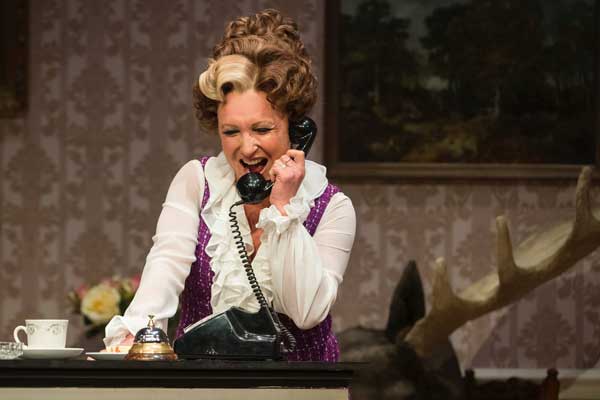 Blazey Best portrays Sybil Fawlty - image @ Facebook
But it's Syd Brisbane who so often steals the show as Manuel, bringing the laughs with impeccable comedic timing, and a knack for throwing himself wholeheartedly into the iconic role.
Usually, it's easy to remember that a remake is a deviation from the original. But here, at least, it takes far too little time to forget that you're even watching a remake of an iconic show. 'Fawlty Towers Live' easily blurs the line between the old and the new, making for a captivating few hours.
This is the sort of remake where it's abundantly clear that everyone involved is respectful of the original work, and careful to keep from muddying the waters with reinterpretations and corrections. If you disapproved of Basil's violent temper in the original, you should go into this knowing that he hasn't found his Zen or adopted a pacifist approach to life.
The post-war mistrust of Germany gets a workout here, too, if only a little. But given the era in which 'Fawlty Towers Live' is set, having an English-based group pointedly ignoring the war and its impacts wouldn't make narrative sense.
Of course, if violence, slapstick, or post-war tension don't make for an enjoyable narrative, this might not be your cup of tea. But if you like your comedy in the realm of the farcical, British and fun, this is certainly a great way to spend a night.
'Fawlty Towers Live' runs at QPAC (Brisbane) until 22 January.