Earth man Xavier Rudd has a new album – and it's catchy.
Backed by his nine-piece United Nations band, Xavier's new, heavily reggae-influenced sound brings together musicians from across the globe, representing the diverse cultures of Australia, indigenous Australia, South Africa, Samoa, Germany and Papua New Guinea. The release of Xavier's eighth-studio record, 'Nanna', will coincide with a national tour in March and April, including Byron Bay's Bluesfest.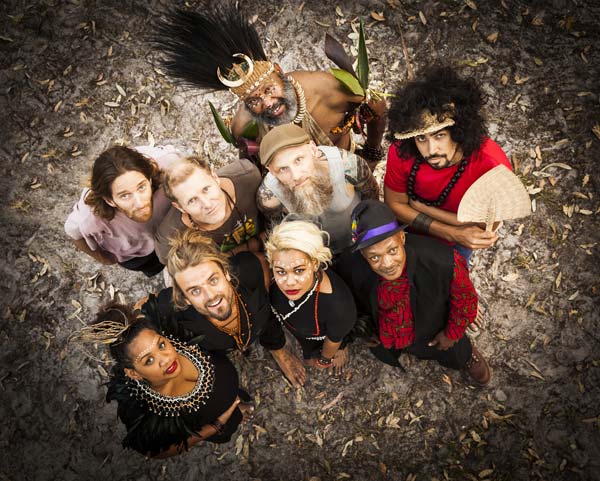 The United Nations band brings a slew of new sounds to Xavier's usual one-man band including: guitar, bass, drums, percussion, keys, horns, flute, saxophone and backing vocals. It's rootsy, reggae and at times a little Blue King Brown-esque.
While there's no stomp box, Xavier's iconic didgeridoos remain. Beyond that, however, most of it is a pretty new sound, he says. The new-look band is symbolic of the message, "that all people of the world can come together and return to spirit, respect the ancient ways, and protect the earth and the very essence of creation," he says.
'Nanna' extends on this premise. "'Nanna' represents all of our nannas," Xavier explains. "I called it that because all of the band members come from different cultures/ stories, and we have been sharing those stories a lot, through the process of the record. The album lyrically focuses on creation and that reproductive idea. So, this is dedicated to my nanna and the old grandmother spirit that exists within all of us."
Xavier says his music doesn't get too political, but makes people think beyond societal norms. "I just like to form questions; I like to put questions in people's minds. Maybe it's a bit of a riddle, but if people take the time to think about the riddle, it might force them to go a bit deeper.
"I feel that human beings have become quite blocked from our natural source as an energetic species of the earth. Through religious conditioning... there have been blockages that have come about through that stuff. It's about settling that ego down and looking at the bigger picture that is very magical.
"A lot of human beings are stuck in the mind of the time. It's about returning to that simple, stripped-back, energetic connection with the land, which can be as simple as watching the flight path of a bird, and through giving thanks, and considering ourselves as equal. It's a nice concept for anyone to do even for two minutes a day."
Xavier says many of his lyrics come pouring out of him when he is surfing, running or practicing yoga, but also when he is spending time with the land. "I spend a lot of time in beautiful places; in the bush and on the coast. I like to be away from people and connect to the land and my feet. I also like to spend time with loved ones, and just give thanks for how lucky I am.
"I write a lot of music when I'm active. A lot of this album came through me when I was running. When I'm hearing my heart beat, and feeling the rhythm of my soul, and piecing it together as I go."
'Nanna' has been long awaited by Xavier Rudd fans, but even more so by the man himself. Last year, Xavier put to the universe that it was time to record his dream project. The result was his new collective of musicians. "It was really organic. It was quite bizarre how it all worked out. I've been wanting to do this for a long time. I've wanted it to be really heavy, and I've been very patient with the idea.
"This year presented at the right time. It opened up musically, spiritually, everything. I put it out there and the right people came instantly."
'Nanna' will be released on 13 March.
Xavier Rudd & The United Nations
Thurs 19 March – The Forum Theatre (Melbourne)Sat 21 March – The Metro (Sydney)Sun 22 March – The Tivoli (Brisbane)Fri 27 March – HQ Complex (Adelaide)Sun 29 March – West Coast Blues & Roots (Fremantle)Sun 5 April – Byron Bay Bluesfest