An alt-folk, country band who don't mind straying into the darker side of each genre, Gold Coast band These Idle Hands are ready to showcase their debut album 'Petrichor'.


A collective of six musicians (Murray Webber, Michael James, Kieran Richardt, Josh Morris, Lauren Illig and Amaya Coburn) who first came together for another project last year, and after releasing two singles, the band strive for a sound that evokes an emotive essence creating a cinematic starkness.
Ahead of the release of 'Petrichor', Murray gives us the inside line about the album, how the group came together and playing teacher during lockdown.
The Gold Coast isn't particularly an area you'd think an Americana, colonial folk-style band would emerge; so These Idle Hands… how did the group come together?
Yeah, it's like a virus (Americana), it's everywhere! I wouldn't say we're so much that style, but definitely on the dark side of alt folk/ country. We are mostly from the same little, folk music scene here on the Southern Gold Coast and hinterland.
The band posted on Facebook recently that you've been getting streams from across the globe; USA, Ireland, France, Brazil, Spain; it must be rewarding to know your music is connecting with people from all corners of the world?
It's pretty cool. It's great how we can all get an idea of who's listening and where through the streaming stats. I enjoy that I can see that someone from Fountain Hill, in Arizona, is connecting with our songs. It's one of the few good things to come from streaming I guess.
Tell us about the group's debut album, 'Petrichor'; when did the record's genesis occur?
We all came together mid 2019 to record a different project I was doing, and to play a hall gig. Everything really clicked, so we went on to record our first single as These Idle Hands. The songs just kept flowing from there.
How does this collection of songs introduce the listener to the type of band These Idle Hands are?
I guess there's a defined uniformity in the songs; they have a lilting, emotive essence to them. We definitely try to play to space as much as possible, creating a kind of cinematic starkness.
Did you have a set idea of the type, style of songs you wanted to collect on this record?
Not really. It all just came together pretty organically, mostly from sitting on my veranda recording ideas into my phone while staring out at the mountains. I'd then send the files to the other members and they would add their magic.
Lyrical influences; what sort of subjects do you generally tackle, discuss with your songs? Is there a narrative you like to explore throughout the album?
The lyrics touch on a range of topics: from relationships, heartache, opening up, love, second chances, anxiety, drugs and lockdown. There's a fair bit of down on one's luck, interspersed with hope.
Each song has its own, stand-alone narrative – some third person, some personal. But, I guess, if there's an overarching theme, it would be a sense of moving towards better times from a place of adversity.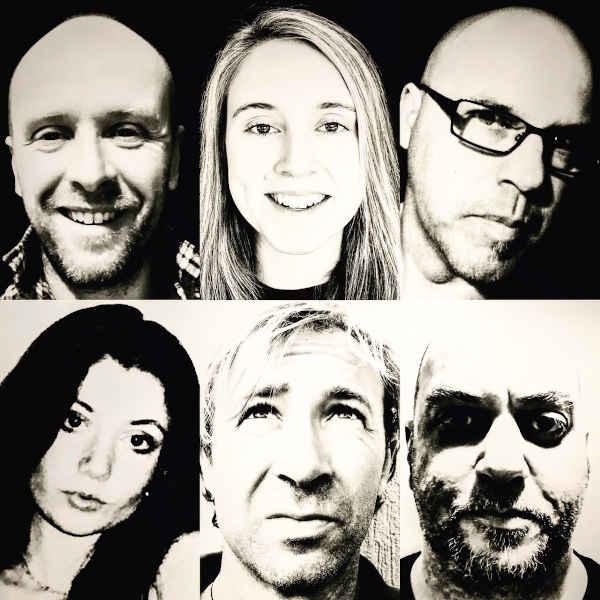 Generally, how does a song get written in the group… are there multiple songwriters?
For this album, I pretty much did rough recordings of the lyrics and arrangements. Then shared them with the band. Other times, I'd just present them with the song in the studio and say "just go crazy", just to see what came of it.
Some of my favourite parts on this album were the parts recorded completely on the fly. The song 'Just Maybe' was written the night and morning before going into the studio with Michael (piano and double bass). I put my parts down, then Michael recorded a beautiful piano part. The song was mostly there before lunch. I had a 2pm flight to catch to meet my partner in Bali, so we didn't muck around. It turned out to be one of my favourite tracks.
Did your collaboration with Linda Angledal as Heron Blue shape the direction of These Idle Hands at all?
Linda actually sings a duet with me on the song 'Kitten Steps', from the album. These Idle Hands grew from the recording sessions we did together as Heron Blue. The friends that played on those recordings now form this outfit.
Obviously, you'll want to return to a stage with a live audience as soon as it's allowed; any idea of when you may get to play these new songs to a crowd?
We're playing a set at the end of July at a private gig with a bunch of other artists. It's a bit of a stripped-back set, maybe three or four of us will play. But yes, looking forward to playing these songs live for sure.
What will that first show be like, with all the pent-up energy and attached joy of returning to some semblance of normality?
Yeah, it's a strange thing being shut off from people for an extended period. I have a tendency to go too inward and reclusive. It's then difficult to be around crowds again. There's probably a lot of people feeling the same way. I do enjoy playing live though, so I'm really looking forward to that.
That said, have you managed to use your free time during lockdown to learn any new skills or pick-up a new hobby?
No new skills, except for maybe the experience gained teaching my kids through lockdown. That was more enjoyable than I'd imagined it would be. There wasn't as much free time as I thought they'd be through lockdown, or as much as I would have liked.
Is there a meaning behind the group's name?
These Idle Hands came from the idea that most of us in the band were kind of floating around and playing in different outfits, sometimes idle between gigs and projects. And also, the Devil makes work for idle hands as the saying goes.
These Idle Hands debut album 'Petrichor' is available from 27 June.