When Byron Bay metalcore band In Hearts Wake put the finishing touches on their new album 'Kaliyuga' in late-2019, little did they know that in mere months, their dark vision would become a startling reality.


"We finished this record in November and, I won't call it prophetic, but I will say that although we didn't have COVID globally, which didn't happen till March when everyone went into lockdown, we were seeing signs light up," vocalist Jake Taylor explains.
"Such as the climate crisis, the protests, the people coming forward and saying: 'Who is in power? Who is steering this ship?' and 'We are not okay with this'. As things were being burnt and taken back – whether it was through agriculture or it was through fossil fuels or places literally heating up and fires breaking out – we were seeing things light up.
"As nature was becoming closer to man, it's not really a surprise that this has happened and that the people have reacted in the way we have where things are really boiling to the surface and we're having to face this stuff."
Fast forward to March 2020 and the world had become a far stranger place indeed – live music shrivelled to a fond memory as physical distancing measures were enacted, cities and countries around the world retreated into lockdown, and face masks became the new, must-have fashion item.
"I strongly believe we were built for these times; we're here for a reason." - Jake Taylor (In Hearts Wake)
By sheer coincidence, In Hearts Wake were also ready to release the video for single 'Worldwide Suicide', which features the band all wearing gas masks in a grim foreshadowing of what was soon to become achingly commonplace.
"March 18 was the day we'd already set to release 'Worldwide Suicide' with the film clip with us in gas masks, each an ecosystem under serious threat," Jake reveals.
"We created that before COVID and then it happened the week we went into lockdown. So, we went ahead with releasing the video because we felt it was of the time and it was obviously meant to be."
'Kaliyuga' is the fifth album from In Hearts Wake and due for release in early August.
In Hindu belief, Kali Yuga is the fourth and final stage ('yuga') in a cycle the world goes through and is characterised by strife, discord, and turmoil. "The fourth age, that was called Kali Yuga by the Hindus, and many ancients have spoken of this fourth age," Jake says.
"It's important to see that the fourth age is part of a cycle, like the seasons; if the fourth age were a season, it would be Winter, I believe. This does not mean to me that Spring is just around the corner; Spring will come, but whether we are around to see it or not is up to us."
Dark though it may be, Jake says 'Kaliyuga' is not a doomsday record, nor is it blindly optimistic about the fate of humanity.
Rather, it presents listeners with a pragmatic choice. "It's saying there's light at the end of every tunnel. However, how long are we willing to endure the tunnel? What are we willing to face and are we willing to face it?" Jake says.
"Complacency and laziness are not going to allow us to get there, so the hope lies in that we have a choice right now as humanity. I strongly believe that we were built for these times; we're here for a reason."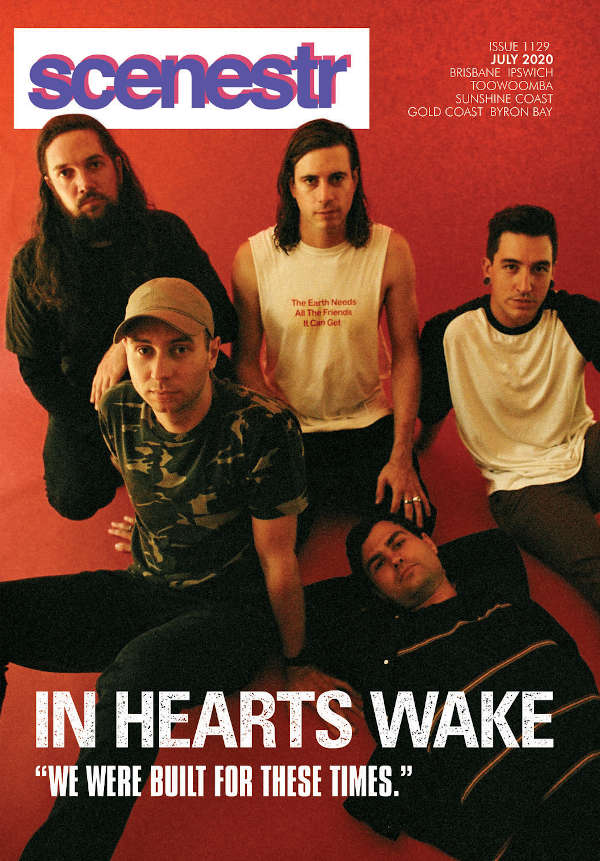 With 'Kaliyuga', In Hearts Wake have created an album that is truly of its time, an apt testament to the Age Of Decay. But as with all cycles, death and destruction begets rebirth and new growth. I believe it was the renowned scholar Jeff Goldblum who once said: "Life, finds a way."
Jake prefers to believe that onus lies with us. "The Winter is an opportunity for us now to come back within, look at what matters and what we value, and find a way to move through that," he offers.
"Now, Spring won't land in our laps, we have to face all of these things. This is a time of oppression, cruelty, disease, and destruction. It's a time when we have created our own gods – we worship actors, musicians and presidents more than the spiritual deities that we once worshipped in terms of things much greater than ourselves.
"As we wrote each song, the lyrics and themes coming out were very much a look into who we were and what we were going through as a collective. Through each of these stories they seemed to piece together one greater book of a modern dystopia.
"When I thought about what these stories were telling me, I said in conversation that 'this is Kali Yuga'. Now we have the record coming out and we can dive into those themes in a more visual way so people can really understand what it is we're trying to express."
Until live touring and concerts resume, In Hearts Wake will be focussing on producing film clips for the songs, such as those already released for 'Hellbringer' and new single 'Dystopia', while listeners digest the album on their own terms for the time being.
"For now, we've got a carbon-offset record printed on recycled materials, and that's going to be our way to get the jams out there for now and people are going to have to be enjoying it in their own spaces.
"That for the most part is going to be people's experience of this record opposed to sharing it publicly in that live performance field."
Nevertheless, like a merciless Winter 'Kaliyuga' has descended, and how people react to both the album and the coming darkness remains to be seen. "The last two sentences of the record are: '2033, what's it going to be? Will we ever learn, or will we sit back and watch the world burn?'," Jake says.
"The point of no return is approaching but we have an opportunity to turn it around. What's it going to be? The question lies with us and it's up to us to answer it."