The National Folk Festival's slogan – '5 Days In A Perfect World' – easily lives up to its reputation.
Warm smiles and hugs greet returning mates for this year's bash. High-viz jackets, man buns, kinky boots, blue skies, huggable trees, helpful volunteers, sunsets, songs around fires and Sally O'Brien and the way she might look at you.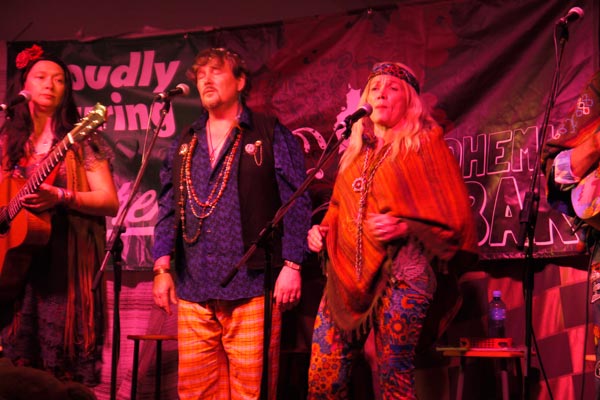 Image © Mark O'Connor
This year marks the 50th year of the festival; the event has been drawing folk – particularly when the festival used to be a traveling show, before finally settling in Canberra – together to gather, listen, touch, smell, taste and to jam.
Click here for more photos.
The variety on offer is world-class. Like Glastonbury meets the Grand Ole Opry. Fifteen-plus stages beautifully presented and curated with the best of world music. So, to the highlights.
Thursday
First stop after setting up camp was of course the session bar. One man's (ie. Tony Soprano's) hell. For the rest of us, heaven. With ten sessions running concurrently at any given time, it's a place to see/ play with any number of genres: Irish, Scottish, Aussie, bush poets, gypsy jazz, Appalachian, Baltic, blues, Cajun, creole, and if your lucky, Terence Trent D'Arby covers at 4am.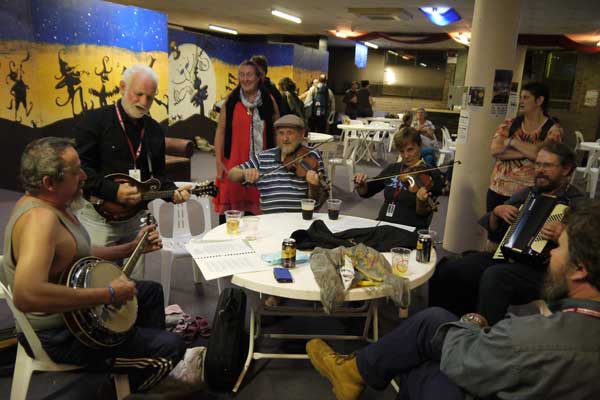 Image © Mark O'Connor
Dr Stovepipe, who do both kids and adults sets, broke-in the Scrumpy bar. Bass, guitar, fiddle and mischievous vocals around one mic hit all the right sassy-good-time notes with the early arrivers.
Friday
Grammy Award-winner and Bill Monroe collaborator, the Peter Rowan Bluegrass Band were the real deal on the main stage. The four-piece gathered around one mic. The rising vocal outro on 'Moonlight Midnight' made me not miss Brian Wilson at the Bluesfest quite as much. Breathtaking. Clear-crystal-water-mountain music. My home music.
"Gotta girl just the same, gonna change her name." Well alright! Belfast boy Andy White was a pleasant surprise at the Scrumpy tent. A power trio with Andy's 12-string brought new life to his songs. Melbourne is agreeing with him since last time we met; a charming mid-'90s in-store in HMV Limerick.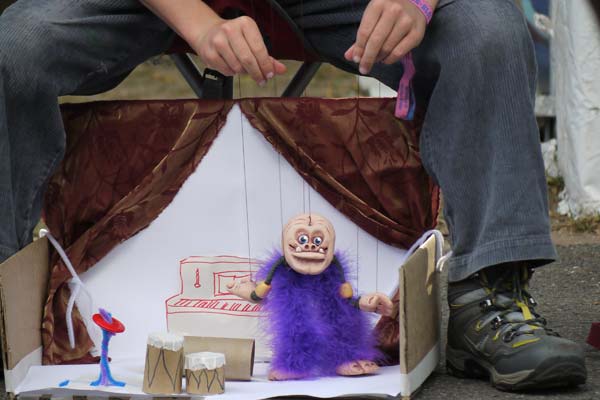 Image © Mark O'Connor
Thronged with folk this year, sometimes you don't get to see the bands you wanna see. If the 'venue full' tents where Co-cheòl (amazing vocals folk four-piece, two twins) and All Our Exes Live In Texas (perhaps all their exes were trying to get in!) were anything to go by, these were festival favourites.
Easter 1916 is a poignant moment for those with Irish roots. It is if course 100 years since the harp without the crown was raised above the GPO and the Irish Republic was declared. The 1916 presentation by Maurie O'Sullivan and friends with the Irish Embassy saw a full choir and classical ensemble present songs like 'The Foggy Dew', 'Women Of Ireland' (beautifully sung by soprano Julie Stubbs) and Jim McCann's immortal 'Grace' alongside narrations, orations and recitations. The women and men of the Irish Rising; remembered passionately and graciously here in Australia.
The Australian Chinese Music Ensemble produced the most beautiful sounds. The dizi (bamboo flute) always surprises with its soaring beauty, accompanied by yangqin (hammered dulcimer), erhu (two-string fiddle) and sheng (17-reed instrument). A universal, yet unique musicality that delighted.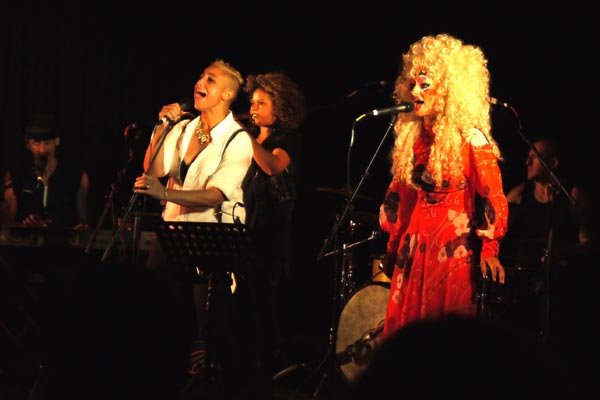 Image © Mark O'Connor
ARIA winner and Bela Fleck collaborator Joseph Tawadros, double winner of the 'best facial hair game' (beating stiff competition from the Button Collective) and 'best onstage comic moments' awards, brought his trio to the Trocadero stage with a mesemerising display of percussion and piano. Charming in every sense, bringing Khalil Gibran's words – "work is love made visible" – to music. A work that resonates through time, check out Richard Harris' 1974 recording of 'The Prophet'.
Canada's The East Pointers exceed the sum of their parts with Zidane-like precision and effortlessness. They whipped revellers into a full-on moshpit with their lightening jigs and reels, stompbox, vocal harmonies and boys next door looks. I'm sent home sweating to retire to the session bar for a night of catch ups and sit-down tunes. A hell of a start!
Image © Mark O'Connor
Saturday
With vocalist Jesse Rowan (ex-Spindelwood) giving Sandy Denny a run for her money, I thoroughly enjoyed the Bateman's Bay-based quintet Ballyhooley at the Flute and Fiddle stage. Combining banjo, dulcimer, flute, fiddle and mandolin, they brought new life to old songs and tunes.
Image © Mark O'Connor
Encuentro Dos brought Spanish flamenco to life in all its improvisational and Latin passion. Head of hair of the weekend goes to their cajon guy. How can we be lovers if we can't be… flamencos! The Redfern Shanty Club, always open to participants every Monday in the Dock Bar Redfern, sent everyone away with smiles beaming. Heave, ho, haul away.
Contenders for band of the festival, Glasgow's Mànran (a double meaning word indicating 'melodic loveliness' and something suggestive for your sweetheart) were a five-part Scottish (combined full drums/ bass with, fiddle/ bagpipes, accordion, guitar) and one-part Irish (uillean pipes/ flute) powerhouse. Like the love children of Midge Ure, Gavin/ Scott Hastings and Brian O'Driscoll. A grand bunch of lads whose second album 'The Test' has been on rotation since I got home.
Sunday
Sunday featured the band of the festival: Jaaleekaay brings Gambia's Kora master Amadou Suso and vocalist Yusupha Ngum with Australian guitarist Steve Berry for the most original sounding quartet yet. Dropping from Cajon-guitar grooves to transcendent improvisations on the Kora, including a solo Kora piece and an upside down Kora Susa/ Hendrix moment, these guys had it all. "To live well, to live a peaceful life." Amen brothers.
Image © Mark O'Connor
The Freewheeler featuring session-magnet types Dougal Adams (flute), Ado Barker (fiddle) and Ben Stephenson (guitar/ flute) put beautiful sets of tunes to flight. Flute and fiddle, the cigarettes and alcohol of trad, guide each other aboard guitar wings towards the roads home to Donegal, Clare, Limerick and beyond.
Special mention to many of us who finally got it together to do a set at the always wholesome Tantric Turtle café. Shout outs to Laura and Susie Bishop, Fresh off the (boat) dinghy, Don and Steve, Bec Bastoli, Niq and Yetzka, Blackbeard Duo, and Nick + Mauricio at the Tantric Turtle. You rock!
Monday
My work was not done without finally getting to see the great Tony McManus from Scotland of Irish descent with Italy's Beppe Gambetta. Joke of the weekend award: "What's the difference between a rock guitarist and a jazz guitarist? A rock guitarist plays 5 chords to 20,000 people…" Tony and Beppe get through the best of those 20,000 chords with jawdropping arrangements, interplay and virtuosity. Catch them live as they tour.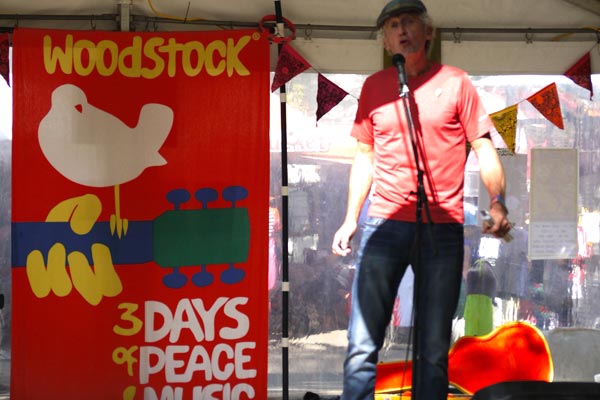 Image © Mark O'Connor
Another dram of Mànran set the vibe before finally catching the amazing Rambling Boys. There'd been a buzz around the session bar about this amazing box (accordion) player, David Munnelly. A buzz only amplified when joined by the boys on guitar, fiddle and bodhrán. Sweet vocals from Gino Lupari (four men and a dog) and power from Alan Burke/ Sean Regan too. Mighty hurling.
With reluctance and elation at seeing the Rambling Boys last set of their tour, it is time for home. Some of us have to work! The Nash. The mother of all lashes.
Click here for more photos.