scenestr will launch Daily Planet Café next to The Elephant Hotel and underneath The Foundry in March.
The premises previously housed Foundry Records which offered cafe fare as well as vinyl.
Daily Planet Café will offer a short order menu, great coffee and aims to be a popular hub for catch-ups, meetings and hangs for the general public and the music industry. There will be a stage area for showcase performances, scenestr tv shoots, all-ages gigs and even performance for events such as Anywhere Theatre Festival.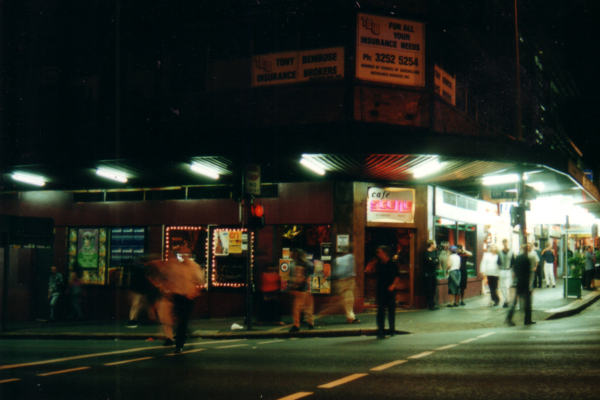 Cafe Scene, corner of Ann & Brunswick Streets where Universal Store stands today. 1999.
The café's name was chosen for its nods to both pop culture and the media with Daily Planet being the newspaper workplace of Superman's Clark Kent and Lois Lane. The decor will include an original roll of 1970 Superman wallpaper (donated by Egg Records) and photographs of iconic bands which scenestr used to scan in the making of its weekly edition.
This is not scenestr's first foray to the streets: It operated Cafe Scene on the corner of Ann & Brunswick Street – and later in the Valley Mall – between 1996 and 2003. The first incarnation was also a performance space, ticket outlet and internet café, notable for trading 24/7 only closing on Christmas and Easter Days. That business was sold coinciding with then-Scene Magazine's launch into Melbourne.
Daily Planet Cafe opens in March. Daily Planet Facebook Page.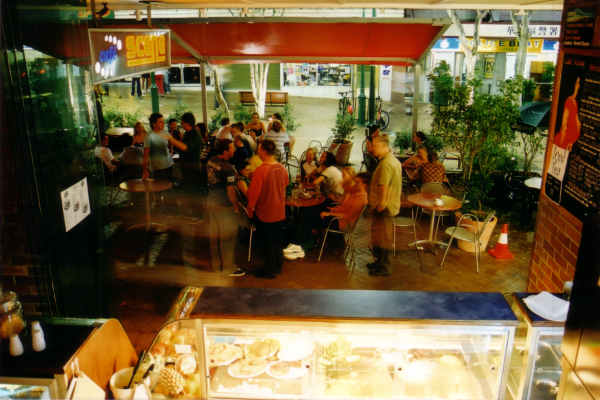 Above & below: Cafe Scene, in the Valley Mall, opposite the Police Beat. 2002.