If you think Megan Washington's latest album 'Batflowers' sounds like a cross between a celebration of eery intimacy and mourning for it, you'd be pretty well right.


As part of Brisbane Festival's 2020 programme, Washington played three multimedia shows at The Tivoli, the final one being last night, Tuesday 15 September.
Dark, brooding, pensive and glossy like all the sweet things in life (here's looking at you, glazed donuts) 'Batflowers' is an offering of monochrome sugar – teary with a thumping heartbeat.
Megan's voice is huge, flexible and fiercely gentle according to the prescription of the moment. Her outfit is curiosity-capturing and the band is on fire.
Image © Clea-marie Thorne
"I still wear your t-shirt," she coos as she reads out my diary on stage. Confronting.
Giant, black balloons stood to attention at the sides of the stage, framing the curves of a black grand piano to the left of stage (played by Washington herself), juxtaposed with the bareness of a transparent Kawai Crystal Grand Piano opposite.
More photos from the concert.
Elements of film (also in black and white, as was the dress code) and theatre in the three-act show helped entrance the patrons, respectfully seated – many around tables – in the delightfully old world building that's been a bakery, a restaurant and theatre, and storage for rare books from the State Library of Queensland.
Act two finds the sorrowful piano voice caressing the ambience of the space, a pillow for lyrics to land on such as: "Kiss me like a Catherine wheel," which, as it turns out, is a type of firework. Probably not for the faint-hearted undertaker of kissing activities.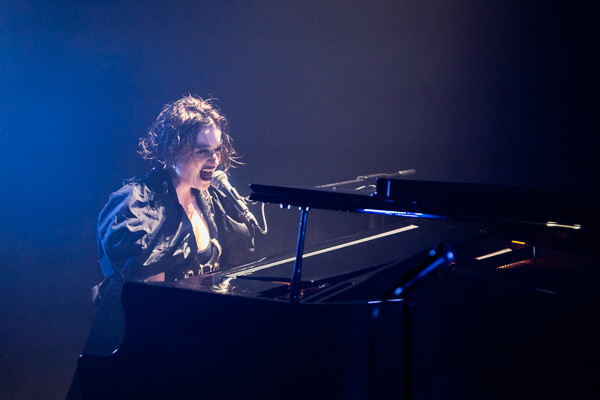 Image © Clea-marie Thorne
A surprise curtain fall before the final (title) track lead to a flip in the theme on stage from black to white, seeming like viewing the film negative of all preceding events.
Does one consider the negative of a negative (read: sad songs) to be a friendly positive? Probably – they're bringing flowers after all.
Washington's album 'Batflowers' is out now.
Read our recent cover story with Megan.