Brisbane band WAAX have put in the hard yards to win fans and gain industry recognition with a string of awards and nominations since 2014.


Their performance at The Tivoli (21 October) was the first of five gigs at the Brisbane venue celebrating their 2019 debut album 'Big Grief'.
With COVID-safe plans in place, this new-gig experience offered ticket holders cabaret seating at small tables decked out with candles. Plus there was minimal standing room as well; the old normal is starting to flicker to life.
Lead singer Maz would later thank the 160-odd punters for their support and the venue for making it happen, telling us how grateful the band is to be up and at it again.
Supporting WAAX for the first show was post-punk locals, Semantics.
As the band – Callum (vocals, guitar) Gerard (guitar), Mitch (drums) and Madi (bass) – strode on stage, they plonk down their bevvies, picking up their tools of the trade to offer up 'Bluelight'. This one immediately catches the ear giving us some heavy bass, while the lyrics carry the essence of punk philosophy.
Semantics - image © Clea-marie Thorne
From their EP 'If You're Not Alright' came 'Talk To Me'. I wasn't sure if I caught a whiff of The Cure during its intro. However, after the first sniff, it smacked with a punk-rock waft bursting with great riffs and mad drumming. The crowd loved it.
2018 single 'Cemeteries' was trailed by 2020 newer 'SDE'. Punters shouted along to 'SDE' in real ocker fashion, fully embracing Callum's unmistakable Australian inflection.
That whiff of The Cure turns into the real deal as Semantics break out an awesome cover of 'Boys Don't Cry'. The crowd lapped it up as the band loosened up and had a lot of fun with this one.
Semantics - image © Clea-marie Thorne
As Semantics moved through the rest of their set with 'Tell All Your Friends', 'Mirage', 'Maximilian' there was no denying they were masters of their tools and hard-working creatives too. Many punters were really getting into them singing along with many chants and cheers.
Second to last is an unreleased track 'Codependent' – it went over a treat. Finally, Semantics poured out 'Drunk' that, after about a minute, explodes with a wave of big guitar and drum energy that seated punters rode on, to the end of the song.
The time has come for the headliners. No introduction is necessary, as WAAX (James Gatling and Ewan Birtwell on guitars; Tom Bloomfield on drums; Tom 'Grif' Griffin on bass and vocalist Marie 'Maz' DeVita with her vocals) launched on stage.
WAAX - image © Clea-marie Thorne
Maz immediately commands attention, dressed in a white Sabbath Bloody Sabbath t-shirt dress over leopard-print bike pants, sporting a pair of sneakers as they punch in first with 'Fade' – the guitars in this track always get me excited.
'I Am' was followed by 'Most Hated Girl', while the title track from 'Big Grief' had the crowd moving in their seats, singing out loud – the energy bouncing between the band and the punters was electric.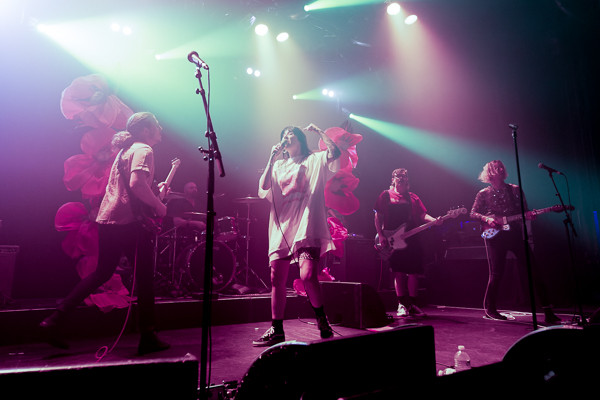 WAAX - image © Clea-marie Thorne
While my ear honed into notable Stevie Nicks and maybe Joan Jett and Siouxsie influences in Maz's amazing and at times quivering vocals, it felt her delivery was more akin to the angst and aggression of Nena Hagen and Courtney Love.
In saying that, my opinion is Love doesn't hold a candle to the vocal eloquence and diversity of Maz DeVita. Being a Stevie Nicks fan, WAAX's cover of 'Dreams' delighted me and many more fans who nostalgically sang along.
More photos from the concert.
'No Apology' was next and the crowd went right off in their seats! Most of the room were clapping and singing along.
The interaction charged the room, so much so it was a wise call they chose to drop 'Changing Face' next on the set list. This kept the punters from leaping out of their seats. The crowd settled a little as Maz is accompanied by James seated on the drum rise, the mood carries for the first half of 'History'.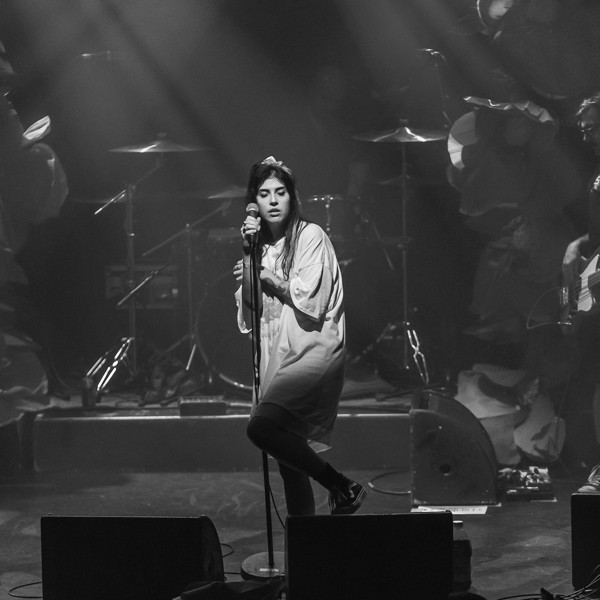 WAAX - image © Clea-marie Thorne
Slamming around with James, Ewan and Tom to 'FU' and 'Labrador', Maz stopped only to chug down what looked like a 2L bottle of cranberry juice. Both songs had fans screaming in a raucous chorus.
Another quieter song among an otherwise frenetic set list came from 'CC Thugs', from their EP 'Holy Sick', which creatively builds up in emotion both instrumentally and vocally.
Putting their set to bed with 'IDKWIFL' from 'Big Grief' and 'Same Same' off their 'Wild & Weak' EP, both were enthusiastically soaked up by a very involved crowd.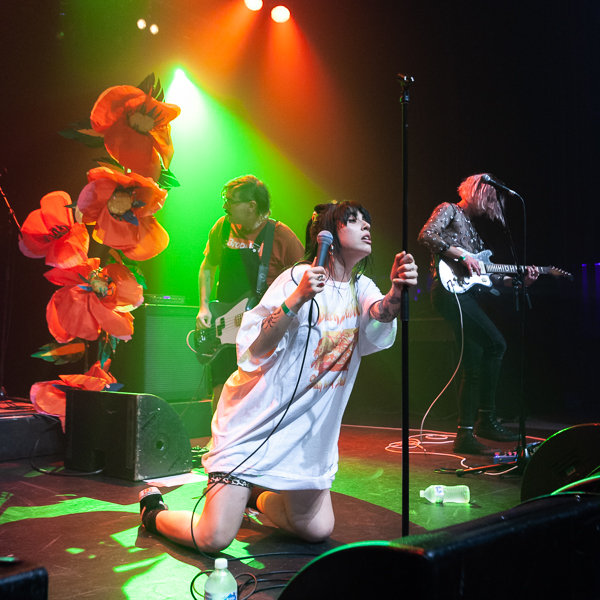 WAAX - image © Clea-marie Thorne
There's no stopping this hurtling train that's headed for success.
With a larger than life front-woman singing about real sh.t for real people, a heavy pulsing rhythm section and cranking guitars, there's no doubt WAAX will continue their climb to greater fame.