While waiting in the line outside of the venue, in a cool autumn's night (3 March), there were more than a few hungry punters chasing any spare tickets to this sold-out show, the first sign that it's going to be a great night of music.


Yes, sometimes bands turn and play a poor set, but even before stepping inside to sea of long hair and patched-out denim vests, the rumour mill was this tour had been seriously loud and a great a tour for Uncle Acid & The Deadbeats.
Once inside and on my way to the photographers pit, I saw the second sign this was going to be a good show when I passed a rather empty merch table, a telling sign this tour has been good one.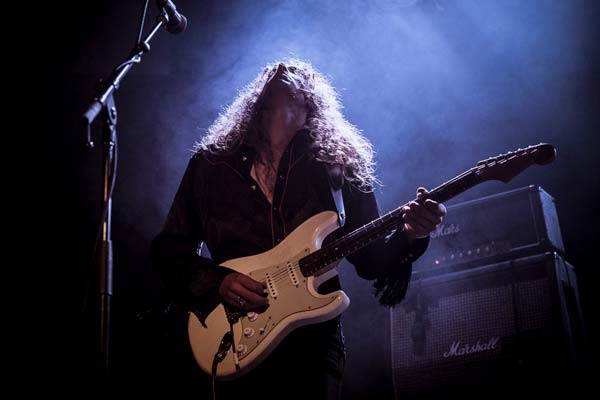 CHILD - image © Stephen Sloggett
With that, Melbourne natives CHILD walked on stage and belted out a great set of psychedelic hard rock to get the audience warmed up, ears in check and a few drinks down the hatch.
Click here for more photos.
The third telling sign this is going to be a good gig is when you see a lot of other musicians, sound tech, lighting guys and girls on the other side of line as regular punters; and with that the English powerhouse that is the Uncle Acid & The Deadbeats arrived.
Uncle Acid & The Deadbeats - image © Stephen Sloggett
A blistering, ear-piercing set of psychedelic doom metal sound with highlight tracks 'I See You Through', 'Shockwave City' and '13 Candles'.
I walked out with my bones rattling and a set of bleeding ears; the fourth and final telling sign this was an amazing night at Max Watts.
Uncle Acid & The Deadbeats - image © Stephen Sloggett