The anticipation and tension in the air was palpable in and around the mosquito and hot chip haven that is the Brisbane Entertainment Centre (20 February) as the mighty, genre-skipping rockers TOOL made their first visit to the town in seven years in support of their fifth album, 'Fear Inoculum'.
Support came in the form of a brutal and demanding performance by Author & Punisher, also known as San Diegan solo artist Tristan Shone, who delivered a punishing and absorbing set of pounding, industrial drones as the male-dominated, heavily-lubricated audience poured into the sold-out, 13,500-capacity venue.
TOOL - image © Charlyn Cameron
Reports from the quartet's Sydney and Perth shows spoke of visual spectaculars, a strict camera ban, and a band musically at the peak of its powers, and this show didn't disappoint on any of those fronts.
Click here for more photos.
Behind blinds surrounding the edge of the stage, the foursome took their spots to an intense outpouring of emotion, kicking off with 'Fear Inoculum'; the lead single from the album of the same name.
It was a special moment for a Brisbane audience who had waited years to see their heroes once more, and it showed.
Singer Maynard James Keenan began as he meant to go on – on a raised platform behind and to the side of Danny Carey's drum kit – surveying his domain with menace and anticipation, crouching for the most part with his mohawk and punk getup visible as a silhouette against the searing visuals.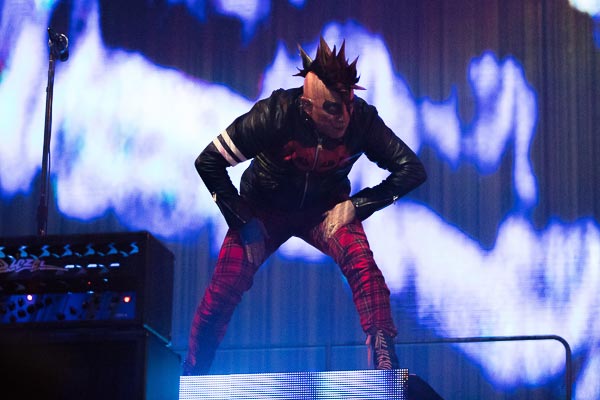 TOOL - image © Charlyn Cameron
Bassist Justin Chancellor twisted and twitched as he delivered thundering notes to leave ears ringing for days, while Adam Jones was the epitome of cool as he reeled off the riffs.
"Hey Brisbane," said Keenan. "Heard you've had a bit of flooding recently. Being so near the ocean and all. Yeah, whatever."
TOOL - image © Charlyn Cameron
The set list remained similar to the band's two Australian shows thus far, with 'Ænema', 'Parabola', 'Schism', 'Pneuma' and '7empest' featuring as part of a relentless wall of sound that the audience lapped up every second of.
Almost as entertaining as the show was the venue's security team's eagerness and enthusiasm to jump on anyone using their phone, even if not taking photos, and issue a sternly-worded warning or eject them from the Centre, as signage and PA announcements repeatedly warned of the perils of using video recording equipment at any stage of the occasion.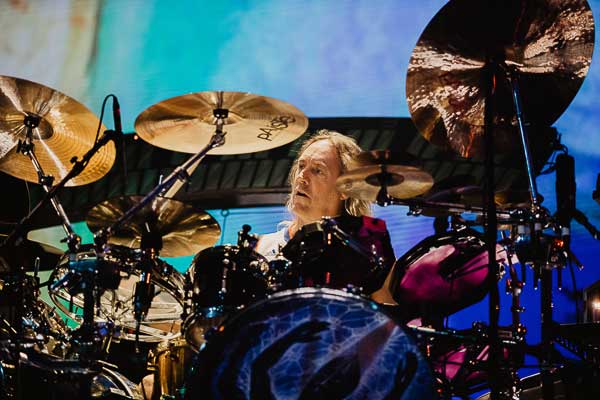 TOOL - image © Charlyn Cameron
Click here to read our August 2019 cover story with TOOL.
It didn't matter though as, following surely one of the most intense aural assaults of recent times, hordes of sweaty, black t-shirt and cargo short-wearing fans left the Entertainment Centre, hopeful to not have to wait so damn long for the next time.