On Friday night (30 October) The Outpost Bar hosted two shows to bring Tia Gostelow fans together to celebrate the live launch of her sophomore album 'Chrysalis', produced by Oscar Dawson (Holy Holy).


Inside The Outpost, a good sized stage with a plush red curtained backdrop, lighting rig and instruments stand at the ready. Punters are able to sit at cabaret style tables and chairs, scattered high tables with stools, or U-shaped booths.
Support act for the evening is DENNIS. (Olivia Dennis), an emerging artist/ project who recently won the inaugural 2020 Gold Cost Music Prize career development package.
Olivia hits the stage in a yellow and white tie-dyed tube skirt and crop top ensemble, and black chunky shoes ready to kick out her tunes that will infect the crowd with indie-pop energy.
For those that didn't know, Olivia wanted her project name to be obscure or unique but her friends convinced her to use her last name – as you do. Mates often call you by your last name and I guess fans are instant mates, right?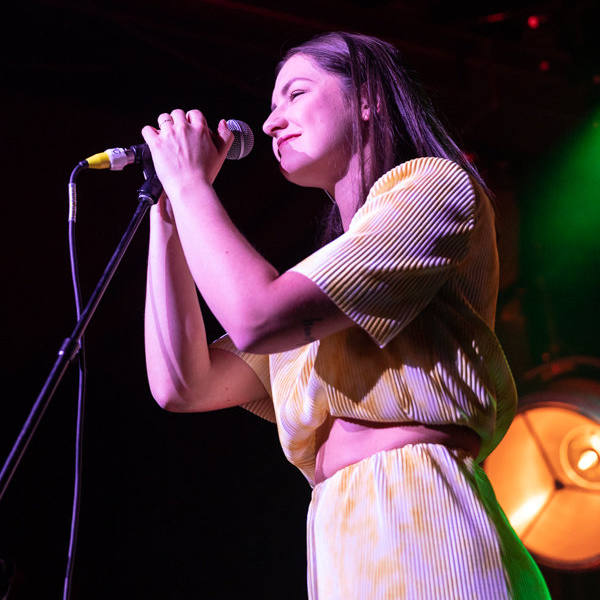 DENNIS. - image © Clea-marie Thorne
'Run Little House' with an expressive and smooth voice that skips along, this sweet bouncing number is received with enthusiasm as her opening song. She swaggers on with her debut single 'Alive'. This one demonstrates her staccato skills and has you thinking you should be in a European dance club.
Other songs from her set include 'Supernova', 'Hurricane' and 'New Rules', a cover Olivia tells us her drummer thinks is "a bit spicy" and has punters wiggling in their seats.
Served up next, a breezy groove with 'Vertigo', then 'I Talk Too Much' and the intricate yet swinging 'Trap Door'. Another cover, 'Crave You', has Olivia dripping a little more spice on us and ends her spirited and atmospheric set.
More photos from the show.
Her sound is a delight and a natural performer, deservedly self-assured. The lass even gets her acoustic on for us. I trust there's more DENNIS. to come, showcasing those signature pipes and songwriting talents to live crowds – check her out.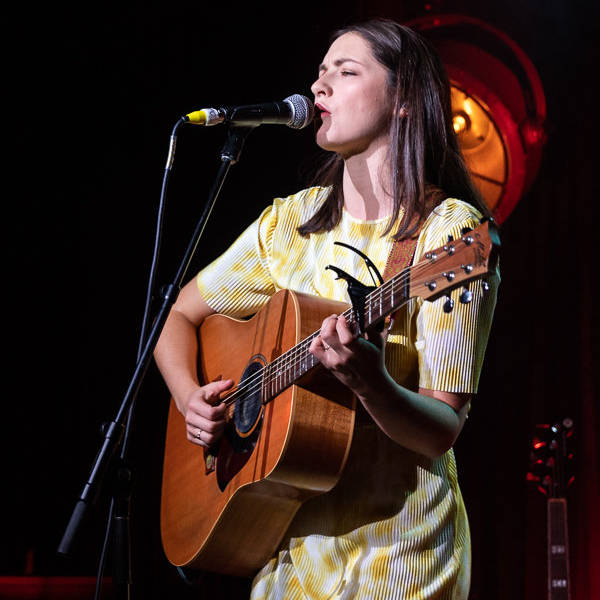 DENNIS. - image © Clea-marie Thorne
After a break, Gostelow slips up onto the stage with a humble yet notable confidence, despite this being her first live show in eight months.
Rocking a lavender mini baby doll and black lace-up chunky soled tall boots, Gostelow's make-up completes the look with eyes highlighted in pink eyeshadow, winged eyeliner and a wicked set of false lashes.
I'm no fashion expert, but I see London '60s style and I love it. Much like the vibe I get from the 'Chrysalis' album cover with Gostelow in a bell sleeved baby doll, heavy glitter eyeshadow and ball chair in the background.
Tia Gostelow - image © Clea-marie Thorne
"How's it going Brisbane?" she asks and gets cheers in response, kicking off her album launch with its first track 'Two Lovers'. This one is an instant hit with punters and will set the scene for the swing from her guitar-led acoustic indie pop style to synth-powered '80s pop.
'Blink', apparently a favourite of her Dad's with a bright groove, comes before the uplifting tones of 'Rush' – this is a banger. This trio of openers invigorates the happy vibe of the room.
Read our recent feature story with Tia.
'Nobody', with its lyrical depth hidden underneath a catchy rhythm, soaring vocals and expanding soundscapes is trailed by 2017 track 'Hunger', the one that gives a middle finger to those seeking to cut down blossoming tall poppies, like a younger Gostelow.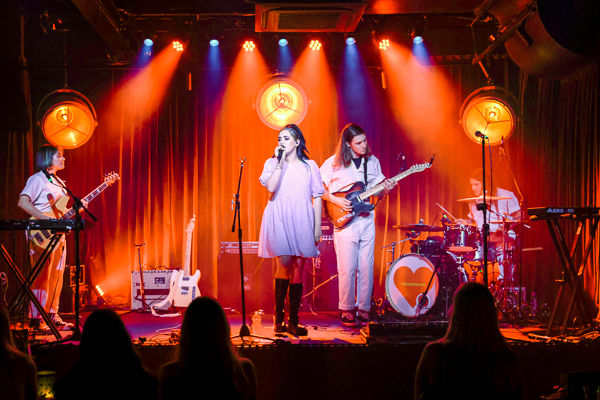 Tia Gostelow - image © Clea-marie Thorne
Before the crowd favourite, mildly anthemic and reworked 2019 track 'Get To It' we are introduced to Izzy De Leon (bass/ keyboard), Jordan Bain (guitar) and Sebastian 'Baz' Jennings Hingston (drums).
'Wonder', a song she says is about her long distance relationship is written with Gab Strom (Japanese Wallpaper) and played before the slower paced 'Giants'.
'Shy', a new electronic song comes next and Gostelow tells us it was written with her drummer and friend Baz. A self-disclosed favourite, possibly for its weirdness in parts and that it was recorded with vocoder action. The crowd enjoyed it too.
Tia Gostelow - image © Clea-marie Thorne
Between songs Gostelow confesses she is wearing hair extensions and wonders what would happen if one went flying off into the crowd! She also tells us her guitar "sounds like sh.t – sorry about that" and gives it a quick tune before playing 'Strangers'; another fan fave.
Picking up the pace with another oldie but goodie 'That's What You Get' before hitting us with a new indie pop-infused dance track 'Psycho'. Be warned, its upbeat groove in no way lets on that the lyrics are about a place of darkness and self-doubt created by manipulative gaslighters.
'Phone Me' is the last song she gifts us from 2018 album 'Thick Skin', the record Gostelow won the 2019 Album Of The Year at Queensland Music Awards, and has the crowd bopping in their chairs, singing a little louder than before.
Gostelow closes with 'Always' (minus Tim Carroll on vocals). It has a big, '80s vibe that could transport you to a dance floor 30-odd years ago.
Gostelow and the band gave a great set, which left an awesome energy for the crowd to feed on while they discussed the show while finishing their drinks before being ushered out to make way for the second show.
Tia Gostelow - image © Clea-marie Thorne
Gostelow has maintained a refreshing, unpretentious onstage presence that captivates – no bells and whistles are needed.
Her resilience and drive to succeed, has enabled her to endure being away from loved ones to hone her crafty melodies and bravely experiment with synth-rich textures that sees the metamorphosis of her music and symbolic of the album name.
In doing so, Gostelow is transforming her style and fans are embracing the emergent '80s synth-pop elements. I'm loving the happy lift, and wonder where will she take her fans next.