Anyone who's been paying attention to Sydney's live circuit in the past 18 months is already well across Georgia June – after all, they're the kind of band that do everything within their power on stage to shift your focus their way.


Among this type of an audience (The Metro Theatre, 26 February), however, they're an alien prospect. You'd think this would shift Georgia June's game plan somewhat, but if anything it makes them hungrier to prove that they deserve to be on such a stage.
Singles 'Try Again' and 'Prove Myself' channel different corners of the indie-pop spectrum in a confident, complementary manner. Elsewhere, unreleased track 'Your New Girlfriend' sees the band's eponymous frontwoman go bounding off the stage and directly onto the crowd barrier.
If they keep up this level of big-swinging ambition, one probably wouldn't be all that surprised to see them playing rooms like this in their own right very soon.
Nearly an entire decade separates The New Pornographers' current Australian tour from its last one.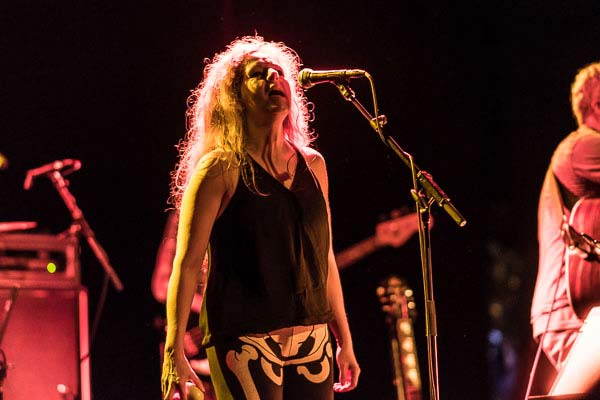 The New Pornographers - image © Ashley Mar
Three albums, two key line-up changes and countless solo projects have unfurled in the interim – and yet, when the septet assembles onstage with the one-two punch of last year's 'Falling Down The Stairs Of Your Smile' and 2005's 'Use It', those ten years fly away in an instant.
There's an urgency to the way the collective perform, given its myriad of moving parts and multiple singers coming at each song from all angles. That said, there's still an element of dynamics at play – 'The Bones Of An Idol' brings a stunned hush over the crowd, only for it to be brought back up into pure power-pop joy with 'The Laws Have Changed'.

It's testament to both their catalogue and the band's approach that we get at least a couple of songs from all eight New Pornographers albums, from the rousing title track of their debut 'Mass Romantic' all the way up to the frenetic shuffle of 'The Surprise Knock' from 2019's 'In The Morse Code Of Brake Lights'.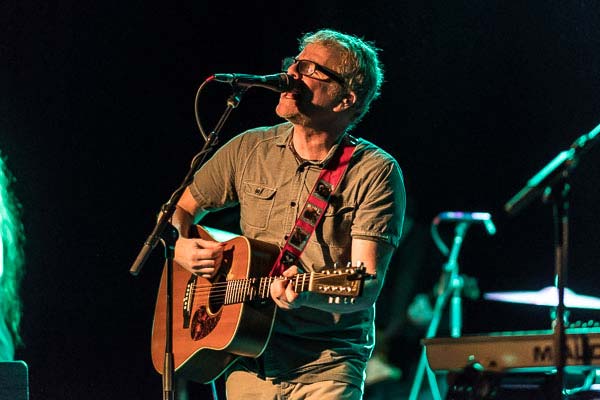 The New Pornographers - image © Ashley Mar
There's a real camaraderie within the ensemble, too – although drummer Joe Seiders and vocalist Simi Stone are relative newcomers, founding members Neko Case and Carl Newman treat them as though they've been in the fold this entire time.
Indeed, Seiders is the one who picks up on a few different band members finding their vocal key before 'Brill Bruisers', spontaneously turning the crowd into a makeshift choir to add a sense of grandiosity to proceedings.
What these musicians do with their united front is as charming and irrepressible now as it was when they first emerged in the 2000s.
Click here for more photos.
Tonight is a warm bath of nostalgia, sure, but there's more than enough vitality to warrant the band's place in the present tense. With any luck, we won't be waiting another ten years for this.