The inaugural The Long Sunset (30 April) was the welcome back to live music and festivals we all needed. Located in the beautiful hills of Cangura, this was a sunset I was grateful I didn't miss.



The Long Sunset was the welcome back to live music and festivals we all needed. Located in the beautiful hills of Cangura, this was a sunset I was grateful I didn't miss.
A dreamy landscape, incredible music, yummy food vans and a showcase of local and national artists truly made my heart, taste buds, ears and eyes content. The rain stayed away and the boogie shoes came on.
Set in Elysian Fields, entering The Long Sunset was any music punters dream. A large field surrounded by a lush mountain range with a wide open stage, I knew it was going to be an afternoon of good energy and good music.
I also knew I wasn't going to be leaving that centre stage. I tightened my shoelaces, pulled up my socks and headed down to enjoy the sunset.
The sun was going down as the vibes where lifting. Kickstarting with the infectiously fun Babe Rainbow, I felt a lot less cool when they walked on stage.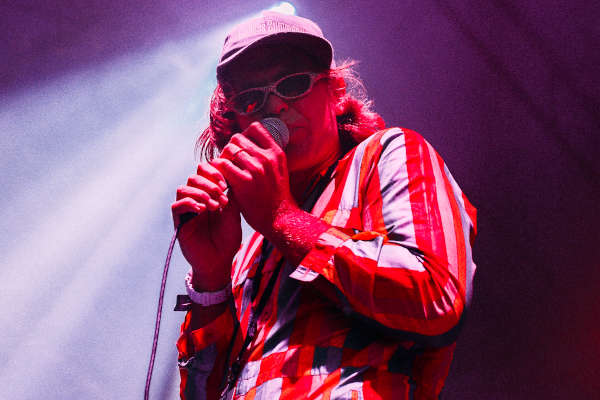 Babe Rainbow - image © Mitch Fresta
Dressed in bright colours and slightly questionable outfits, the boys brought life to the stage. I was excited. Rolling into one of their crowd favourites, 'Johnny Stay Cool', got the bodies poppin'.
The ladies from Nice Biscuit (who played earlier) joined the boys for a few songs, which worked well as they're almost just as interesting as each other. Topping of a seamlessly effortless set with 'Love Forever', the band got the audience moving and grooving with their their unique style of surf-tinged psychedelic pop with a hint of disco.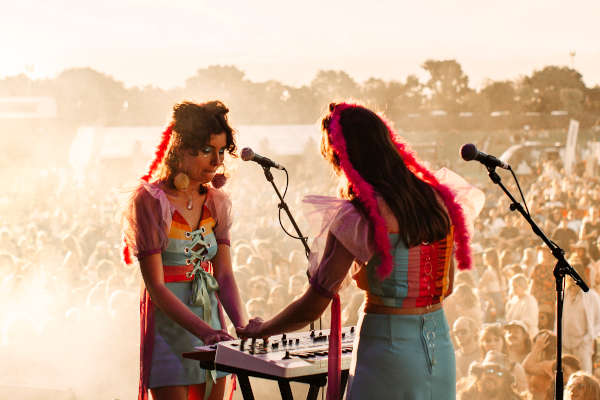 The ladies from Nice Biscuit - image © Mitch Fresta
I'm personally a big fan of the Babe Rainbow; I appreciate their quirky, laidback and intriguing style, attributes we could all benefit from adapting. They were a great warm up for Ball Park Music who swiftly entered the stage, as the crowd grew and the sun melted away.
The lights where on and so was the anticipation. Ball Park Music are truly one of the most moral-boosting bands with their songs speaking truth, which I think we all know and feel but maybe don't have the words to speak.
Ball Park Music - image © Mitch Fresta
"It's nice to be alive," set the scene well, followed by words from frontman Sam Cromack proclaiming how grateful we should all be to be together, enjoying music and living our lives.
With a good balance of new and old tunes filtered through, I was stoked when they played their new single 'Stars In My Eyes', a taste of a new album which will be hitting out ears later in the year. If this single is anything to go off, this album will be an absolute treat.
Their set hit all of the sentimental sweet spots that we love them for. They're truly musical nerds and lyrical geniuses and I was almost a tad sad when they called their last song.
Although that didn't last for long when Angus & Julia Stone lit up the stage with their mesmerising stage presence.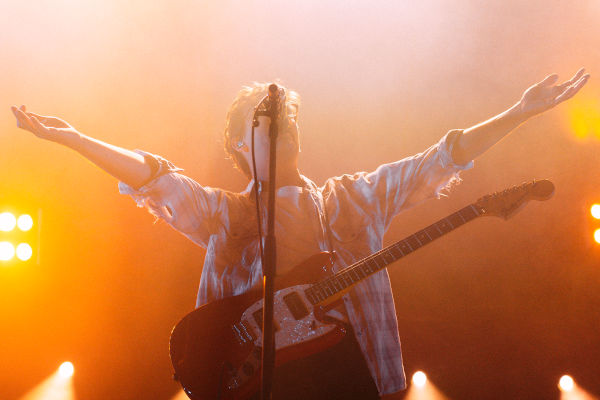 Ball Park Music - image © Mitch Fresta
The crowed doubled in size and it was almost as if a trance fell onto the audience. Their set was magic. This was my first time seeing Angus & Julia Stone live and my god.
It almost brought a tear to my eye – the pure talent and emotion from the band members make you feel as if it's their first ever show and it's only you in the crowd.
I was intrigued to see what songs they would play and the set did not disappoint with all of the favourites including 'Chateau', 'Big Jet Plane' and 'Stay With Me'.
They also threw in the track 'Home Soon' by Dope Lemon (Angus' other band) and Julia absolutely nailed it on the trumpet and held beautiful space for her brother.
How Julia manages to blast out and hit every note on the trumpet, then go straight into singing a verse with just as much energy I have no idea.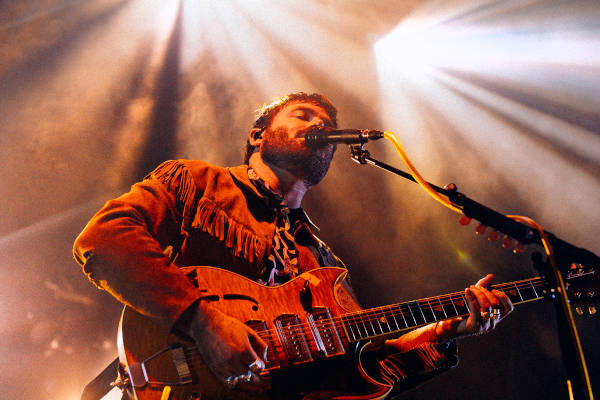 Angus & Julia Stone - image © Mitch Fresta
It was a treat to be in a crowd where everyone knew every single word, with arms wrapped around one another, captivated by each and every word and movement the band took.
The evening was wrapped up by DJ set by Cheek 2 Cheek, where the party goers danced into the night.
I left The Long Sunset different to most festivals I've been to. I noticed that I actually felt relaxed with an almost renewed energy. Maybe it was a subconscious sigh of relief that live music is finally back without the rules and restrictions that kept us from fully being free.
Maybe it was the mountain air or the music that had me feeling nostalgic.
Whatever it was, my deepest gratitude for the Queensland Music Trail team for bringing one of my favourite long sunsets to life. I cannot wait for next year.