From the fretboard frenzy capital of Canada, Prince Edward Island, come three vivacious lads and their thumping, swinging strings with oomph, stomping across Australia once again.


Tucked in among the brewing vats in The Bunker, at Eumundi's Imperial Hotel, The East Pointers played their first gig post
Woodford Folk Festival
(3 January).
Sydney alt-tronica artist Laura Hyde opened the show, following on from her own appearances at Woodford – on The Grande stage, no less. Her purposeful vocal prowess and dark-pop domination saturates the already-humid atmosphere with a gently mesmerising meaning.
Laura's sound is soft and huge, beautiful and bold. It's a familiar kind of embrace, but totally 'now'.
Tim of The East Pointers - image © Clea-marie Thorne
In what may have seemed like a mis-match of acts sharing a line-up, it becomes evident that it's no stark contrast, when you realise that The East Pointers present themselves as inter-generational folk apologists guiding an ageless ship along the currents of a relevant sea.
Click here to read our recent interview with The East Pointers.
They enter with a crashing sound-bite of an old-world style announcement, accompanied by suspenseful electro fanfare. The mood is carefully crafted for a cinematic symbiosis of time-worn heritage and, well, relevancy.
Tim, Koady and Jake are happy, chirpy, fluent speakers of fun. They toot the horn of traditional tunes and expertly embrace the melodies, while they act as a collective embodiment of embouchure. Then they sing their sweet pop songs!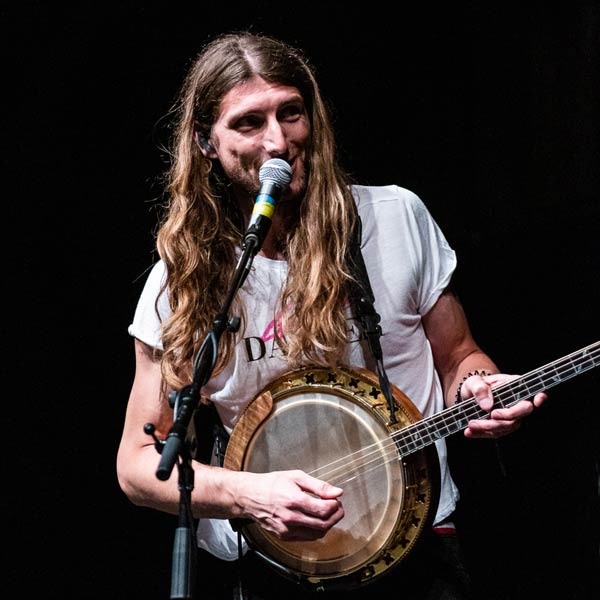 Koady of The East Pointers - image © Clea-marie Thorne
The East Pointers love Woodford Folk Festival, and certainly have a solid history as favourite acts there. They acknowledge that it's 'another world' at Woodfordia, while conceding that The Bunker at Eumundi feels comfortingly similar tonight.
"My jokes are very Canadian," justifies Tim, from behind the fiddle, but their music carries itself across language and cultural context. They've now added keyboard to the playing (and lugging?) duties of guitarist Jake, bolstering the 21st century presence in their presentation.
The East Pointers - image © Clea-marie Thorne
Permanent use of stomp box and tambourine under both of Tim's feet, and heavy bass accentuation of Jake's guitar had already provided quite a heavy-pop slant on their performances, but addition of keys and synth adds new icing to their cake.
Click here to view photos from The East Pointers Brisbane show (4 January).
It doesn't really matter what genre you think you identify with, or which one you thought you were going to see at an East Pointers show. Your feet are going to thump along with theirs and Koady's banjo will have your ears flapping "ahhhh".
The East Pointers continue to tour their third album 'Yours To Break' across Australia, supported by Laura Hyde and/ or Gold Member.