As you walked through the lush grass of Adelaide's East Parklands through towering gum trees, with colourful flashes of rosellas flying past, and beautiful music serenading us from the stage (7 March), it was easy to imagine WOMADelaide 2021, an event adjusted for a post-COVID world, would look and feel the same as always.


The gate welcomed us with the usual bicycle parking station, but with only a scattering of bikes in comparison to the usual hectic mess of steel that culminates at entrance.
Friendly staff ticked off our check in, bags and tickets and directed us through to the stage where Anangu and Torres Strait Islander woman, Miiesha, had the crowd on their feet as she played her last song.
It was one of those moments when I wished I'd been there sooner, to capture the magic of someone whose star is no doubt on the rise.
Miiesha - image © Lisa Vincent
A between-set dash to grab a bite to eat and pick up a cold beer was ridiculously quick, and it was great to see the festival had stayed committed to offering an enticing selection with the smells of charcoal and aromatic curries lighting up my senses.
We found our seats easily and it was clear the production team had considered audience experience in all aspects of the layout of the site. There wouldn't be a bad seat in the house, and even a trip to the bar allowed a direct view to the stage.
After intermission, Kaiit was a familiar face to WOMADelaide regulars as she returned to the festival stage for the third time, bringing a refreshing energy of cuteness and sass wrapped up in soul magic.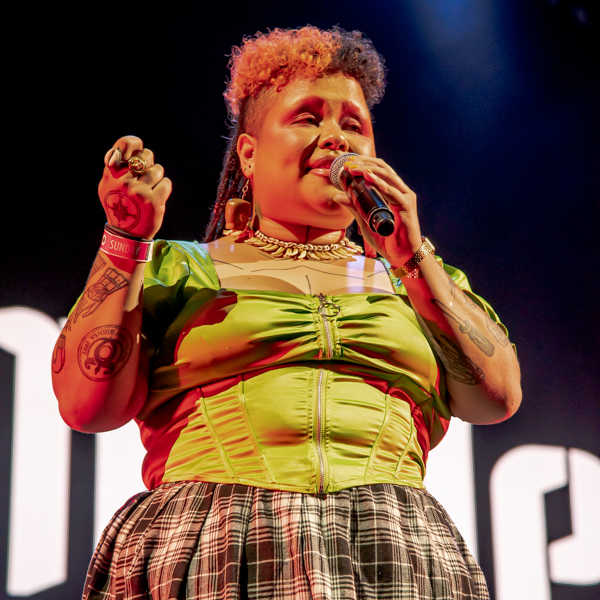 Kaiit - image © Lisa Vincent
Joined by an exceptionally talented four-piece band, the set began with a jazzy rendition of 'Girl In The Picture' and checked off fan favourites like 'OG Love Kush Pt. 1 & 2' and 'Miss Shiney'.
We also got a preview of a couple of unreleased treats 'Dumb Bitch Blues' and 'Little Mama Theme Song', which promise a bright future. Kaiit was undeniable, confident, funny, and thankful, bringing just the right vibes to warm up the crowd.
Click here for more photos.
During another short wait the stage transformed into a central hub of instruments and a pair of eyes lit up on screen, watching and waiting for the arrival of Tash Sultana.
As the crowd lights dimmed a lone figure appeared at the front of stage, picking up their guitar to begin what would be a wild ride through an hour and a half of psychedelic loops and remarkably skilled musicianship.
Bouncing around the stage with a smile from ear to ear, Tash Sultana slung their guitar over their back, adding a drum roll or a trumpet trill to the collection of loops programmed right before our eyes as the sound grew and dropped on their whim.
Tash Sultana - image © Lisa Vincent
Traversing genres that checked off dub, rock, atmospheric chill, and nearly rave level beats, the set simultaneously threw out vibes of Hendrix, Kate Bush and the Wailers. It was a heady mix delivered without fault.
Having never seen Tash Sultana on stage before, I'd been concerned about how they could hold the audience's attention with a solo performance, but this was mesmerising from the start to the end.
Tash didn't speak to the crowd until 45 minutes of the set had passed, but we didn't feel disconnected, with their knowing nods to the camera making sure that we were going along for the ride. We were enraptured, and every time Tash picked up a different instrument (I counted at least 15), it was hard to deny just how much talent was packed into this single individual.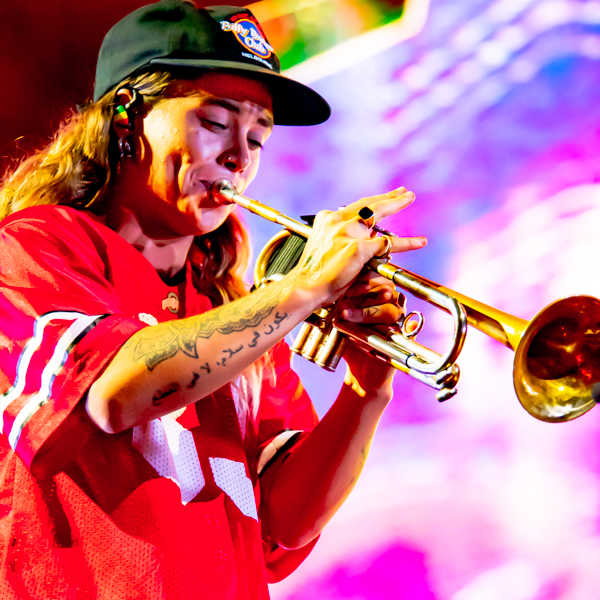 Tash Sultana - image © Lisa Vincent
Fresh cuts from new album 'Terra Firma' were fantastic to hear realised on stage, with the atmospheric beauty of 'Sweet And Dandy' and 'Pretty Lady' getting the crowd going.
My favourite song of the night was 'Notion', which was delivered with heart and passion. The set culminated with the glory of 'Welcome To The Jungle' to leave us wanting more, but very satisfied.
Tash Sultana - image © Lisa Vincent
Overall, the festival wasn't the same experience that long time revellers have come to expect. But, if attending WOMADelaide for the best part of three decades has taught me anything, it is to embrace the different and appreciate a world of experience that can surprise and astonish.
If accepting that the floaty whimsy of Botanic Park might be put on hold for now and instead settling in to a comfy seat and enjoying world-class production from some of the most talented artists on the planet is the compromise. Well, it's one I'm more than willing to make.