Under dark Friday evening skies and a drizzle of rain, Brisbane's Fortitude Valley entertainment precinct springs to life (25 June) and its lights bejewel the wet footpaths as I make my way on foot to O'skulligans.


Tonight I am here to see Super Massive as part of their 'I Like It 2021' tour and as I enter the dimly lit dive bar, I am greeted by a super-friendly atmosphere and see chatty, excited punters scattered about.
I note how intimate the venue is and love that I can be anywhere in the room and will still be up close and personal to the action.
Talking about action, kicking off tonight is support act, the solo artist DAMIEN (formerly Damien Johnson) who claims the stage and immediately commands the attention of the gathering crowd.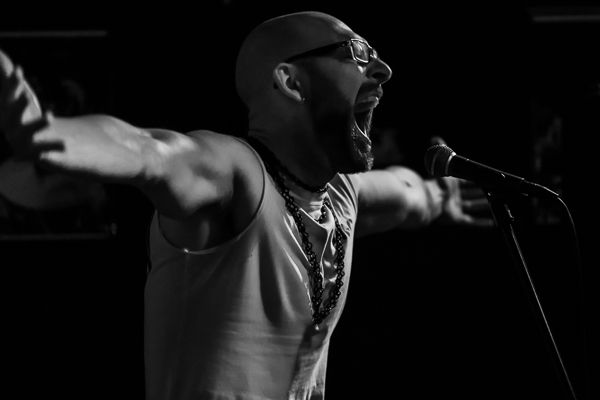 DAMIEN - image © Clea-marie Thorne
From the moment he thrusts into 'Power', the first track from his newly released album 'Girl', you understand that although it is a smaller venue, he will not be dialling it down.
DAMIEN delivers his set as if performing in front of a festival crowd, treating punters to the full-blown live experience. Fans in the crowd need no encouragement to sing-along to 'The Valley' and 'Cello In A Fighter's Hand'. We are even treated to a tasty tease of new tunes from the self-professed 'Prophet Of Prose'.
Finally, with the 'Crowd In His Hand', DAMIEN has punters pumped and primed for headliners Super Massive as he closes his set.
A short break for stage set-up and then the crowd give a cheer as the dynamic duo, Malina Hamilton-Smith (vocals) and Glenn Abbott (drums) aka Bryan Ferrysexual of disbanded Machine Gun Fellatio and The Bryan Ferrysexual Experience, appear on the stage area.
Tyr Kovacic (guitar) aka The Disco Jesus from Disco Disciples, joins the couple's hustle, making it a three-piece for tonight's live performance. Tyr is donning platform boots, a kimono style wrap and aviator sunglasses, and he towers over Hamilton-Smith as he is taking his place beside her. I hope you can visualise Kovacic as the Tarantino-esque disco glam fashion statement I am seeing.
Super Massive - image © Clea-marie Thorne
As the sounds of 'Invertebrate' fill the room, the blended harmonies of Hamilton-Smith and Kovacic smack us in the chops. The trio continue on to give us familiar tracks, covers and new tunes in a two stage set list.
The first set takes us on a hurtling joy ride to disco-pop-rock land then onto planet disco-funk-rock and peaking in orbit during their second set list in a meteorite shower of their heavier rock numbers and covers.
It is so good to experience the delicious live sounds of favourites like 'Fists In My Pocket', 'We're Taking Over', 'Ain't Easy', and 'Get Me Out Of My Head'.
More photos from the show.
Fans are fully engaging with the new tunes too. 'Hibiscus Island', a song we are told is about nude beaches, has the audience instantly grooving along. As they roll their latest single and tour title, 'I Like It', out at us, we get a little whiff of Machine Gun Fellatio in the mix, which is nothing but a good thing!
It is also carrying the scent of a successful single. Everyone in the room picks up on the hook line and are on their pins, busting out their best moves to this banger. I have since checked out the video clip – hilarious.
Hamilton-Smith is a captivating frontwoman. Throughout the gig she is not afraid to have some fun, playing and dancing among the crowd. She ditches a fur-trimmed cape early in the first set revealing her vintage style, sequin animal print disco jumpsuit and accessorised with her signature feathered hairpin.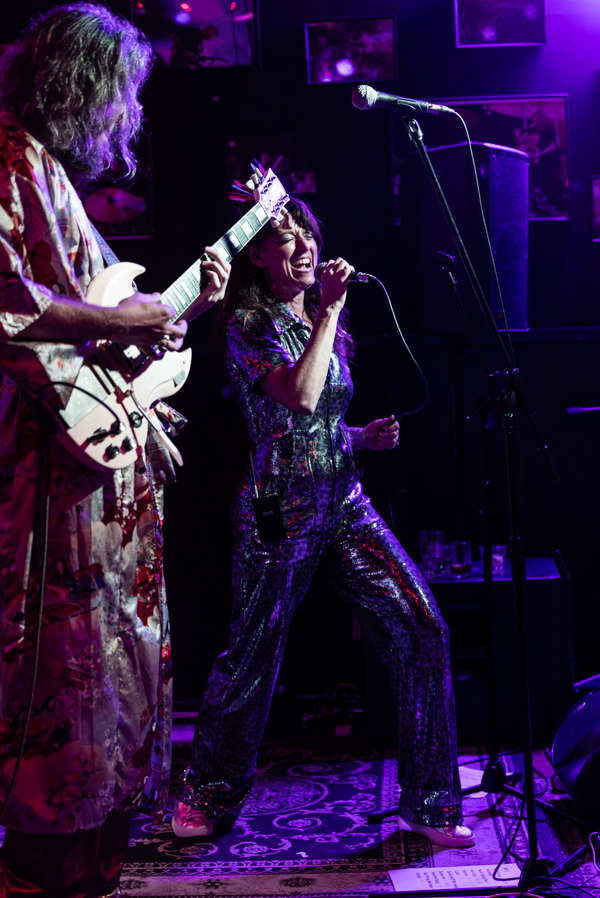 Super Massive - image © Clea-marie Thorne
Whether she is seductively crooning or belting out the lyrics with those amazing pipes, her snake-like hand gestures and sensual hip movements entice more punters up to dance with each song they play in their respective sets.
Abbott shows off impeccable percussive skills, keeping perfect rhythm throughout the night. He is also in theme in his sequin, short-sleeved shirt. Hamilton-Smith claims that to date, she has not found anyone on the interwebs who can perform a six-stroke drum roll faster than Abbott.
Whether or not he can execute the fastest six-stroke drum roll or not, the dude sure is a dynamo on the tubs tonight and doesn't even seem to be breaking a sweat.
Super Massive - image © Clea-marie Thorne
Kovacic brings the disco look and then some, with funky riffs and driving power chords to complete the onstage sight and sound. Oh and by the way, he did not waver once in those killer platforms and I wonder if he will be staying on with the band after the tour – he just fits.
As we hit the rockier territory towards the end of the second set list the whole room is on the floor. My ears prick as I hear the intro to 'Immigrant Song' (a personal Led Zeppelin fave) and the rest of the crowd gets nuts for it too. How I love surprises!
The whole room continues to boogie until the set list concludes with what is also a new fan favourite (judging from the crowd's reaction) and is aptly titled 'The End'.
Once these current lockdowns are over and restrictions are yet again lifted, get your dancing shoes on and get your funking booties along to the next Super Massive show and bask in those infectious electro-rock-disco-funk sounds.