It's a humid Friday evening (26 February) and local indie-pop royalty, Sheppard, are bringing it to the fine establishment – The Fortitude Music Hall.


Tonight, the Sheppard siblings: George (vocals, guitar, keys, drums), Amy (vocals, keys, guitar) and Emma (bass, vocals) are
launching their third studio album, 'Kaleidoscope Eyes'
, and along with Dean Gordon (drums) and Jay Bovino (guitars) boy are they excited to be playing to local fans in Brisbane.
The ARIA Award-winning band will stream tonight's performance to those fans that couldn't make it – nice touch Sheppard, as a quick scan of the foyer confirms it's got to be close to a sell-out, all-ages show.
What an eclectic bunch! Excited youngsters with chaperones, giggly teens and a healthy representation of adults. I even saw a punter in a metal t-shirt and one with a baby in a chest harness.
Inside, I see the stage has been transformed with a three-tier mini runway, tall drum and guitarist risers, a record player (?) and impressive video rigging for the live stream.
There in time to see solo support act Mason Watts, who's up on the second runway platform getting into his short, dark and damn good six-song set list.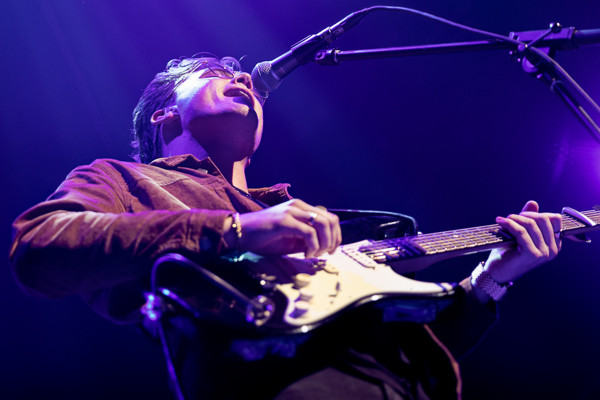 Mason Watts - image © Clea-marie Thorne
Wow! Watts plays confidently on his guitar and sings with a gorgeous, strong voice that delivers his raw and melancholy lyrics with authentic emotion. I can't help but think the Watts recipe is flavoured with a cup of young Mayer, a dash of Mars and a pinch of Buckley.
Maybe the first two noted influences came to mind after he disclosed one song was a Beyonce cover. Really? Totally unrecognisable to me. His song 'Sanctuary' and debut single 'Recovery' were a hit with the gathering crowd. Looking forward to more from Watts – he's got it going on.
More photos from the show.
An electric energy fills the cool atmosphere ahead of the headliners. The young punters enthusiasm is catching on – big grins bursting across joyful faces, clenched fists shaking to contain excitement and phrases like: "I'm so excited" and "are they coming on soon?" could be heard.
The lights dim and the crowd cheers. A suited body with an oversized box-head mask (what was that?) walked across the dark stage to place a record on the retro-style record player (the raffle prize – the player that is). Music flows and I recognise the gentle and etheric 'Kaleidoscope Eyes' signalling the beginning of the show.
Shadowy figures take their places. We won't get more light on the stars until part way through track two 'Die Young' when we see Gordon and Bovino, in casual pop-rock attire up on their risers. I'll get it in now; these talented musicians played a slick and awesome set for the crowd.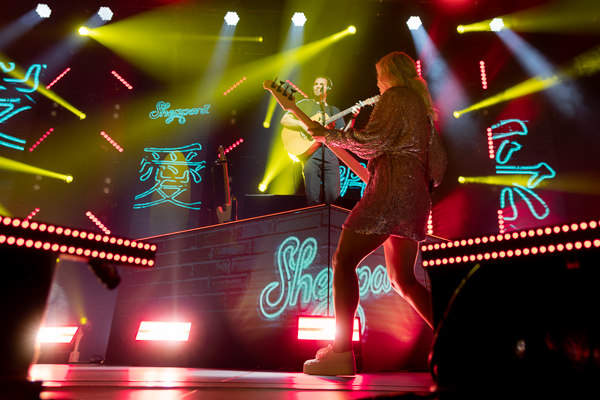 Sheppard - image © Clea-marie Thorne
Fans finally get to see the stylin' siblings. George in a jacket, t-shirt, jeans and kickers. He ditches his jacket after 'Animals' and gets requested by a punter to "take it all off" – sheesh, it's an all-ages gig, fangirl!
Amy is on the punter's left, looking magical with her unicorn-esque coloured hair and donning a magenta-pink velvet suit with tube.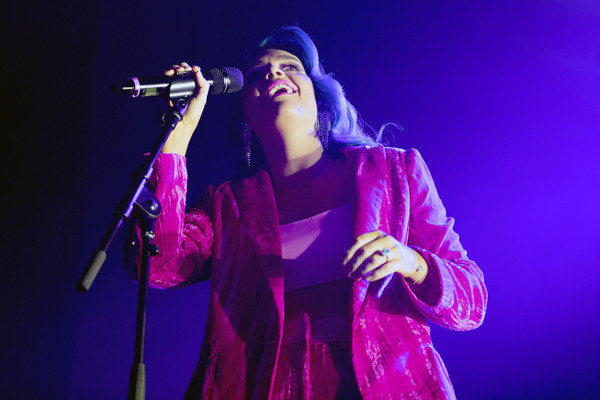 Sheppard - image © Clea-marie Thorne
Amy and George will both play the electric keys between them and a trippy marbled Cole Clark electric acoustic guitar, and if you were close enough to the stage you could have seen the words: 'In a world that's colour-blind we see it all through kaleidoscope eyes' written in white paint along the curve of the guitar body.
Emma, on the right, looks super cute in a glitzy, dusty, pink-sequinned wrap mini dress, draped with her pastel pink Gibson with a glittery gold pick guard accessorised with hot pink strings and strap.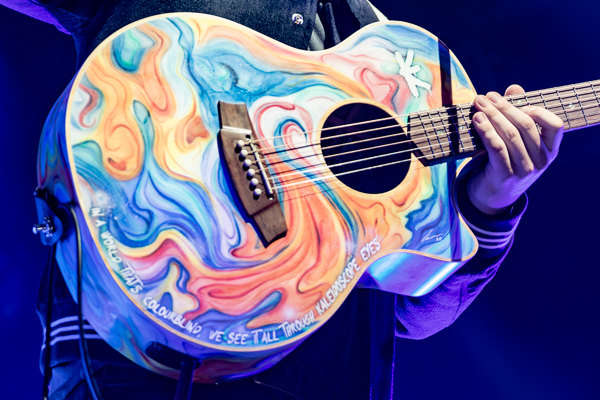 Sheppard - image © Clea-marie Thorne
Sheppard pumps out an amazing and energetic show, playing all 16 tracks from front to back on a stage that was truly lit! The themed album art projected on the digital backdrops is slick.
Cheery moods escalated as they sang catchy choruses to uplifting beats. 'Brand New', a banger that sounds like classic '00s pop with an indie twist had the crowd clapping along. Torsos swayed during 'Looking For Love' with its slow groove and shoe-gazing feel.
George sang the reflective lyrics, showcasing his melodic pipes without a hint that he'd undergone surgery only awhile back.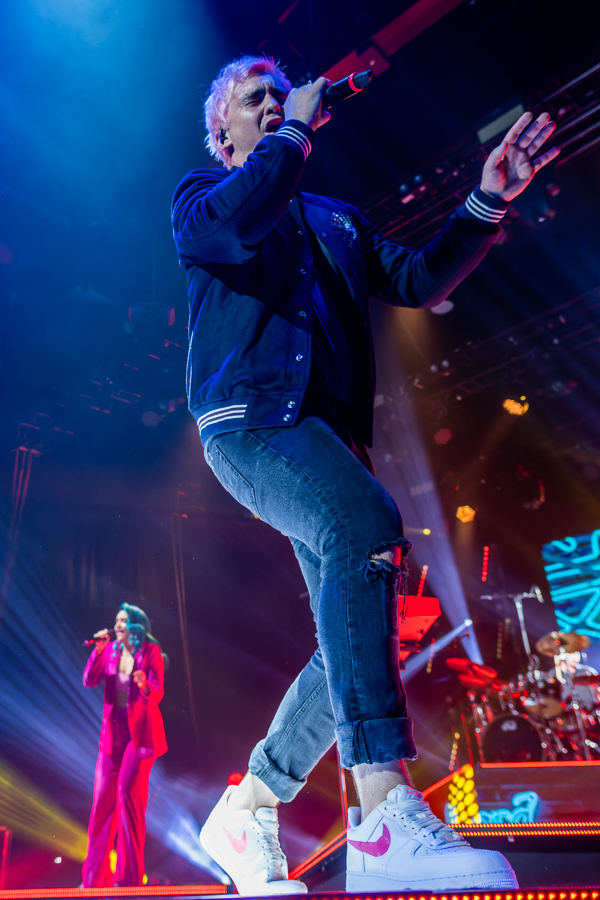 Sheppard - image © Clea-marie Thorne
The stage turned dark for 'Symphony', which elicited squeals from the crowd. Only the record player was bathed in light. Emma goes and turns the record over. George whispers: "We got to flip the vinyl or the rest of the show won't work." The crowd laughs and a punter loudly declares love for Amy – was that the same voice that said "take it all off"?
Punters got hooked into 'M.I.A.' and 'Catalina'. The latter carries a different vibe and Amy really shined here, skipping and spinning on stage and really connecting with the crowd through her silky sweet voice that never wavered on those high notes.
George gives a shout-out to their mum in the crowd who haven't missed a show in ten years before playing her tribute song, 'Thank You' (released on Mother's Day). The backdrop now shows family film clips – awwwwww.
Bovino gives a short solo here, ending with his guitar singing the notes of the chorus and it is beautiful. The punter in the metal shirt must have been onto to this, I reckon... (wink, wink).
Sheppard - image © Clea-marie Thorne
Sheppard could have concluded the launch with 'Lazy Love' having infected the crowd with happy kaleidoscope vibes and confidently claimed it a successful night.
They, however, delivered a thumping encore to their eager fans who were not yet done. Starting with 'Coming Home', the banger that went off at the AFL Grand Final. 'Kiss My Fat Ass', 'Kiss Me Crazy' and 'Let Me Down Easy' were up next, and really got the crowd bopping along – many a Sheppard t-shirt could be seen bouncing around and fans of all ages could be heard singing along to these numbers with gusto.
Some fans were nervous that George would leave 'Geronimo' off the set list. Uh-uh, when George jumped on some tubs and smashed the song's intro the crowd went as wild as the light show. It was on! And then it was all over.
George and Amy's vocals bejewel the instrumentation and arrangements on this new album. 'Kaleidoscope Eyes' hits out with an upbeat punch and comforting grooves sprinkled here and there with lyrics that skip along with a magical rhythm section throughout. It really does evoke fractal visuals if you close your eyes.
The sibling's musical explorations outside of the band have no doubt contributed to the greater depth of songwriting and composition heard on this album. I think we may have a Sheppard evolution here; this album is going to expand their Aussie fan base, and deservedly so.
If you're into any of the pop genres and yet to become a Sheppard fan, then 'Kaleidoscope Eyes' will no doubt hook you in.