At 2021 WOMAD, the park may have been smaller, your seat was a plastic lawn chair instead of picnic rug spread out upon the Botanic Gardens' grass, but if you squinted your eyes (or maybe had a glass or three of Yalumba shiraz), you were teleported back to 2020, to the last major international festival before the world shut down.


That WOMADelaide 2021 happened at all was enough to make it memorable; that it featured the farewell of Archie Roach the first performances on stage since a pandemic lockdown for most of the acts on the 2021 bill, well that was historic.
Sarah Blasko's album 'As Day Follows Night', which she performed in full to close out night one of WOMAD, was inspired by a quote from Shakespeare'S 'Hamlet': "This above all: to thine self be true, and it must follow, as the night, the day, thou canst not then be false to any man."
The design and delivery of this year's WOMADelaide, despite all its logistical challenges, remained true to its essence. WOMAD is not a place, it's an idea, an ethos; one that no virus can destroy.
In King Rodney/ Ityamai-Itpina Park, WOMADelaide opened (5 March) with a set laden with Shakespearean imagery.
As the sun set on the blue gum trees, Archie Roach was wheeled onto stage, oxygen tubing in his nose, before delivering a set that contemplated ageing, the loss of his great love Ruby Hunter and his own demise.
Archie basked in the early evening sun and indeed, it was not dark yet. His performance was not hindered at all by his health condition; it amplified the poignancy. It was one last story time with uncle, reminiscing about Charcoal Lane, the place in Collingwood and the 1990 album re-recorded in 2015 to celebrate its 25th anniversary.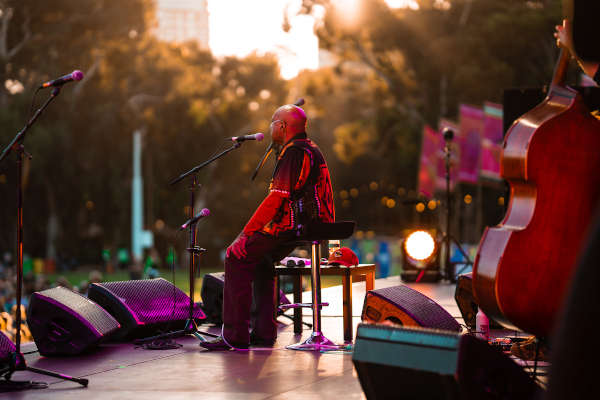 Archie Roach
Archie was joined on stage by artists from that re-recording such as Emma Donovan and Leah Flanagan. His renditions of Ruby Hunter's 'Down City Streets' and his own 'Summer Of My Life' were infused by the power of the context, while 'Took The Children Away' is a tear jerker in any circumstance.
'Charcoal Lane' tracks formed the bulk of the set but a new song 'The Old Days', a reflection on youth and his precious times with Ruby, was a powerful new composition in his song book.
In the years to come, did you see Archie's last performance at WOMAD will be like "did you see Dylan at Isle Of Wight?"; it was just that special. It was a performance that was difficult to follow.
Luckily Israeli-born, indie-folk star turned classical composer Lior brought the Adelaide Symphony Orchestra and legendary composer, conductor and co-ARIA Award-winning Best Classical Album recipient Nigel Westlake with him.
Lior and Westlake's work, 'Compassion', a song cycle for single voice and orchestra in Hebrew and Arabic in seven parts, alternates between the contemplative and the frenetic, with closing hymn 'Avinu Malkeinu/Hymn Of Compassion' and the percussive and dystopian sci-fi soundtrack-esque 'Eize Hu Chacham?/ Who is Wise?' highlights.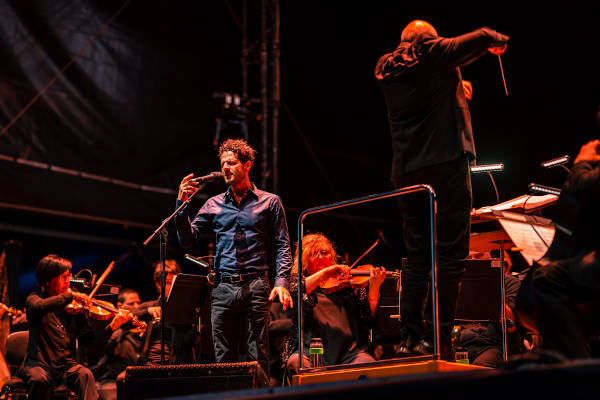 Lior, Nigel Westlake and Adelaide Symphony Orchestra
With time to spare after the closing hymn, Lior harkened back to his early career as a triple j folk star; the Middle Eastern influences were always there, though, as 'Bedouin Song' reminded us all.
His breakthrough hit 'This Old Love' was always going to feature, but for the artist that started his career by touring around European WOMADs, it was dedicated on this night to a couple who married at the festival seven years ago, and who, like a generation of young lovers, walked down the aisle to that track.
Sarah Blasko's closing night rendition of her 12-track 2009 release 'As Day Follows Night' was a time for introspection after an intensely emotional evening. The album was a stylistic departure, a stripping back of the layers after a heartbreak.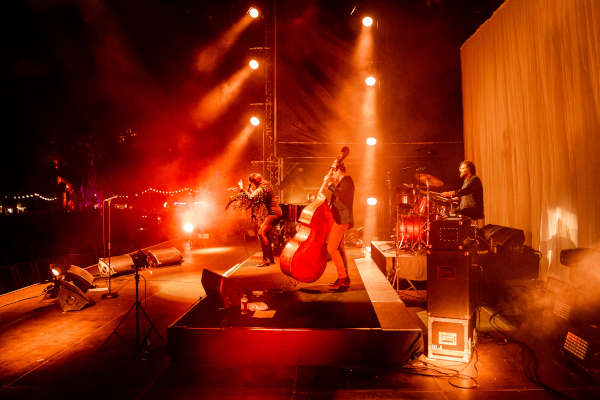 Sarah Blasko
From a programming perspective, the melancholy mood of the set was perhaps not an ideal way to close out an evening – aside from 'We Won't Run' and 'Hold On My Heart', there wasn't much opportunity to make use of lifted dancing restrictions – yet Sarah's performance was faultless.