Arriving at Summer Sounds Festival (21 January) early on a hot day for a line-up headlined by 18-year-old crooner Ruel, it was clear that in my 40s I was not the key demographic.


The all-ages performance attracted a throng of young girls dressed in Coachella-style festival get up, looking amazing in glittery make-up and great outfits.
Entering the expansive site, the crew were helpful with advice and directions. Our pod, a simple fenced-off square with chairs and a tub for drinks, was easy to find, had a great view of the stage and fairly early shade. Drinks were easy to order using a phone app and quick to arrive.
First support, Elsy Wameyo slipped quietly on stage as trumpet trills and drum fills slowly got the audience's attention.
After warming up a little and introducing her band, Wameyo dedicated song 'Outcast' to the black community, getting a huge cheer from the crowd as she launched into it, delivering rhymes with ease and confidence, but falling a little flat on her singing at times.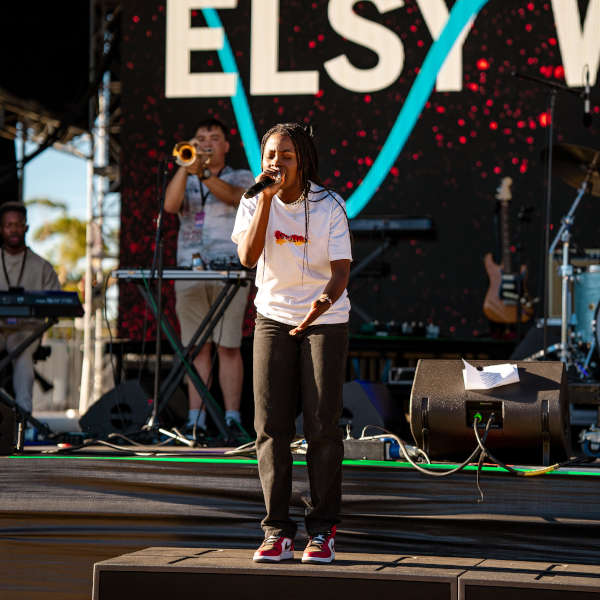 Elsy Wameyo - image © Saige Prime
Throughout the set, when they were soaring the band created a great energy and Elsy commanded the crowd beautifully, but at other moments it seemed there were some performance nerves at play. There was some imbalance with the sound, with the vocals up high and the band low, making it hard to hear all of the instrumental elements.
After a short break, trills and growls started to ring out across the site. It was time for Genesis Owusu and his goons to take the stage.
The goons, on DJ and hype-man duties, were decked out in red bodysuits and military-style black vests, while Genesis oozed confidence in a '70s-influenced red suit chanting: "We are goons, we are children of the rap."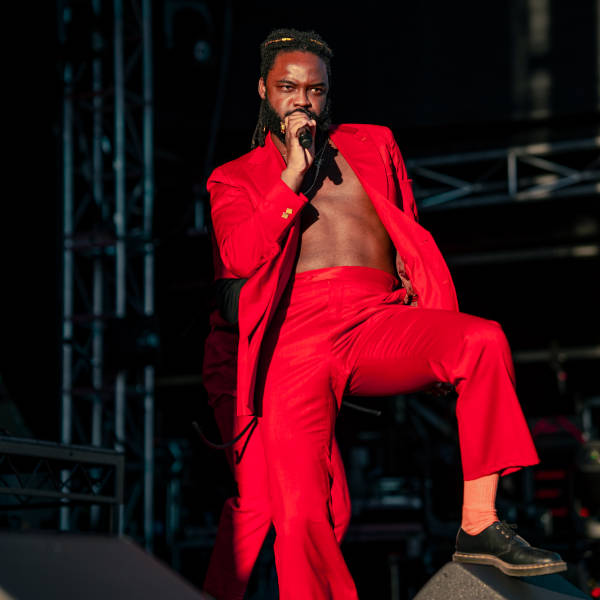 Genesis Owusu - image © Saige Prime
The hard-hitting dancehall vibes, badass basslines and killer raps felt like a strange choice to support Ruel, but Genesis brought the swagger and energy that was needed to break through and get the crowd pumping.
Throughout a set that seemed unable to anchor on a single genre, swinging from club-ready dance tracks to soulful funk and everything in between, a voice-over regularly broke through with instructions on how to become a goon, including 'raising your arm in the air and bouncing that sh.t', 'possessing the funk', and 'not being sexist'.
By the end of the set, the crowd was indoctrinated. Again, the sound mix for the set felt out of balance, with the backing music nearly absent when Genesis stopped rapping or singing. I could quietly hear that it would have had us all jumping hard, but it didn't have enough power.
Genesis Owusu - image © Saige Prime
Playing his first show in nine months, Genesis started hard, but that came at a cost as by three quarters of the way through his set his voice started to give up. He recognised it and apologised to the crowd, before breaking into crowd favourite 'I Don't Need You' before ripping through the final run of songs without holding back.
As anticipation grew for the headline act, looking back across the audience I saw something reminiscent of a front row in each pod, with four or six girls lined up at the rail with stars in their eyes, waiting for the show to begin. And when Ruel arrived on stage singing 'Younger' the screams from the crowd were thunderous.
Dressed in light slacks, a cropped t-shirt and long hair he is the epitome of teen heart-throb, singing songs that appeal to the hearts of his audience. I lost count of the times I heard shouts of "I love you" and marriage proposals throughout the set.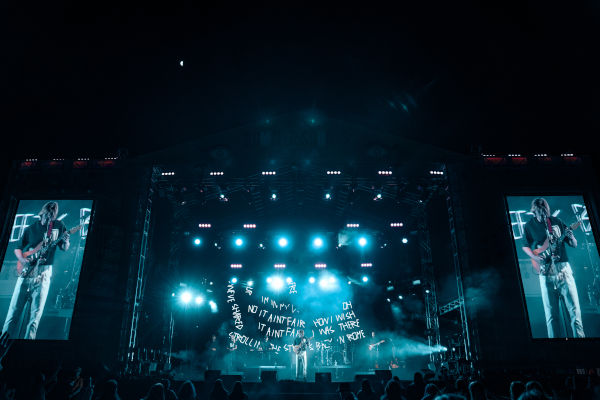 Ruel - image © Saige Prime
It is undeniable that Ruel is exceptionally talented. His vocals were spot-on throughout songs that ranged from falsetto to tenor.
He performs with the confidence borne from being on stage since a young age, interacting with the audience between songs – teasing them about being "not a monkey in the cage to pose for photos" (ahead of posing for one), to cracking easy jokes, dancing and generally having a fun time.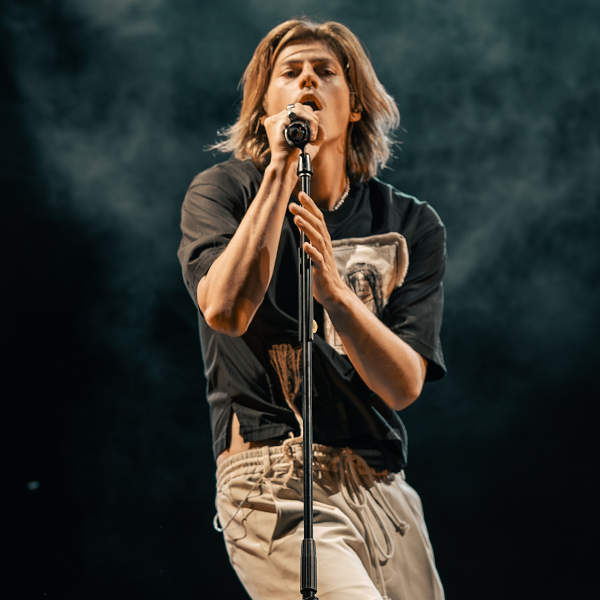 Ruel - image © Saige Prime
But, despite this apparent confidence, a break from performing seems to have taken its toll. Numerous times he struggled to recall song lyrics through the set, with one song re-starting and a few vocals begun a bar or two early.
Luckily, the adoration of his fans meant all could be forgiven, as long as he kept on singing to them.
Throughout the performance, the crowd supported wherever they could, with handy lyrics displayed on the stage screen it was impossible not to sing along. Highlights were 'Dazed And Confused', 'Face To Face', and encore 'Painkiller', which left the crowd on a huge high to end a fun night.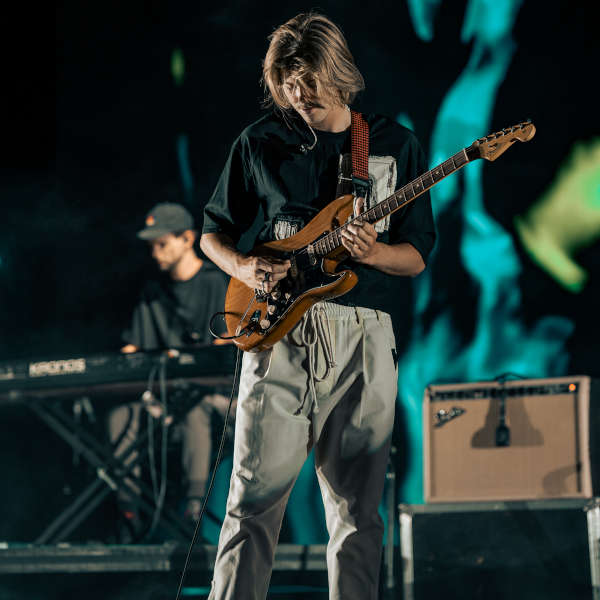 Ruel - image © Saige Prime
Being a lover of festivals and the random moments that usually come along with the experience of bouncing about a site with a bunch of strangers, being penned into a pod did feel strange and limiting. But, the compromise is worth it.
Nothing replaces the feeling of enjoying live music and being picked up with the cheers and screams of the crowd. Those moments when an artist surprises you by taking something you know and love in a new direction, or stumbling and recovering, showing their humanity.
It's the experience that gives you goosebumps, makes you smile like you've gone crazy, and catch the eye of someone nearby (in the next pod perhaps) and share that moment of joy. I got it, my kids got it (and yes, my daughter has gooey eyes every time we mention Ruel now), and so did the rest of the crowd.
I think that's something we all need.