South Sydney's Polaris, who were recently nominated for the best international breakthrough band at the 2020 Heavy Music Awards, recently released their sophomore album, 'The Death Of Me' and backed it up with their biggest headline national tour to date.


So tonight (29 February), it's Brisbane's turn and it's the last gig of the tour to boot. Many at the venue commented they were lucky to have a ticket to the sold-out show with such an unreal line-up.
To kick off this four-course metalcore-feast, of national and international players, is the Tassie-come-Melburnian, nu-metal moshcore band Alpha Wolf.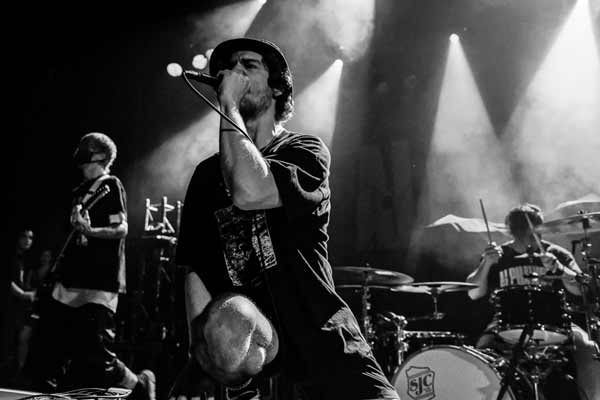 Alpha Wolf - image © Clea-marie Thorne
When this five-piece came on stage it was no surprise to see Lochie Keogh donning his familiar bucket hat and a masked Sabian Lynch. Within seconds they ripped into their seven-song set leading with 'Black Mamba' and continued to generate enough energy to fully charge an electric car.
The crowd seemed very pleased with its appetiser and greeted the unreleased track 'Akudama', played second from last, with eager ears. It's a sure bet this will be on their forthcoming second album. Ears on alert people!
Second course? Crystal Lake from Tokyo. Having been on the scene for nearly two decades and a fistful of albums under their belt, this is their first tour in Australia.
Click here for more photos from the show.
While there were many Crystal Lake fans in the crowd, "WTF?", "freaking awesome" and "how did I miss this?" were the censored words from the mouths of some of the other punters.
Bringing their version of metalcore from a true place of punk, both in sound and stage antics, this act is akin to a dense and full-fat dessert served on a cast-iron plate – rich with punch that leaves an intense and lingering assault on your eyes and ears. An extremely heavy dish on all accounts!
Crystal Lake - image © Clea-marie Thorne
Amazingly tight, with great and violent talent on tubs (Gaku Taura) matched by all men on strings. Frontman Ryo Kinoshita is electric and engaging with pipes plus, and no fear of close crowd interaction.
As if their set hadn't already primed the crowd for the following acts – Ryo commanded a circle pit from a manic mosh pit for an obvious fan favourite, 'Six Feet Under' and it's no surprise that pit mayhem ensued with a sing-along.
Closing their six-song set with another favourite, 'Apollo', Ryo took to climbing the mezzanine rails, where he counts to four before diving into the crowd below and body surfing back to the stage! This man has balls. That is all.
To further whet the crowd's appetite for the main course, taking to the stage next is Wage War. Hailing from Florida and seemingly no strangers to many in attendance, these metalcore heavyweights fed the crowd right up front, with two tracks from their latest album 'Pressure' ('Who Am I' and 'Prison').
Wage War - image © Clea-marie Thorne
By now, the very sweaty and whiffy mob were ditching shirts and bar runs for coordinated headbanging and vocalising to favourites from the albums 'Deadweight' and 'Blueprints', such as 'The River', 'Gravity' and the band's closing song 'Stitch'.
Wage War, with their polished and melodic metalcore, brought the crowd to a place that sustained a sense of dynamism, sweat and energy but not to a level that could be felt from the previous act. However, with their finely-honed stage presence and musical skill I am certain that Wage War did not disappoint its fans.
Intermission music plays in the background while the stage is set for Polaris. During the break, many of the Polaris flock morphed into a choral group, singing along to the likes of Bon Jovi and My Chemical Romance, perhaps for no other reason than to lubricate their pipes in preparation for their favourite songs to come.
Keeping to schedule, the band enter the stage – Daniel Furnari (drums) followed by Jake Steinhauser (bass and cleans), Rick Schneider (guitar), Ryan Siew (lead guitar) and Jamie Hails (lead vocalist, tambourine); all greeted with a welcoming cheer from fans from the floor and mezzanine.
Polaris - image © Clea-marie Thorne
With the first notes and Jamie's vocals leading intro to 'Pray For Rain' the stage remained poorly lit with coloured light until both Jamie and the angled backlights exploded at the first verse as they commenced to make any unprotected ears bleed with their full-throttle metalcore magic.
Bursts of CO2 intermittently erupted from front of stage and combined with the chaotic lighting, provided for a very dramatic visual for fans. These guys have clearly crafted an enigmatic stage presence, particularly Jamie and Ryan, with all members at a level we did not experience 12-18 months ago.
Having made that statement, one would also observe, while not as raw as they once were, they have thankfully not lost one ounce of frenetic energy or enthusiasm in their delivery.
Polaris - image © Clea-marie Thorne
This live show supports all the hype about the new album – the tracks played demonstrated a little experimental with varied structure with a tonne more breakdowns (aside from 'Masochist' played in the encore).
Polaris gave fans a 14-song set list played with heart and soul and boundless energy, and included 'Unfamiliar' from 'The Guilt & The Grief' EP; 'Crooked Path, 'The Remedy' and 'Dusk To Day from 'Mortal Coil'; and 'Above My Head' and the previously mentioned 'Masochist' off the new album.
Calling for a wall of death for 'Mortal Coil''s 'Consume' the fans obeyed Jamie and whole-heartedly thrashed themselves on the floor and did not let up, except to sing their hearts out on the cleans and back into a mosh with the unclean. More shirts and shoes were ditched along with a more pungent beer and sweat smell.
Polaris - image © Clea-marie Thorne
Giving their final encore at 11:42pm, Jamie delivers the band's heartfelt end-of-tour speech discussing how it's a sad thing but taking from it that they could also celebrate new friendships and had memories to treasure forever.
Thanks was given to the crew that made it happen, to the other bands and the crowd before reminding the fans that this was the last song and "this is the last chance for a circle pit… here we go Brisbane!" cranking into an absolutely lit finale and yes, with more Co2!
The scene ended with a house photo – bravo gents. All in all, a super-sized banquet of the metal fusion variety and only positive comments could be heard on exit. Take away? Polaris' 'Death Of Me' – believe the hype!