Pink Sweat$ is one of those rare artists whose recorded material just doesn't do them justice.
In an era where Auto-Tune and heavy production reign supreme, his deep, soulful voice is truly a sound to behold.
Hailing from Philadelphia, this artist found his love for music playing drums in his childhood church and is in Australia performing a string of intimate shows alongside performing at Falls Festival.
The young crowd that had gathered at The Corner Hotel (8 January) greeted the performer with enthusiastic applause. The performance itself was a mellow affair, fitting to his laid-back style of R&B.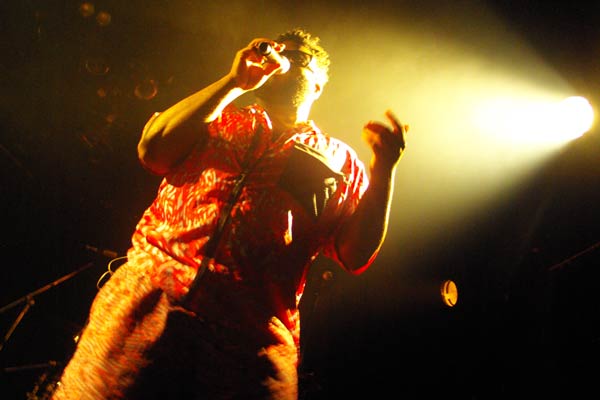 Image © Jessi Lewis
Opening his set with his hit song 'Cocaine' – with the lyrics: "Don't trust men, don't trust women. Don't trust your heart, you never should've," – Pink Sweat$ in a heartbeat proved if you've ever had your heartbroken, he's certainly the artist to get you through.
His musicality was on point, but what was most rare about his act, and in sticking true to his roots, was that Pink Sweat$ not only sung, but played percussion simultaneously - it was a truly an awesome display of musical ambidexterity, proving there are many layers to this talented individual.
He continued to power through a number of his more well-known hits, including 'Honesty', 'Drama' and 'I Know', with the audience kept on tender hooks singing along with heart and passion.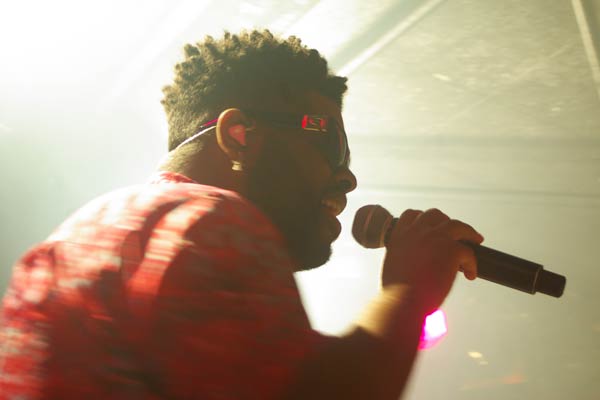 Image © Jessi Lewis
It was a tight and perhaps short set, but given the limited catalogue of songs released by Pink Sweat$, it shouldn't have come as too much of a surprise.
Since emerging onto the scene in late 2018, Pink Sweat$ has so far only released two EPs. But in this context, it is most certainly about quality over quantity – with his music notching up millions of views and streams online in such a short period of time.
Pink Sweat$ is certainly 'one to watch', and is promising in his deft artistic touch – hopefully it won't be too long before he releases new music and returns to Australia to wow local audiences once more.