Now who wants to have some fun? Like, do you really want to have fun?


Yes, yes, I've borrowed that line from Kramer no doubt, but the urgency and passion of Cosmo's vocal presentation of the question remains the same whether you're watching the classic 'Seinfeld' episode or you find yourself shoulder-to-shoulder (yes, you can forget about prim and proper seated performances) at Brisbane's newest, most craziest variety show shin-dig – One Trick Pony Club.
Unlike George's indifferent response to Kramer, it's almost guaranteed within moments of the first act taking to the stage that the hip, young and buzzing audience overflowing with zany creative types are in for a REALLY FUN TIME tonight; hell, even this Gen Xer was bopping along for the majority of the evening (and I loathe flashmob mentality!).
From the confetti and glitter overload (which was a constant throughout) to the outrageous outfits and self-deprecating humour of the night's two MCs: Kate Wheatley and Chris Martin (whose onstage pizzazz leaves his namesake for dead!), you at once felt comfortable at One Trick Pony Club, as Kate and Chris lured you forward with their purring recommendations of what the night would entail.
The concept of One Trick Pony Club is simple enough – the grouping together of a 'spontaneously wild, weird and wonderful world of unique talents performed by some of the very finest entertainers, across a variety of performing art forms'.
After the early pleasantries had been exchanged, first
cab
pony off the rank was an all-ladies jazz-soul band, Yas Queen, who quickly had the crowd engaged with a couple of off-kilter, '60s styled alt-country, jazz numbers.
Local drag star, Candy Surprise kept the crowd in stitches while also showcasing an amazing set of pipes – it really felt like we'd been transported to a smoky, European jazz club at points during her performance.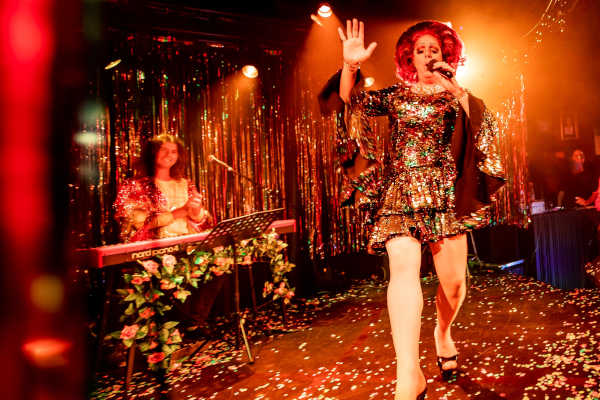 Jake Bristow and Candy Surprise - image © Lachlan Douglas
Flamenco House literally brought the Spanish vibes through the power of foot-stomping dance and flamenco guitar – above-the-shoulder clapping really should be an Olympic sport.
For those who think the hula hoop is only a girl's toy from old-timey days, you really need to cancel yourself. Abby Kelso made sure anyone who held such thoughts left with altered ideas of what can be accomplished with not one, but four LED hula hoops spinning together. I think I spotted multiple fractals!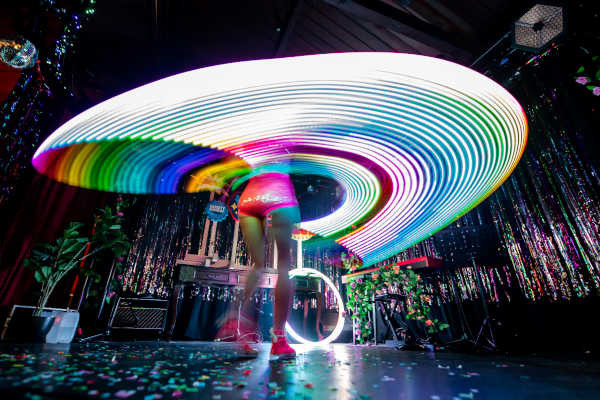 Abby Kelso - image © Lachlan Douglas
Resident
piano man Jake Bristow
, who was a constant on stage throughout the evening, truly shined during his solo performance, his renditions of Neil Diamond's 'Sweet Caroline' and Britney's 'Baby One More Time' leaving the entire audience singing the chorus of each classic in sweet, yet unapologetically loud unison.
Then BB le Buff got hearts racing sending the raunchy levels skyrocketing with an eye-captivating, energetic performance (paired with an umbrella); before all the night's performers ended back on stage with Blues Arcadia's guitarist Chris Harvey for the night's finale – an epic rendition of John Paul Young's 'Love Is The Air'. It truly felt like a blue-light disco as the stage and audience morphed into one, giant, glitter-covered dancing ensemble.
Saddle up for another unbridled night of debaucherously wild surprises... when One Trick Pony Club Act 3 returns to What's Golden at The Tivoli (Brisbane) 9 April. You won't be disappointed. Trust.