Putting together any line-up in 2021 is a significant challenge. For a festival explicitly dedicated to exploring the global landscape of music and dance, that's doubled.


Yet WOMADelaide once again succeeded in creating a space that was welcoming, diverse and crowd-pleasing.
Local duo Siberian Tiger are appropriately sun smart in broad-brimmed hats as they take to a stage bathed in afternoon sun (8 March).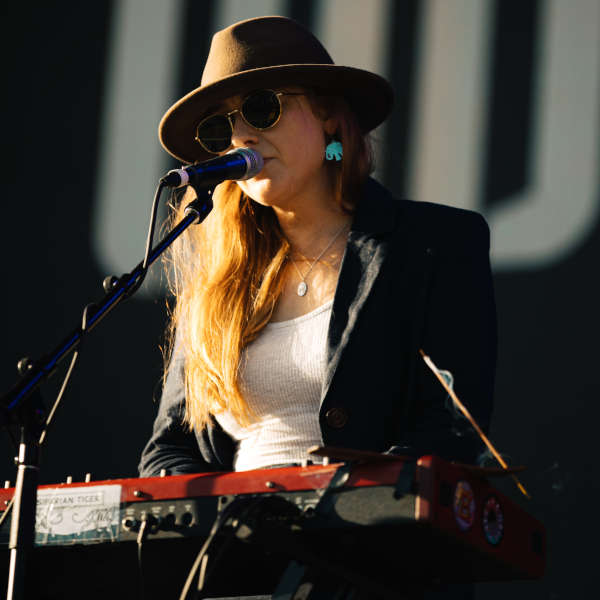 Siberian Tiger - image © Wade Whitington
The festival may have been pared back to four evening concerts, but the local duo have fleshed out into a full band with a string section that adds lushness to their swooning harmonies and breezy country-tinged folk pop.
Next, the slinky southern soul of The Teskey Brothers rings out as the colour fades from the sky, mellow grooves and honeyed guitar licks joined by Josh Teskey's ever so slightly ragged voice to create swooning slow jams.
The Teskey Brothers - image © Wade Whitington
But tonight is all about the headliners. After a
solo set on Saturday
, Midnight Oil are here to highlight the songs from their collaborative mini-album 'The Makarrata Project'.
A brief documentary before their set gives some context to any audience members unfamiliar with the Uluru Statement From The Heart, and that text provides a literal backdrop from the moment the Oils step onstage and launch into the blistering riff that announces 'Redneck Wonderland'.
After what preceded it, the crunchy guitar is a welcome wake up call and though bass player Bones Hillman's passing last year necessitated a line-up change, Adam Ventura slots in well and the addition of Leah Flanagan and Liz Stringer's backing vocals add depth to songs like 'Truganini'.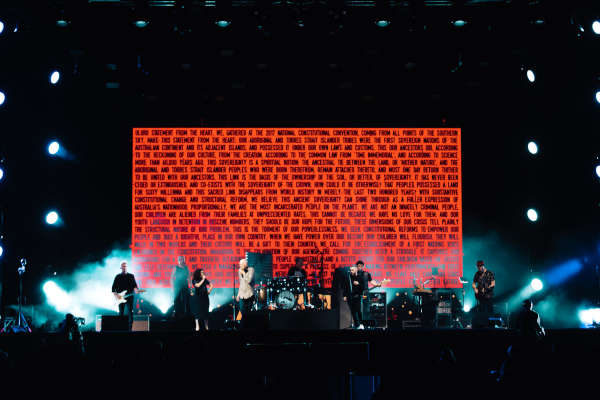 Midnight Oil - image © Wade Whitington
When Flanagan stands up and goes toe to toe with Garrett, the effect is thrilling. Garrett's strident voice remains instantly recognisable (and watching him prowl the stage like a jittery Max Schreck will never get old) but importantly, tonight is also a platform for others.
A stomping, roaring version of 'Gadigal Land' could comfortably sit in The Oils' back catalogue and benefits from Dan Sultan's powerful voice.
'First Nation', meanwhile, sounds both familiar and utterly new, Garrett's plaintive cry and a restless bassline setting the stage for rapper Tasman Keith, who radiates energy as he dances all over the beat in a scene-stealing turn.
The remaining songs from the mini-album are more clearly vehicles for other voices, and Alice Skye and Frank Yamma both make full use of their time on the mic.
Midnight Oil - image © Wade Whitington
Throughout the set, room is made to discuss why these voices need to be heard and how the audience can help pressure the government to embrace the Uluru Statement From The Heart. That the concept for this show lands comfortably is a tribute to Midnight Oil's long stint at the forefront of environmental and social justice movements.
Flanking The Makarrata Project showcase, rock radio staples are joined by lesser-known tracks from classic albums including Jimmy Sharman's 'Boxers' and 'Only The Strong'.
A horn section adds extra punch to the choruses, and throughout the night the band is in impressive form displaying an energy that belies their age.
Midnight Oil - image © Wade Whitington
Towards the end of the set, Garrett can occasionally be seen puffing between songs so Rob Hirst takes the chance to upstage him with two solos in three songs, even incorporating a rainwater tank on 'Power And The Passion'.
Fittingly, the evening ends with everyone invited back on stage for an all-star version of 'Beds Are Burning; that includes another verse from Keith, this time in more pugilistic form.
The challenge of
WOMADelaide this year
was to find headliners who could draw a crowd while ensuring there was genuine diversity onstage. They couldn't have chosen any better than The Makarrata Project.