Night two of WOMADelaide (6 March) saw some supporting players return from night one, but Midnight Oil were the flaming stars in the Eastern parklands.


A capacity crowd gathered, and the world felt normal again. Before Midnight Oil burnt through their scorching two-hour set, Indigenous and emerging duo MRLN X RKN and revered Tongan-Australian sisters Vika and Linda Bull fired the crowd up with their songs of love, heartbreak and racial prejudice.
With white flowers in their hair, Vika and Linda, who haven't released new music in 18 years, gave a taste of their forthcoming new album, including a Ben Salter-penned track, a 1920s spiritual track about the Memphis Flu and the heartbreak anthem 'My Heart Is In The Wrong Place'.
After all these years, though, their voices are still in the right place, as their incendiary rendition of 'Don't Ever Let Me Go', with its dastardly d minor key high notes, demonstrated.
Vika & Linda Bull - image © Sue Hedley
The pair shared tales of their time with Oz rock royalty Paul Kelly and Mark Seymour, and delivered 'Down By The Jetty', written with Paul on a fishing boat, and the Hunters and Collectors classic 'When Will You Fall For Me?'.
Their closing cover, though, was more than a tribute; it was a eulogy: 'Bridge Over Troubled Waters' in honour of the recently and sadly departed Michael Gudinski.
More photos from the show.
Vika and Linda recalled seeing Midnight Oil live at the Sidney Myer Music Bowl at Stop The Drop in 1983; a performance they said was partially responsible for their decision to pursue music. For younger fans that never had the chance to see them before they dissolved in 2002, such anecdotes were hollow, hard to comprehend.
The Oils are a beast on stage. While frontman Peter Garrett, like a possessed dancing Voldemort, attracts much of the attention, they are not a one-headed monster.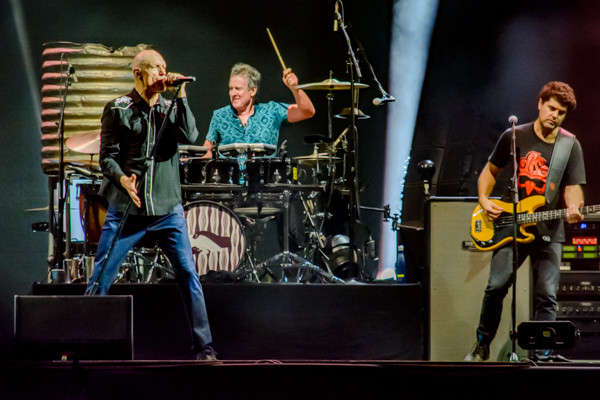 Midnight Oil - image © Sue Hedley
Drummer Rob Hirst is a drumstick-demolishing machine, and his 'Power And The Passion' is a show-stopper, while guitarist and keyboard player Jim Moginie is a mad scientist on his instruments. They were missing one piece though, bass player the late Bones Hillman, who was honoured during the encore with 'Who Wants To Change The World'.
Garrett still wants to change the world, and he's adapting to the times. A QR code that could be scanned by fans using their mobiles so they could sign an online petition calling for the implementation of the Uluru Statement was flashed upon the giant screens mid-set.
Their music is adapting too. The Change the Date anthem 'First Nation' from 'The Makarrata Project' is a rap-rock fusion featuring Jessica Mauboy and Tasman Keith, with Leah Flanagan filling in for Jessica on this night.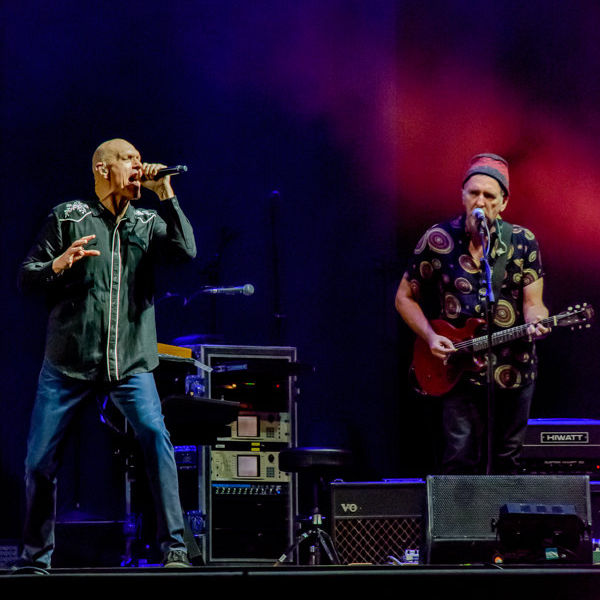 Midnight Oil - image © Sue Hedley
For most of the 120 minutes though, they diffused essential Oils into the balmy Saturday evening air: 'The Dead Heart', 'Beds Are Burning', 'Blue Sky Mine', 'Forgotten Years', 'US Forces', 'Short Memory'.
With 'Short Memory', Peter shared: "Change is made by the people who don't forget."
The fans haven't forgotten the Oils. The Oils haven't forgotten their power or their passion.