Katie Noonan lavished a grateful Brisbane audience at The Tivoli (20 September) with a live performance of her 20th studio album, 'The Sweetest Taboo', as part of Brisbane Festival.


In her words, she's gone from "famine to feast" during this strange time, playing no gigs to suddenly performing four times in two days, and clearly relishing the chance to dazzle fans with her dizzying vocal range.
Noonan's performance took the audience on a journey through songs that defined her musical psyche during adolescence, against a snapshot of Brisbane during the 1980s.
Her re-imaginations of pop classics that everyone (progeny of the era or not) knows and loves charmed the audience, who drifted back through yesteryear between mental images of leafy, sun-tinted suburbia, ra-ra skirts and raffia, stonewash jeans and curly mullets, which "make me feel most at home," Noonan reminisced.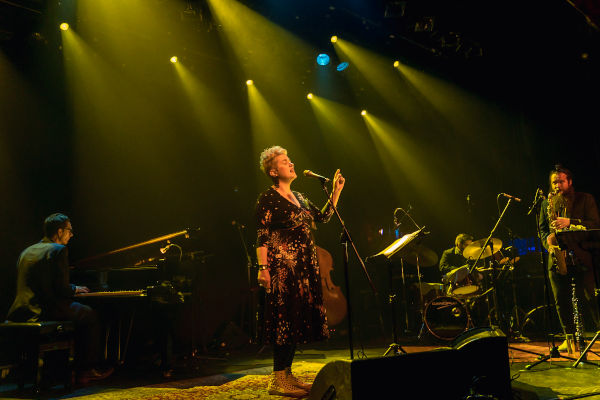 Image © Lauren Crabbe
Her anecdotal depictions – spanning from the age of seven, riding the bus with her older brother to Rocking Horse Records to buy vinyl that would change her life, to kicking off as a budding jazz musician in the Conservatorium's old quarters above Queensland Alcoholics Anonymous – are peppered with adorably disarming humour alongside a soundtrack that paid homage to Billy Joel, Sting, Cyndi Lauper, Vince Jones, Whitney Houston, and more.
More photos from the show.
Noonan made several mentions of her adventures as a little girl to go hunting for records and their profound impact on her development, as "vinyl accelerates the act of listening". Yet she found a way to make us slow right down, hold onto and savour every note of her performance.
Image © Lauren Crabbe
We vicariously cruised along on a lazy afternoon breeze to radio classics like 'Don't Dream It's Over' and 'True Colours', and ramped up for toe-tappers like 'When Tomorrow Comes'; a throwback to the androgynous (yet fiercely feminine) circa '86 Annie Lennox – Noonan joked she was "basically trying to be" Annie, referencing her spunky, short hairdo.
Noonan's passion for honouring her formative childhood pop heroes shined through like rays of light from a disco ball.
Watching her wind her way through memories was honestly like witnessing a school-age infatuation unfold; like how she fell in love with the film clip of Norwegian synth-pop band a-ha's 'Take On Me' (yes, Katie hit that high note you're all thinking about), or that all but one of her musical crushes had mullets.
All this, plus the candy shades of pink and blue stage lights, sensual sounds of piano and string bass surrounding Noonan and her quintet (who've all been close friends since the mid-'90s), and the whimsical, wailing sax solo tying the bow on the perfect layer cake that was their performance, had us dreaming of more wholesome, simpler times.
Image © Lauren Crabbe
Noonan also mentioned she and her husband (Zac Hurren, the sax player) have finished building a home studio from which they will host monthly live streams. She has also been assembling a virtual youth choir, and collaborating through her
Eumundi School Of Rock
.
Katie Noonan and her jazz quintet truly signed their names across our hearts in more ways than one.