Given JPEGMAFIA is often the odd one out on various punk and hardcore bills, it seems fitting that he has selected a particularly peculiar opener for his Sydney show at Enmore Theatre (21 July).


The sultry, electronically-tinged R&B of Buzzy Lee is certainly at odds with the usual fare of alternative hip hop, and a crowd that is decidedly ready to go hard is unsure what exactly to do with it.
As the set progresses, however, the general reception grows warmer and more supportive – especially when Lee reveals that she's a friend and collaborator of the man of the hour.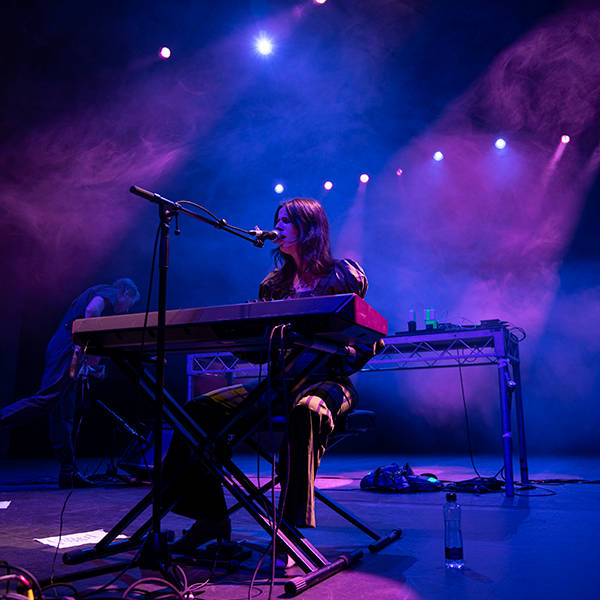 Buzzy Lee - image © Hayden Nixon
Accompanied, unexpectedly, by Bluebottle Kiss' Ben Fletcher on guitar, Lee allows her textured and finessed late-night jams to expand out with a cinematic vision – which is especially fitting when you find out who her father is (go on, Google it).
Not only is she wholly confident in her sound, her stage presence holds a certain magnetism to boot.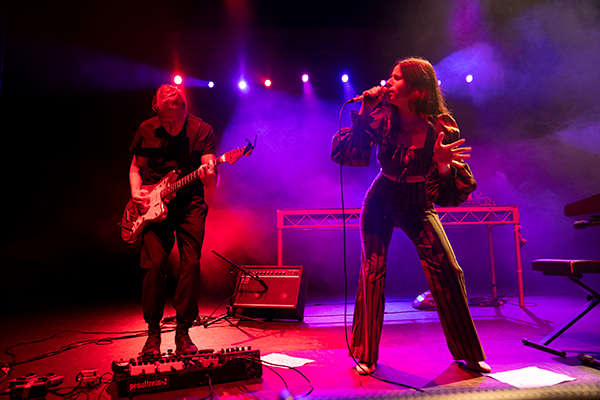 Buzzy Lee - image © Hayden Nixon
It might not have been what was expected of such an evening, but one can safely assume Lee will depart the stage tonight with at least a smattering of new followers – and as far as opening slots go, that can only be the desired effect.
When JPEGMAFIA played Sydney circa October 2019, the show went down as an 'I-was-there' moment of Australian hip hop folklore.
Not only did the New York MC perform nearly the entire show with a concussion after smashing his head on a PA speaker, he also offered up an explosive Babushka doll cameo in the form of introducing Denzel Curry to the stage – who himself invited up slowthai.
It's safe to say the hype around Peggy's return is palpable – not least of all because the show was upgraded from the Metro Theatre to the twice-as-big Enmore Theatre after the show originally sold out in minutes.
JPEGMAFIA - image © Hayden Nixon
The man himself doesn't even get a "hello" out of his mouth before the "PEG-GY" chants begin, and the dance floor promptly explodes when the beat for 'Jesus Forgive Me, I Am A Thot' kicks in.
Not literally, by the way –
this isn't a Genesis Owusu situation
– but you genuinely wouldn't be surprised with how much energy is swelling up here. It doesn't let up, either.
JPEGMAFIA has changed next to nothing about his performance style since his small bar and club origins – it's a literal one-man show, with him manning the beats and laptop without a DJ on deck (pardon the pun).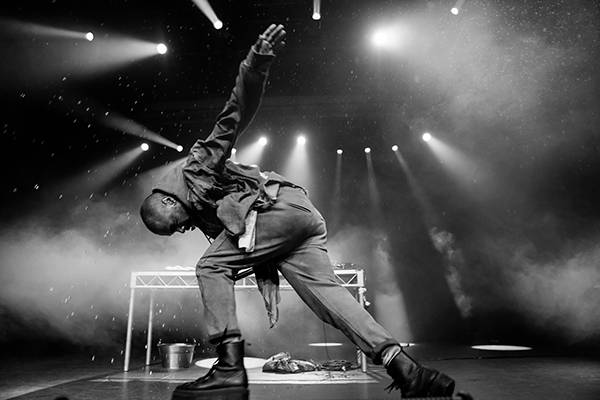 JPEGMAFIA - image © Hayden Nixon
It's that punk energy that remains such an integral part of what makes him such a compelling performer. He'll acerbically cut beats short (including a teased new collab with the aforementioned slowthai). He'll leap down onto the barrier and do his verse from there.
He'll do a lap of the stage without missing a single bar. He'll cut the lights and call for a circle pit in the darkness. He might even just sing 'Call Me Maybe' a capella and get the audience to singalong with him. Why not? It's his party, after all.
Even with such a massive audience on hand, it's full credit to Peggy that he's still able to make the show feel intimate and on-the-fly.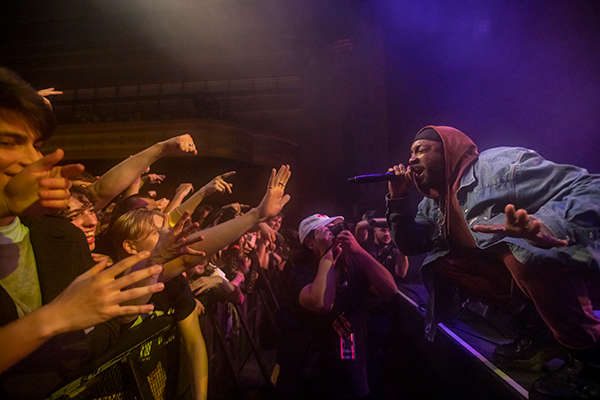 JPEGMAFIA - image © Hayden Nixon
He doesn't even have an encore planned, which is usually the most staged event in the history of live music, but enough people lead a "one more song" chant that he checks with a stagehand if there is indeed time for one.
There is, and it's his tie that binds him to Australia: 'How To Build A Relationship', his track with our very own Flume.
If Peggy has to play venues twice as big the next time around to meet demand, bring it on. If tonight is proof of anything, it's that he's more than up to the task.
More photos from the show.