Brisbane's multifaceted artiste and performer, Jaguar Jonze confesses she is stoked to be headlining at her all time dream venue, The Tivoli as part of their Open Season programme.


Stepping out robed in taupe suite of Miami Vice intrigue is Brisbane's Flamingo Blonde aka James Bartlett, and trailing is his band hailing from his school days on keys, drums and bass as the first support act.
During their set, Flammy B and the band remove their jackets revealing Jaguar Jonze tees and giving a shoutout to Ausmusic T-Shirt Day. Later, the diva herself nudged the punters to purchase merch in support of the artists. Claiming this is the biggest show they've played, Flammy B rocked forth and delivered a fun indie pop-rock set.
Dishing out some gutsy solos and upbeat melodies in the mix, standouts were 'Hotel Gloria' (about a real hotel in Springwood), an edgy cover of 'Drunk Drivers/Killer Whales' and 'Heroin Is A Gateway Drug You're A Pussy If You're Not Gonna Try It'.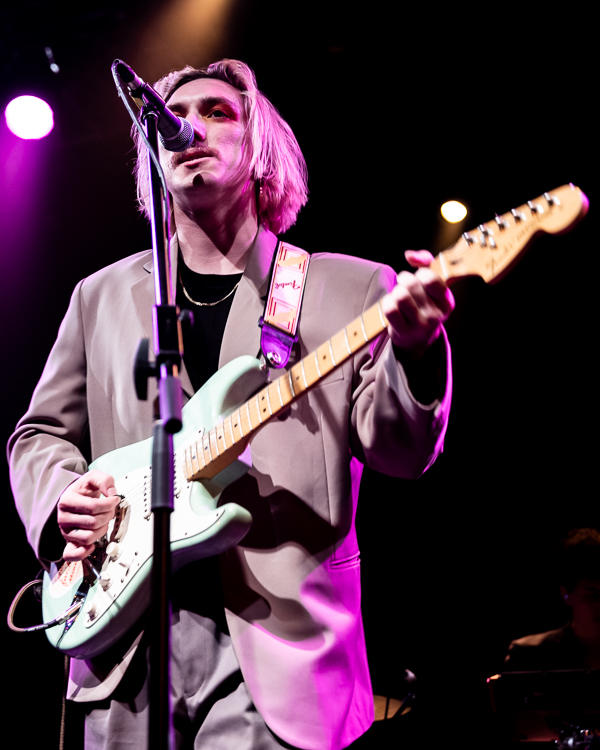 Flamingo Blonde - image © Clea-marie Thorne
The 'corporate cowboy' told punters this one was his Mum's favourite. . . it was pretty funny, and got a big cheer from the crowd.
The highlight however, delivered near the end of the set is his '80S indie-pop debut single 'Picture Me Gone'. By the end of this song I could hear the crowd thinking: "Hello summer."
Riding on the back of the streaming gig phenomenon that has exploded as a result of the pandemic, punters were treated to a second support act via a digital screening of the art-rock duo
Wedance
(Wevo, vocals/ dance queen extraordinaire and Wegui, guitar).
In real time the duo live streamed to the venue and fanged out on pizza! Wevo tells us in real time they had a lot of fun recording the video for this performance on a friend's farm in South Korea.
The crowd interacted with the duo, who were visible from two sidescreens so we could watch them watching us, watching them.
Wequi sits coolly on the couch with his cap worn in reverse gently banging his head with a little groove. While energetic Wevo working a crazy Afro wig, dressed in purple sweats and her signature khaki work pants bounces on the couch and mimes along to her own lyrics.
More photos from the show.
My favourites 'Big Fuss' and 'Ready' were played in the first location over a sinkhole with Wevo throwing damn hot falsetto at us into a suspended mic that she swings back and forth. Wegui would have to be the coolest guy in Korea, surely? Wedance – totally infectious.
The crowd were very receptive throughout the whole set with mad roars of laughter and big cheers – this will be talked about for weeks!
Jaguar Jonze commands attention the minute she stalks on stage with her pump-action platform sneaker boots and super-cute red cheerleader style skirt and fitted black, ribbed high neck top with peep shoulder and long sleeves and sporting what could be a signature Cindy Vogels pom-pom (think Regurgitator) in her luscious locks – a killer look!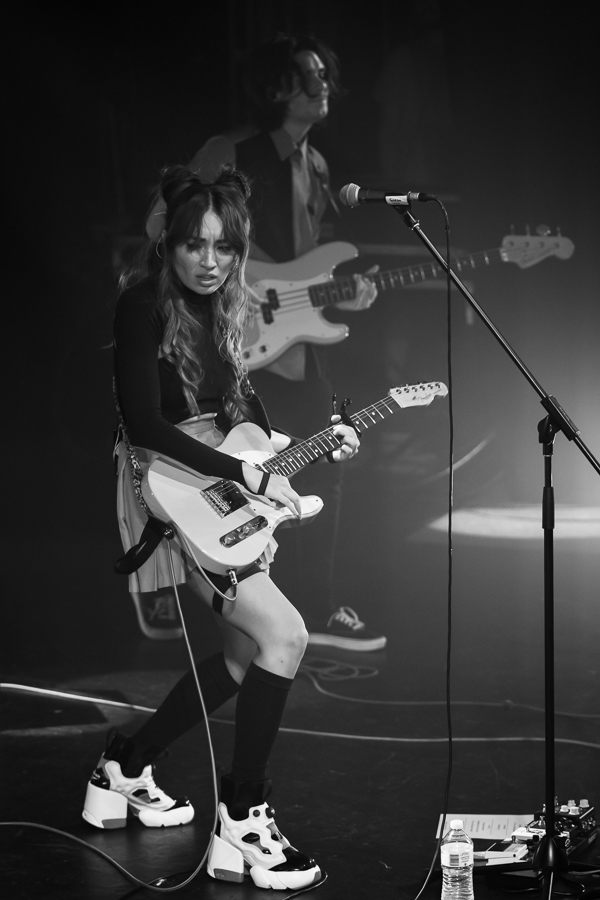 Jaguar Jonze - image © Clea-marie Thorne
This diva has a larger than life presence and proceeds to entertain us with smoky vocals, mixed with some guitar and flute action delivered with artistic performance flair.
Bringing the energy from the get-go, Jonze hits us with the pumping Kill Bill-esque number 'Deadalive'. This is the first song of the creative set that showcases a cinematic, moody and sultry pop, mixed with upbeat pop tunes that are flavoured with some guitar slinging spaghetti western vibes.
'Rabbit Hole' – the second song to the double banger opening – is the song Jonze competed with in Eurovision Australia Decides 2020. Easily a favourite, fans rocked along with the undulating song from Jonze's glorious pipes that trip along the instrumental tones.
The pace then drops lulling the punters with the suspenseful, melancholy feels and lyrics of 'Beijing Baby' for which Jonze was awarded the Best Singer-Songwriter and Folk Award at the Queensland Music Awards.
Catchy basslines make 'Murder' one of my favourites of the night that preceded 'Rising Sun', which reaches the ears with a silky jazz measure that easily seduces you within the aesthetics of the Tivoli. It has a dark atmosphere created by Jonze's pipes as she drizzles molten melody to your ears.
Jonze also picks up the flute for this one, showing the diversity of her talents. It is a perfect tribute to the Kill Bill vibe, and the flute, a fitting touch as I can't image the shakuhachi would be an easy instrument to play.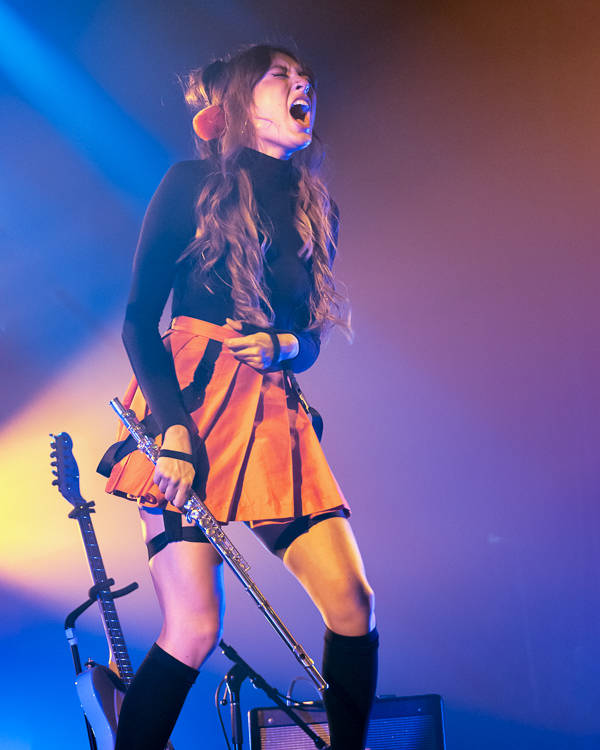 Jaguar Jonze - image © Clea-marie Thorne
A self-confessed rambler – Jonze takes a breather to acknowledge lots of love for guitarist Joe, a huge thank you to Flamingo Blonde, and then what I think is supposed to be a truth bomb. "I'm not that talented, I've got a lot of people that help... this is because of the people who believe in me," Jonze reads from a post-it – a little love letter to Brisbane including a nod to her Mum among a long list of thank you's to others.
Jonze initiates us with smooth and sultry vocals to the intro of her tantalising cover of 'Toxic', before releasing a short burst of hidden power to deliver the chorus lines. Better than the original? Yes.
We are once again dripping in the slow, moody, molten vocals and flute embellished 'Diamonds And Liquid Gold'. This had to be a deliberate, creative choice – it's perfect.
'Jerusalem Cherry' – hmm, the plant is toxic but that's not the reason this track is a killer. Deena picks up the guitar again for this one and her and Joe seem to bounce off each other making it their own.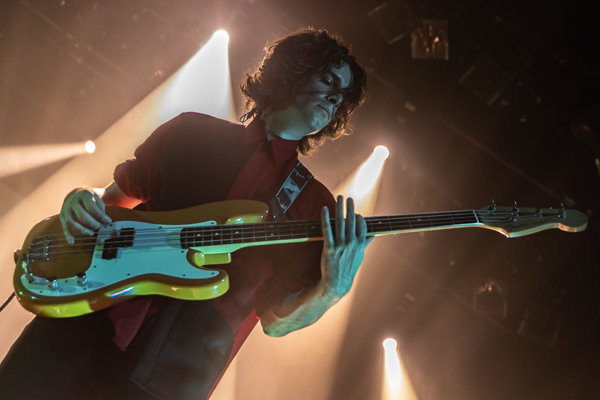 Jaguar Jonze - image © Clea-marie Thorne
As Jonze loves to engage with the crowd, when a punter asks her to "tell us about your shoes" she retorts "oh yeah, I'll tell you about my shoes. I'm a sneaker girl; I'm a boot girl; and these shoes do both."
Jonze introduces what is the closing song with its backstory for those new to her project. Confiding that she thought the invitation for triple j's Like A Version to cover 'Heart Shaped Box' with Hermitude was a scam – they might be out for her "liver; or toe".
After confessing she did not know who Nirvana was (yep – I gasped too) she pushed aside the vision of being hammered by billions of Nirvana fans and possibly dragged off the stage and decided to give it a crack. Jonze claims she learned the "lyrics in three days".
Tonight''s crowd got a taste of how it went down and without encouragement punters sang along. I'll go out on limb and say all present thought it the gig ended too soon while giving a roar of appreciation.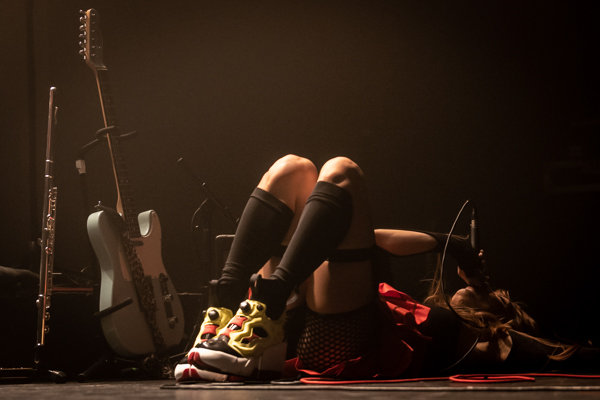 Jaguar Jonze - image © Clea-marie Thorne
There was not a punter to be found while exiting the gig that didn't leave on a high. If you've never seen Jaguar Jonze live, then you need to grab a ticket to her next gig; by all means stream her music, watch her arty videos, buy the album, and definitely grab some merch – but you must see this dynamo of eclectic talent perform her art live.