Last Thursday (30 June), I Prevail played a sold-out show at The Fortitude Music Hall in Brisbane.


Taking their band name from an Eighteen Visions' song, Motionless In White from Pennsylvania also travelled down under as part of the line-up for this tour. Bonus! But wait, there's more.
I'm stoked Windwaker, our interstate cousins from Melbourne, are the first act to fill our ear-lugs with music tonight, all in the form of some metalcore magic.
Will King (vocals), Jesse Crofts (guitar), Indey Salvestro (bass) and Chris Lalic (drums) are asking us what it is to be 'Beautiful'. The hoard of fans in the crowd are giving this banger a loud reception and it's not unanticipated as I am shouldering past many punters repping Windwaker band tees.
Windwaker - image © Clea-marie Thorne
After giving us a brutal hit of 'Dopamine Freestyle', Windwaker decide to get 'Toxic'. Yep, I do mean they're making their breaking downs covering Britney Spears. I'm not sure whether to shake my head or my booty. Clearly a fun cover for the punters as they are singing loudly and most awfully out tune while getting their pop-rock boogey moves on.
Before asking us to "give it up for I Prevail" and eliciting our sing-along to their finale song 'Lucy', Windwaker ask us if we still have energy because they are going to turn it up! We are yelling our range of affirmative responses as they dial in another of their latest bangers 'Superstitious Fantasy', which has the mosh in a frenzy.
King is flaunting his multifaceted pipes with metal rapping, aggressive raw vocals and piercing but buttery falsetto refrains. Salvestro's bass work is hectic and is sounding thicker than on the recording – I'm held in a thumping bass rapture!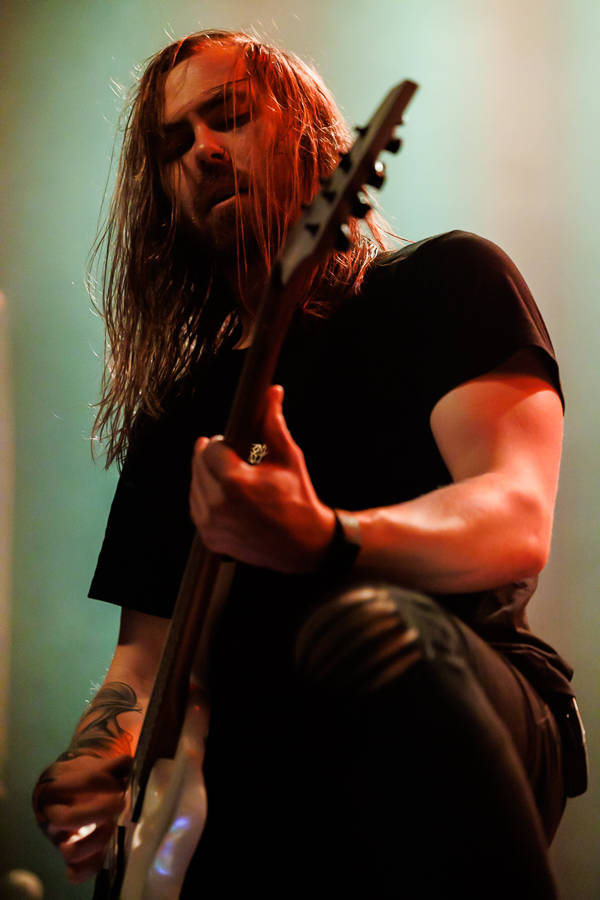 Windwaker - image © Clea-marie Thorne
Fully animated and spirited punters are amplifying the energy they're receiving from Windwaker and it can be felt pulsing all about the venue and by punters not caring to pace themselves in the pit.
Gees are we needing this rest time before the onslaught of Motionless In White. Windwaker if you did not just pick up more than a few hundred new fans from tonight, I'll do a shoey [blurgh]!
As the crew manage the stage changeover under brighter lights, we can easily see the Motionless In White logo on the backdrop now. It has been creatively designed to look as if it is written in blood. Of course! What else would suffice for a goth-horror metalcore band?
The silhouettes of Chris 'Motionless' Cerulli (vocals), Ryan Sitkowski (guitar), Ricky 'Horror' Olson (rhythm guitar), Justin Morrow (bass) and Vinny Mauro (drums) take their places on the stage that has once again become extremely dark and moody.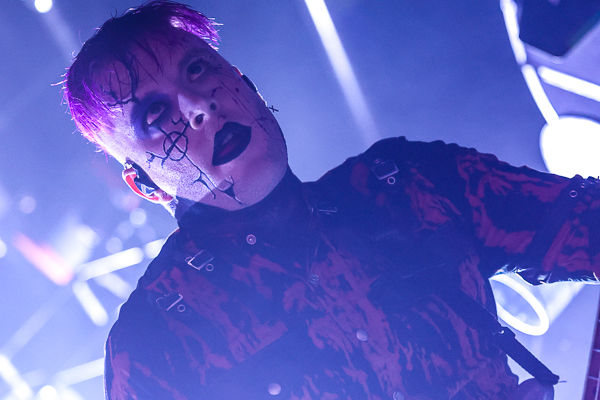 Motionless In White - image © Clea-marie Thorne
The tonne of fans in the crowd are roaring them a welcome. I can tell things are about to get as electrifying as an electric chair. IT IS totally electrifying as Chris Motionless cloaked in his gothic long coat, wearing theatrical eye make-up is screaming "Get up! Get up!" to open their set with 'Disguise'.
Feet lift from the floor and the atmosphere inside the venue is again alive with live music energy! Morrow has his whole horror get up on, including elaborate esoteric stage make-up looking like the symbols are carved into his face with a scalpel – it looks bloody brilliant.
Metalcore mayhem is kept coming at us with 'Necessary Evil', its industrial vibes reverberating in our solar plexus before we are hammered with the rest of a killer set that includes older songs 'Voices' and 'Reincarnate' before we are asked if we like the new album and cheers are returned.
The band then play 'Cyberhex' from said new album. 'Scoring The End Of The World' and 'Another Life' were also smashed out on a stage that was often cast into blackness randomly pierced with bright lights.
Motionless In White - image © Clea-marie Thorne
The familiar sounds of a Killers song, 'Somebody Told Me', drew from us another sing-along and the vibe in the room is warm and fuzzy.
Under a purple wash of lighting, the finale song starts and it is 'Eternally Yours' that gives a false lull at the intro until Motionless belts into the microphone and oh that kick drum! As the song returns to its melodic chorus they have fans singing again at the tops of their voices and warm and fuzzy vibe continues.
The crowd response to Motionless In White is immense tonight – they can rest assured we are eternally their fans who just loved that roses were thrown to the crowd.
A red I Prevail backdrop has taken residence on the back wall and is somewhat obscured with fog pumping out onto the stage. Roaring and cheering, wolf whistles and screams welcomed I Prevail to the stage.
'Bow Down' was the first song to throw us into a maddening frenzy with Eric Vanlerberghe (unclean vocals, vocals) telling us to "get on your knees and bow down" to the first of the 'Trauma' tunes they'll play tonight.
'Gasoline' and 'Scars' are played next and Brian Burkheiser (clean vocals) is telling us that he wasn't going to let a niggly throat stop him from playing tonight's show, but he needed our help to sing the next song 'Dead On Arrival' and sing and shout we did!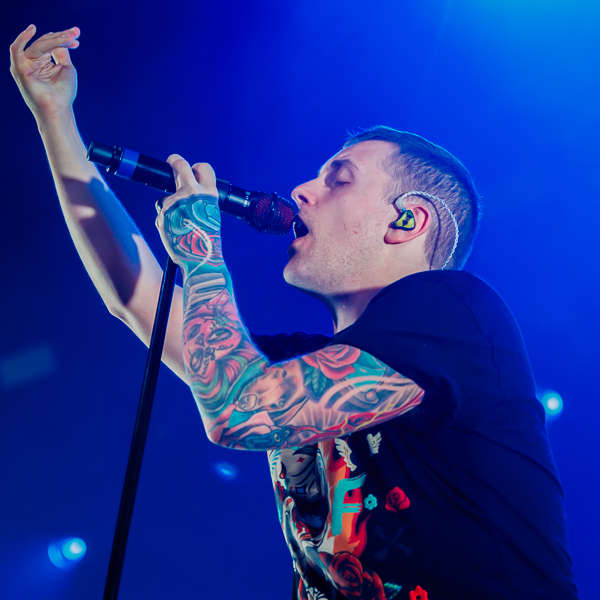 I Prevail - image © Clea-marie Thorne
Vanlerberghe is riling up the crowd by telling us how big their Sydney and Melbourne shows were. We jeer at him our distaste as he's explaining tonight we made the third largest headline show they've ever played.
Proudly we cheer only to be cheekily slapped with the retort we aren't as loud as Melbourne – which promptly got loud "f... you, Melbourne" calls yelled back. This was hurled right back at us with a smile and we are hearing the intro to 'Hurricane'.
'Rise Above It' has the mosh pit alternating hard and hectic moshing with a nodding of heads and pumping arms in the rapping and melodious parts. Bringing the frenzy back into the pit however is the new belter 'Body Bag'.
This is one brutal song live, guitars are screaming, the kick drum surely is bolted down to stop it from jumping off the stage and Vanlerberghe is killing it with his powerful pipes. Pogoing is happening on the peripheral crowd and a good mosh is relentless in the pits.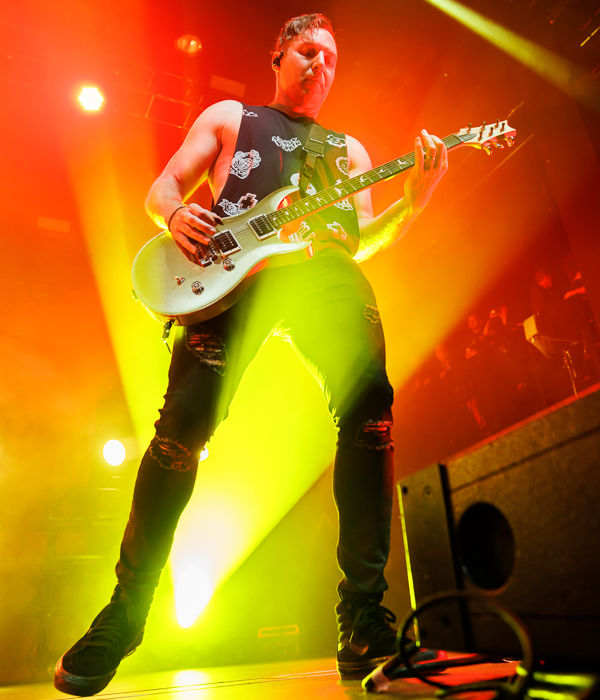 I Prevail - image © Clea-marie Thorne
Burkheiser pipes shine, even with a sore throat, for 'Low' while Vanlerberghe is competing with the crowd even with his microphone as we are collectively screaming along with his guttural vocal fry "when you hit rock bottom!".
The crowd is also helping to sing 'Paranoid' and when the beats fully kick in arms are pumping in time with the chant of "hey, hey, hey. . .'. The song is cut short and Vanlerberghe is saying: "Now Brisbane. It's been quite some time since we been here. So allow me, to take a quick second to introduce to my good friend. . ." and in a growling voice yells "Gabe Helguera!"
His name was the only cue needed for Helguera to let loose and start smashing out a ferocious solo. After a minute slaughtering the skins, he stands for the cheers arms raised high.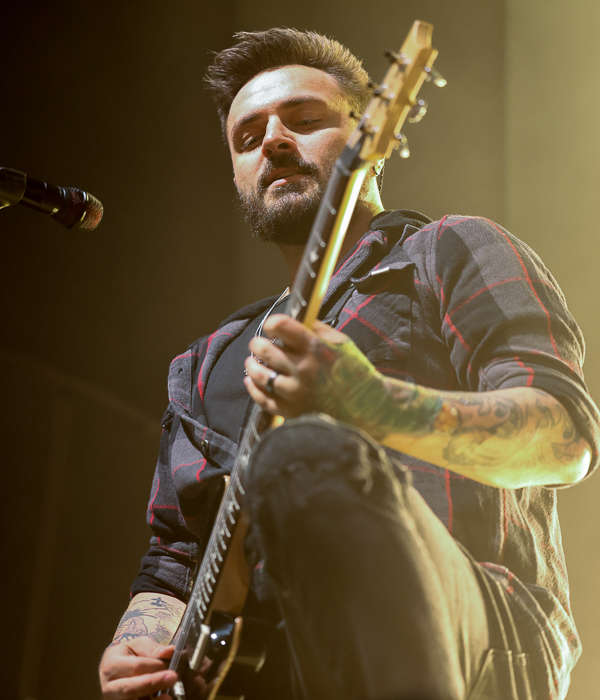 I Prevail - image © Clea-marie Thorne
Burkheiser is asking us how many are here for their first gig since the COVID pandemic – there is really a lot of hands. Wow. I was surprised to see so many that had not yet ventured back to live music.
Burkheiser is now sharing the personal experience of losing his grandparents during the COVID pandemic and how his family couldn't even have a funeral for them, let alone say their last goodbyes. It was fitting he shared this before 'Breaking Down' and we show him much love from the floor below.
Vanlerberghe shows no fear of foot and mouth disease as he obliges punters by smashing down a shoey [blurgh, again!] on stage. The band now tear us new holes in our eardrums with 'Deadweight' and the pit is swirling like a school of piranhas feeding on their prey while punters on the outskirts of the frenzy are jumping and flailing their arms to the music.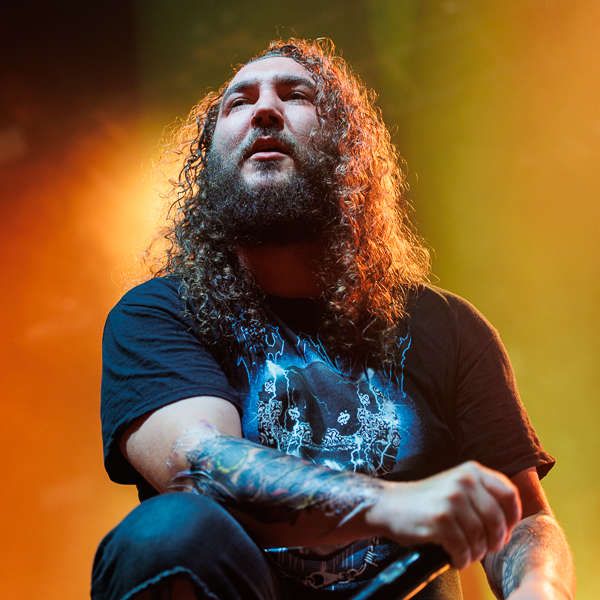 I Prevail - image © Clea-marie Thorne
While that was hectic and all, we're not done and we call it. We are calling it loudly. We want our "one more song". What! Vanlerberghe just let out a "ooooh uh uh uh uh!" A cover of 'The Sickness' (Disturbed)? No. He's just jiving us. 'Come And Get It' is the 'one more song' we having been screaming for, and screamed for some more at the request of the band.
With a show that had very high calibre of talent – from Windwaker and Motionless In White to the mighty headliners, I Prevail – there aren't many bodies on the floor tonight that have not been fist pumping, foot stomping, head banging, or body slamming at one time or another.
I am destroyed in a way that makes me say thank you from the bottom of my heavy metal soul. That is all.
More photos from the show.