It was a full house at the Townsville Entertainment Centre for Guy Sebastian's rescheduled T.R.U.T.H. tour (26 June).


Originally slated for 11 May, the North Queensland leg was postponed due to Sebastian catching COVID – an inevitability for many artists working on the road today.
The remainder of the tour finished on schedule in early June, with Sebastian telling fans at the exclusive soundcheck pre-show he had just returned from a family holiday in Singapore.
Neither illness nor time away did nothing to quash Sebastian's performance ability, singing and dancing his way through two full hours of hits from his latest album and 20-year career.
And yes – his dancing is much better than Justin Timberlake's recent viral efforts.
Sebastian was supported by The Voice Australia 2021 winner Bella Taylor Smith, who proved as much a crowd fave as Sebastian himself.
Bella Taylor Smith - image © Jade Kennedy
Accompanied by her fiancee Josh Cole on guitar and keys, Taylor Smith's unfaltering vocals proved precisely why she won 'Team Guy' the crown last year.
From 'Ave Maria' and 'Time After Time' to Elton John's 'Your Song' and her own originals, Bella held her own on the massive stage, ready to get down to business in a smart pink suit.
The crowd was primed and ready by the time Sebastian took the stage, with everyone from tiny tots to elderly couples creating the anticipatory buzz in the auditorium we've all missed during COVID.
Kicking off the set with 'Before I Go' – the lead single from 'T.R.U.T.H.' released almost two full years ahead of the album itself – Sebastian emerged from clouds of smoke wearing a patent leather jacket that only lasted the duration of one song in the balmy Townsville winter.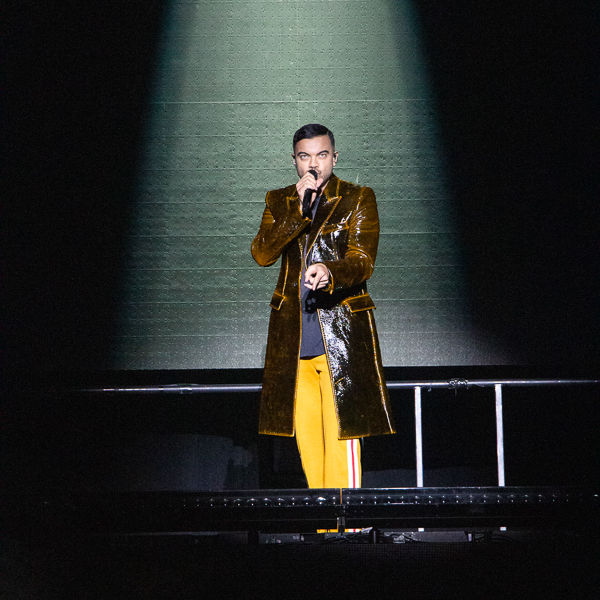 Guy Sebastian - image © Jade Kennedy
Wearing a sleeveless Harley Davidson tee and yellow tracksuit bottoms, Sebastian looked comfortable as he eased into the performance, singing and dancing his way through 'Lean On Me' and 'Who's That Girl' before sharing some banter with the crowd about their "aggressive love".
"It's perfectly acceptable to aggressively yell 'I love you' here, in this environment," Sebastian joked, "but imagine if you did that in the fruit and veg section of Woolies. . . it would be very awkward."
Introducing 2004 hit 'Out With My Baby', Sebastian asked some younger members of the front row how old they were. "You were negative eight years old when this song came out," he told one 10 year old, before joking that at the time of the song's release he "had hair like [backing singer] Carmen," and probably "looked like I ate Carmen as well".
Lulling the audience into the quieter part of the set, Sebastian brought things down a notch with 'Angels Brought Me Here' and 'I'm Your Man' before settling in for some piano solos.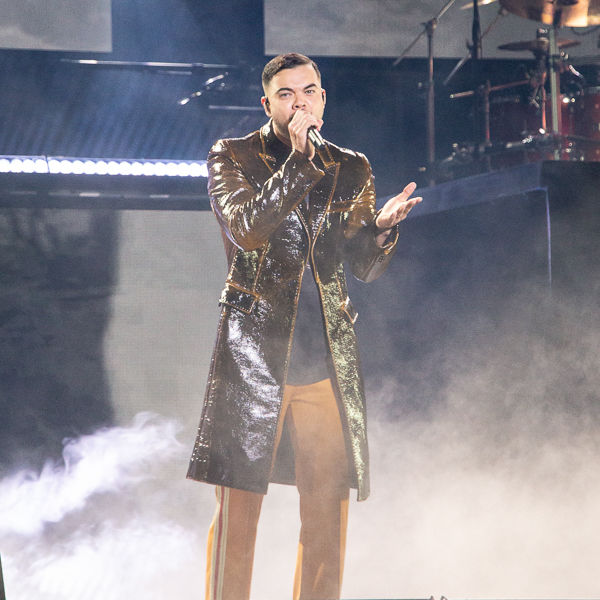 Guy Sebastian - image © Jade Kennedy
The multi-storey LED backdrop provided stunning visuals throughout the set, but none more so than during 'In A World' – a tribute to his youngest son, Archie. It also proved a solid distraction to Sebastian's quick wardrobe changes backstage, while the band – including a three-piece string section – and backing singers: Carmen, Vince and Gary continued the show.
Bringing the vibe back up with 'Bloodstone' and 'Believer', Sebastian then launched into both parts of 'Battle Scars' – yes, including Lupe Fiasco's rap – before re-introducing Taylor Smith, who had changed into a stunning floor-length gown.
Performing 'The Prayer' by Andrea Bocelli as well as Sebastian's hit song with Jordin Sparks 'Art Of Love' together, the palpable mutual respect from both singers turned this section of the show into an emotional one.
"We're sitting there some of ['The Voice'] days for 15 hours, 16 hours – they're really long days, and sometimes it starts getting a little bit like, 'Oh man, is someone special gonna grace that stage? Am I gonna be moved and want to cry? I just need a voice that's going to hit me in the guts and in the heart,'" Guy told the crowd.
"Bella was the last audition on this particular day, and I just remember I was so tired but I was just like – slamming that button down just hoping that Bella would pick me; and none of the other coaches would've taken her on tour."
After lightening the mood more with a quick selfie, Sebastian shone the spotlight on his backing singers introducing the crowd to Gary Pinto, who has been performing with Sebastian for many years but also had his own industry success with vocal quartet CDB.
Inviting Pinto to take the lead on CDB hit 'Let's Groove' as well as a cover of Sam Cooke's 'A Change Is Gonna Come', Sebastian turned to backing vocals and harmonised with the trio after plugging Pinto's new album – 'Sam Cooke: The Music'.
"One of my favourite singers of all time – he's known as the king of soul – is Sam Cooke," Sebastian said, telling the younger crowd members to look up Cooke's music.
"One of my favourite songs Gary's recorded, he's got an album called 'Sam Cooke: The Music – it's incredible, the producer just worked on Prince's last record."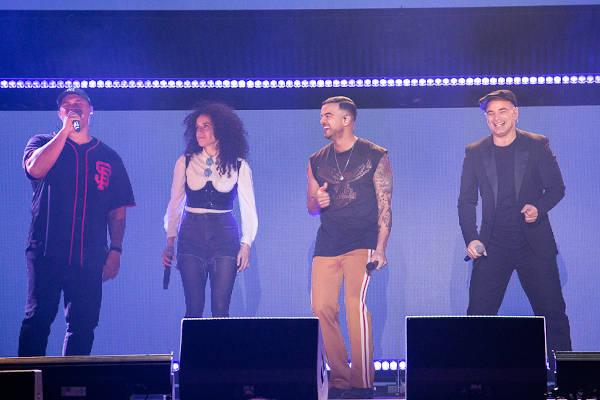 Guy Sebastian - image © Jade Kennedy
After repeatedly stopping during the show to ask the crowd if they were in a rush to get home – "I just keep throwing things in, we could be here all night," he told them at one point, to screams of delight – Sebastian rounded out the set with 'Like It Like That', 'Gold' and 'Like A Drum'.
Returning for the encore, 'Choir', Sebastian divided the crowd into three massive sections in a rushed, all-age version of Pub Choir. "You guys keep singing that," he told section one, leaving Vince to keep their vocals on track as he introduced sections two and three into the fold.
Possibly the highlight of the night was Sebastian telling the crowd about The Sebastian Foundation's fundraising efforts, which included donations from the tour.
"I've got this walk that I'm doing in a few days. . . I need a drink just thinking about this walk," he joked, with one fan yelling: "You can do it!" from the side.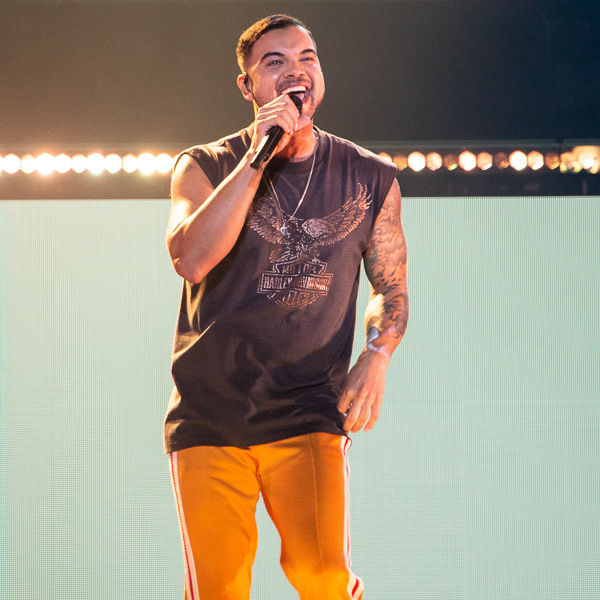 Guy Sebastian - image © Jade Kennedy
"It's 500kms – how far is Cairns? How many kilometres away is Cairns? 350? It's like walking to Cairns and then sort of a third of the way back," he said.
"I've been really busy trying to fundraise, doing golf days and performances where they contribute to the foundation – we're up to $850,000, and a hundred of that is from you guys, and you don't even know it, but from the tour I'm donating $100,000 to this amazing initiative."
Sebastian then announced he was donating $50,000 to Townsville charity NRL Cowboys House, who provide supported accommodation for young Aboriginal and Torres Strait Islander students from some of North Queensland's most remote and educationally disadvantaged communities, enabling them to access quality secondary education opportunities in Townsville.
More photos from the show.