Lizzo reigned supreme in Brisbane for the first of the travelling FOMO 2020 shows (4 January), with her exuberance and verve a standout.


The festival, which began in 2016 in the Queensland capital, aims to operate via a 'good vibes only' ethos and that was perfectly showcased during Lizzo's uplifting set, which saw the top-charting artist joined on stage by an all-female support crew (DJ Sophia and the Big Grrrls dancers).
The 2019 Time Magazine 'Entertainer Of The Year' obviously got the memo that flesh, mesh and fluro was 'in' – a mixture of these trends seemed to feature in most female outfits seen throughout the festival – and she entered the stage to huge cheers wearing a zebra-print leotard sporting the title of her hit 'Good As Hell', a bright teal shrug halter top, fishnets and flat boots.
Lizzo - image © Charlyn Cameron
In her first visit to Australia, Lizzo ran through most of her hits ranging from 'Good As Hell', 'Cuz I Love You', 'Worship', 'Scuse Me' (which featured a conga line of twerking), 'Water Me', 'Jerome', 'Tempo', 'Boys', 'Soul Mate' and 'Juice' before wrapping things up while sporting a veil and featuring a live flute interlude, with 'Truth Hurts'.
Click here for more photos from the festival.
She was also a winner when it came to audience interaction. "My name is Lizzo and I'm all about body positivity and self love and I am 1,000 per cent that bitch!" she roared to the approval of the crowd, which featured a surprising and pleasingly high number of males.
She went on to label everyone "thick bitches" (in the best possible way), and even called on the crowd to support the festival's bushfire fundraising initiative.
While Lizzo seemed to be the artist most fans had come to see, USA collective Brockhampton and a rising star of Aussie hip hop where next on the list.
The kids were doing the opposite of Chillinit when Blake James Turnell and his mates hit the stage in the afternoon heat.
The Sydneysider saw the crowd surge as the set started with the hitting of tennis balls into the audience with cricket bats before running through a number of tracks including 'One Breath. One Take', 'I Wish You Well', the Hilltop Hoods drenched 'Freedom' before closing with 'Wish You Well Pt 2 (It's a Vibe)' where he launched himself into the crowd.
Chillinit - image © Charlyn Cameron
However, throughout his set, some fans were a little too enthusiastic, which made him invoke "the 420 family" and put out a call for everyone to look out for each other.
Earlier in the day, Bao opened the shared stage at the same time as the gates did, leaving it to Ninajirachii to greet the eager punters. In her mind, it's never too early for some bass-heavy beats. . . or Venga Boys.
Next up, French house producer Dombresky and his red gloves put in an upbeat set before Whipped Cream brought the bass sounds back, dropping some slower, deeper, tunes. She fought back from a momentary equipment failure like a champion, showing a sense of humour by triumphantly blaring the 20th Century Fox fanfare before launching back into her tunes.
Rico Nasty - image © Charlyn Cameron
Despite having to contend with arguably the worst of the heat, rapper Rico Nasty showed 100 per cent commitment to her outfit of knee-high boots, leotard and oversized jacket as she spat her rhymes in a distinct southern style.
Veteran of the UK scene, Giggs showed his experience as a performer and entertainer commanding the stage despite a simple setup.
Dealing in a deep and dirty British hip hop sound (just don't call it grime), in his short slot he rolled through a few notable tracks like 'London Town' (his collaboration with Mr Eazi) where he threw in a Brisbane reference or two before ending with 'Whippin Excursion'.
Giggs - image © Charlyn Cameron
Another big crowd gathered for Meduza (Mattia Vitale) who bookended his set with two of his biggest hits. Kicking off with 'Lose Control' (featuring Becky Hill and Goodboys), the Italian producer had the crowd dancing throughout with a smooth mix, despite feeling the heat (literally!) on stage. "It's hot out there, don't worry it's hot up here too," he said as he battled the elements in an elegant silk shirt.
He finished on a high note, with 'Piece Of Your Heart', again featuring Good Boys, garnering a huge audience reaction.
The UK's Jax Jones followed that up with some buoyant cuts of his own off his debut album 'Snacks (Supersize)'. Flanked on stage by giant inflatable bottles of sauce; the producer, singer, songwriter and DJ bounced around the pop genre where he has worked with plenty of big names.
However, he has dance roots and happily dropped tracks most notably from Fisher ('Losing It') and Piero Pirupa ('Braindead'). An animated likeness of him dancing in the background was a fun presence throughout his set as well.
There was a slight delay before A Boogie Wit Da Hoodie could get his set started as there was a struggle to contend with the giant inflatable hand designed to hang over the stage.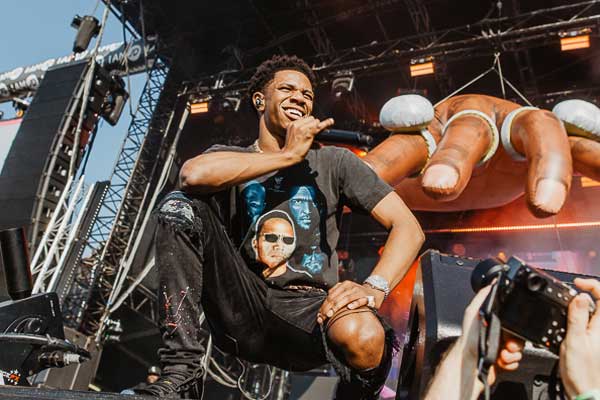 A Boogie Wit Da Hoodie - image © Charlyn Cameron
No matter, and with hype man in tow, the emerging artist soon threw himself into his set, which also included a tribute to Juice Wrld.
French producer Madeon had the unenviable task of following on from Lizzo's rip-roaring set; but his sparkly pop-tinged offerings saw him steadily rebuild the crowd, who had a smile on their face as they danced along to tracks like 'All My Friends' and 'Shelter', his collaboration with Porter Robinson.
Texas-formed, California-based rap crew/ boy band Brockhampton were undoubtedly one of the festival's highlights, with their high energy and visually arresting performance. Six of their members hit the stage, all clad in bright orange overalls (as seen in their 'Sugar' clip) and they engaged their fans with their (mostly) coordinated dancing as they blended their individual rap styles with some smooth vocals.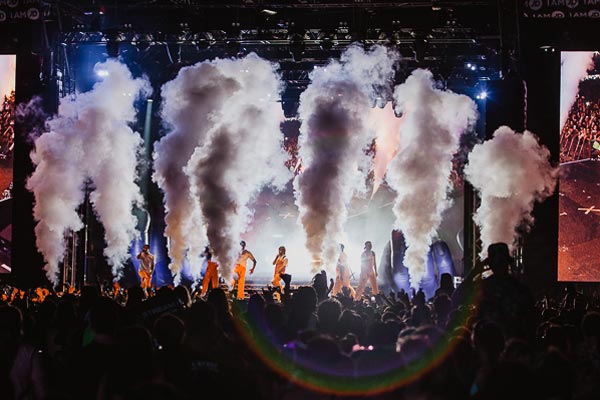 Brockhampton - image © Charlyn Cameron
With five studio albums to choose from, they were never going to be able to make all their fans happy by playing all of their key songs; however, they did a pretty good job of showcasing tracks from the successful 'Saturation' trilogy as well as 'Iridescence' and their most recent 2019 release 'Ginger'.
While some punters were disappointed not to hear 'Sweet', the group made their way on stage with Rihanna's 'Stay' before launching into 'St Percy's' and running through tracks such as the trippy but undeniably catchy 'Boy Bye', ballad 'Bleach', 'Gold', 'Gummy', 'Queer', 'Zipper', 'If You Pray Right' and '1999 Wildfire'.
They were happy to mix up and change the tempo; in 'Sugar' they got the crowd to sway their arms from side to side before revving everyone up with 'District' and 'Boogie' which were performed with huge energy.
They then closed with the emotional 'No Halo', to leave a gentle glow that continued to permeate within the crowd that remained to catch Kaytranada.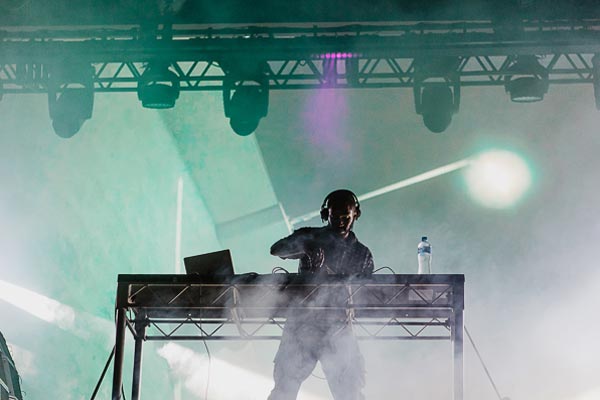 Kaytranada - image © Charlyn Cameron
His smooth blend of funk, disco, house and hip hop wrapped up in songs like 'You're The One (featuring Syd)', his reworking of Chance the Rapper's 'All Night' and remix of Janet Jackson's 'If' was a fitting way to close the festival.