It's Wednesday night (4 November) and the magical musical coupling of Brisbane's punk pioneer Ed Kuepper and Queensland Symphony Orchestra (QSO) is about to take place at The Tivoli.


This collaborative performance is not the first between the two creative entities – it's a revisit of their 2017 collaboration (also performed at the Tiv). The chatter in the room confirms many punters are back for a second helping, while others are eager to have their first taste.
The stage is chockers and looks like an orchestral minefield! Crammed across the stage are music racks with sheet music, a rostrum, chairs and Kuepper's guitars and foldbacks.
Along the left wing stands a marimba/ vibraphone (or some xylophonic relative, I'm no expert in that area), a bass drum and drum kit. Over on the right there's a double bass, cello and bringing the tones, Timpani drums – if there was anything else back there, I didn't see it!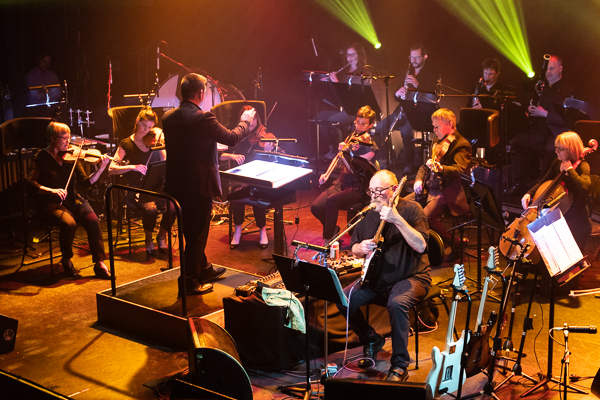 Image © Clea-marie Thorne
Aside from the assortment of guitars Ed has for the night, including what I believe is his old red Gibson, also on strings are five violinists, a cellist and double bass player – mmmmm, those low pitches.
Once the musicians take their place on stage, you note that wind instruments come into the mix, seated at the back of the stage. It is a neck stretch to count, but I believe about 18 QSO musicians are on stage with Kuepper.
Kuepper needs no introduction as one of Australia's iconic musicians, but Kuepper fans may not know that tonight's conductor Dr Peter Morris has an impressive career, including working with the Queensland Music Festival.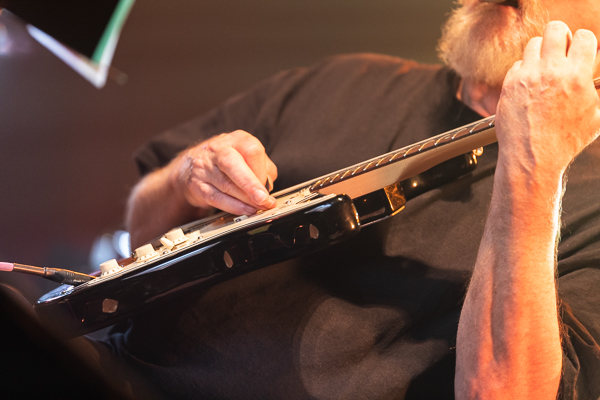 Image © Clea-marie Thorne
The opening track is an instrumental and moving piece 'Ghost Gum', a song Kuepper did for the soundtrack to the movie, 'Last Cab To Darwin'. A delicious morsel for those who were here to experience their first taste.
This track ran into 'Pavane' as Kuepper joined in with QSO to give punters the entire album of 'Lost Cities' in order.
More photos from the concert.
In between songs, Kuepper tells the crowd how in 2020, he has done the "least amount of shows in a year", in his entire career and warns he may be a little "out of practice".
Highlight from the 'Lost Cities' songs are 'Friends With The Leader'; Kuepper gives a quick nod to the US election and also states he "talks too much between songs".
Queue Morris, who motions the Orchestra to set upon the song eliciting a big drive out of the wind section – this one swings on full orchestral support; Morris's feet tell the punters he is clearly enjoying the heck out of it while Kuepper seems to take it in his stride, eyes shut and playing on muscle memory.
Kuepper will do this often throughout the set. I am sure he can play everything he has ever written in his sleep.
Image © Clea-marie Thorne
'Fever Dreams' is another highlight – this time the Orchestra starts out with Irish fiddle overtones before it is taken over by a foot-stomping blues romp, a glorious accompaniment to Kuepper's fretwork and gritty vocals that sound just as they did oh so many moons ago.
As if a full album wasn't enough for punters, Kuepper brings it all home with the QSO performing six oldies and crowd favourites – personally, it was like he saved the tastiest morsels till last.
After 'Honey Steel's Gold', from his ARIA Award-nominated album of the same title, Kuepper then shows a bit more of his humour. He tells us he is the next James Bond, as his next song "has the James Bond twang".
'Collapse Board' is what he is twanging on about, and it gets full orchestral tightness but somehow Kuepper's vocals seem to find spaces to dive into so we can hear his organic, low-pitch pipes.
Next is 'Horse Under Water' from 'Today Wonder', and this transferred so well from an acoustic setting to an orchestral one it took me on a magic carpet ride – loved the Symphony on this.
Image © Clea-marie Thorne
'The Way I Made You Feel' is played second to last with happy tones and joyful notes streaming out from the Orchestra and it seems this is a well-known track among the crowd.
At its conclusion, Kuepper asks the crowd if it is ok to pretend they have exited the stage – considering the manoeuvres required to leave and come back to do an encore. The crowd played along and gave a cheer for an encore and our entertainers gave smiles all round.
'Electrical Storm' was then played as the final song, which is the title song from his first solo album. This showcased how Kuepper still retains his guitar prowess, no matter how out of practice he says he is, for the final time of the night.
The older songs were mostly my favourites and got the most punter reaction. However, the whole evening was a moving and unique experience and the surroundings were perfect.