"I'm sure this place is haunted," Darren Hanlon announced to the audience gathered at Brisbane's Sandgate Town Hall (16 July).


Fans had already witnessed two technical mishaps: a switched-off microphone ruined what Darren promised was going to be "a really impressive intro"; while a loose plug overwhelmed an acoustic guitar with unwelcome crackling.
It's almost enough to send a chill up one's spine. But despite the best attempts of the northern Brisbane suburb's ghosts, the sold-out crowd's spirits were high as the Gympie singer-songwriter performed in support of his recently released sixth album, 'Life Tax'.
As the Hall's clock chimed, Melbourne singer-songwriter Leah Senior tiptoed on to the stage for her opening set. The attentive crowd hushed as her fingers softly picked her guitar strings, weaving folk melodies as delicate as a spider's web, the only other sound being wine glasses being gently placed on the wooden floorboards.
Moving to the grand piano on the stage, Leah closed her set joined by guitarist Jesse Williams, drummer Dylan Young, and backing vocals from Zoe Fox.
Together, the group performed Leah's sunny tune 'Evergreen', featuring a rhythm perfect for the babies in the audience to bounce along to, and a melody that fit our coastal location.
Leah Senior and her accompanists returned to the stage performing double-duty as Darren Hanlon's backing band, often swapping instruments between each other and showing great skill with everything they touched.
Darren has long shown a knack for a breezy melody and witty word-craft, as he highlighted: "The word count is probably going to be higher than any other gig in Brisbane."
And those skills were on fine display in the latest additions to his songbook, from the maudlin piano-led 'Christmas Beetle' to the country shuffle of 'Call On Me'.
A highlight of the new bunch is the bright, bouncy 'Lapsed Catholic' detailing his 'childhood of Sundays' as an altar boy and aiming a critical eye at Catholicism's flawed views.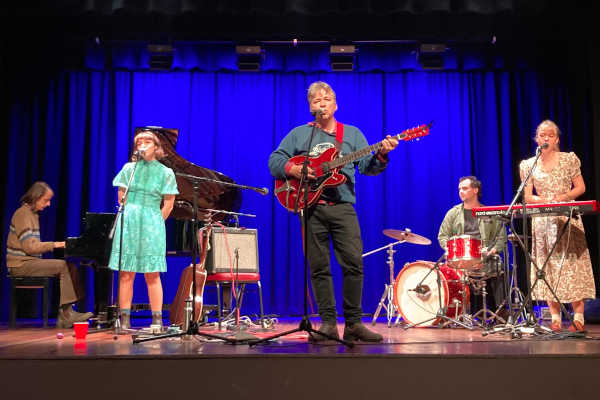 Image © Geoff Wilson
His wit shined through in between songs, where he used the breaks to regale the crowd with hilarious stories collected from his many years as a touring musician. Fans were treated to anecdotes about encounters with spooky bowls of Coco-Pops, his brush with Peter Garrett, and quelling the anger of a group of tradies with a fake Cold Chisel song.
The ten-minute-long new song 'Freight Train From Kyogle' sounds like it could have started life as such a monologue, detailing Darren's youthful attempt at train hopping, accompanied by a shuffling beat reminiscent of Dylan and roars of laughter at his misadventure.
The laughs were followed with cheers of recognition for classics such as 'Happiness Is A Chemical' and 'All These Things'. However, the greatest noise came when Darren was alone on stage asking if anyone had any requests.
The hall echoed with calls for deep cuts and old favourites, but all approved of Darrens's choices of 'Punk's Not Dead', 'Squash', and 'Falling Aeroplanes'.
The band returned, and Darren continued interacting with the crowd. Upon learning one fan came all the way from Lismore, he quickly taught the band chords for an impromptu performance of '2480', an ode to the town dating back to his '90s band The Simpletons.
As the last note rang out, Leah's hands cupped her face, delightfully shocked at the moment that just happened.
When the closing notes of 'The Unmade Bed' reverberated off the Hall's walls, Darren put down his guitar and gave a wave as he left the stage.
Applause soon turned to calls for an encore, and the floorboards shook with intensity that could wake the dead. Thankfully the ghosts were absent, and Darren returned with a battered acoustic guitar, joyous for one final round to cap off a delightful night.