It's a Thursday night (9 June) and yes siree, I am out on a school night for some live music action!


Destination? That'd be King Lear's Throne in Fortitude Valley (Brisbane). To see? DAMIEN launch their self-produced EP 'Wrong Age. Wrong Race. Wrong Gender'.
DAMIEN (Damien Johnson) is sharing the fun of their launch not just with punters but with two support acts.
The opening act is a Brisbane-based duo, David Gale and Mark Lingane, as
Karoshi
(translated as death by overwork). I was recommended Karoshi by a mate and I was not disappointed.
What better way to vibrate away the stresses left over from a full-on workday than with intense, heavy and chunky guitars, hefty programmed sounds and super-thick beats. I sure don't want the fate of Karoshi and I let the bass wash over me and cleanse me of my 9-5 stresses.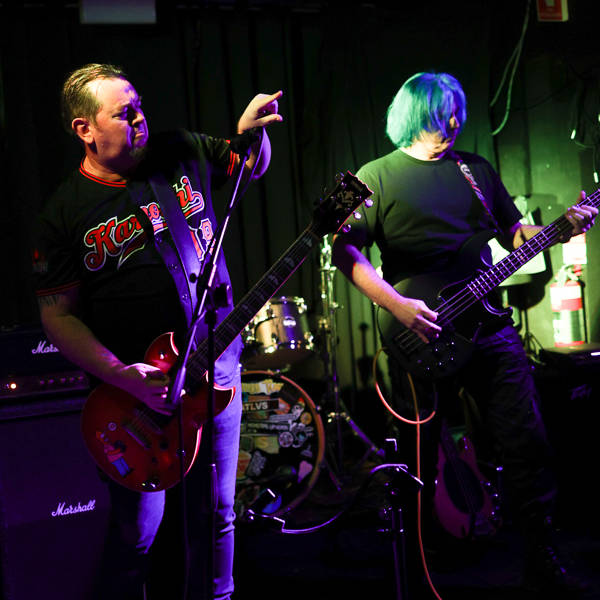 Karoshi - image © Clea-marie Thorne
No stage fright or nerves from Gale or Lingane! They take to the stage like the seasoned pros they are, with all the self-confidence and attitude of tigers without any pretentious display. Although Lignane's hair is looking peacock bright in this light – jokes, it's all rock & roll, Daddy-O!
Karoshi attack us with bursts of brutality that's vibrating the heck out of my work week and has me feeling invigorated. Their live performance has me soaking up a variety of '90s and '00s flavours and two that come to mind are Powerman 5000 and Pitchshifter that stand out at times above the lingering vintage electro metal palate.
With enormous presence the duo are making enough glorious heavy dance beats for six band members. They have definitely scored themselves some new fans tonight and I feel like their set is way too short.
While they pack down and the next act Sailing In Space prepares to set up, both venue rooms are buzzing with chit-chat – there is such a super-friendly mood in this joint. It's like you're hanging out in your own rumpus room or bar area.
So nice to be among likeminded and good-natured punters. No jocks or jockstars, just local rockstars, fans, venue operators and punters getting their dialogue on.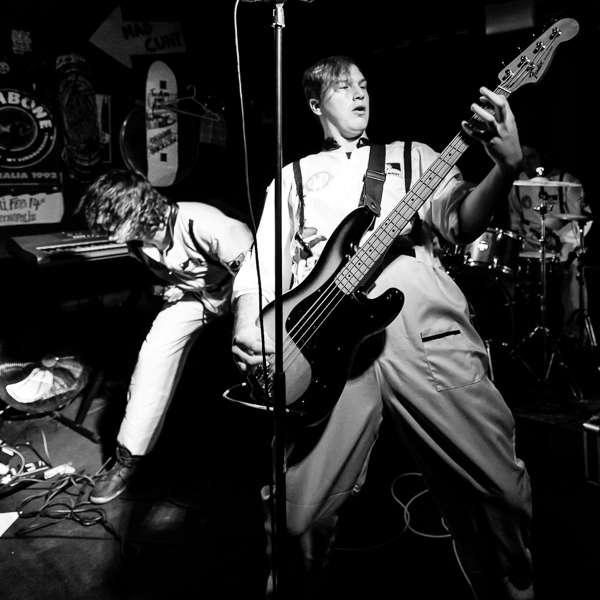 Sailing In Space - image © Clea-marie Thorne
Sailing In Space are brothers Jesse Randall (vocals, keys) and Dylan Randall (bass, drums, vocals, programming) from Nambour – yet there are three cosmonauts onstage. Either the brothers have evolved their groove into a trio format, or picked up a travelling drummer on their orbital flight to the gig – tonight they are a trio.
Electro punk-pop beats come at us with a ferocious and infectious energy. At one point Jesse – who has been unable to remain still on stage for a second – sits on the end of the stage and has us thinking he is unwell (I suspect this may be a ploy as they introduce their song about feeling sick).
Dylan on bass and the hitchhiker on tubs are swapping instruments for a few songs as Dylan has hand cramps – this is leaving Jesse to brave cracking a Dad joke about suits before introducing their song about cheap suits.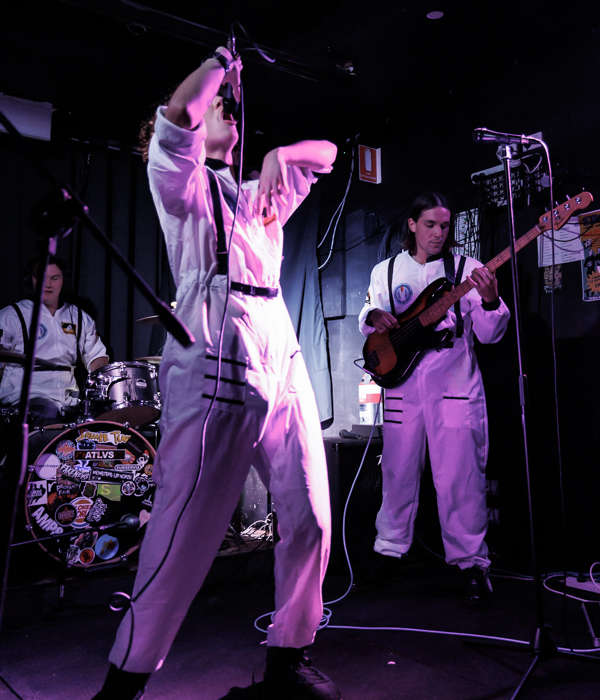 Sailing In Space - image © Clea-marie Thorne
A stellar set and watching them jump around had me wondering if the stage had anti-gravity properties. Punters got right into their track 'Like It' with its spicy, salsa-style beats and catchy chorus. What a banger that hooked them some new followers who they have primed well for the main act.
DAMIEN is quick to take to the stage to launch their new EP and there is a cheer from the crowd and a couple of whistles welcoming them on stage. All falls quiet as they choose to start this celebration with a melodic a capella start of 'Dreamer', the last track from their new EP. It's sublime.
DAMIEN may identify as queer but they show us they are no prima donna as Snap, Crackle and Pop (aka technical issues) are making random guest appearances in the equipment during their first few songs, which I might say are all scoring much higher than '2 out of 10'.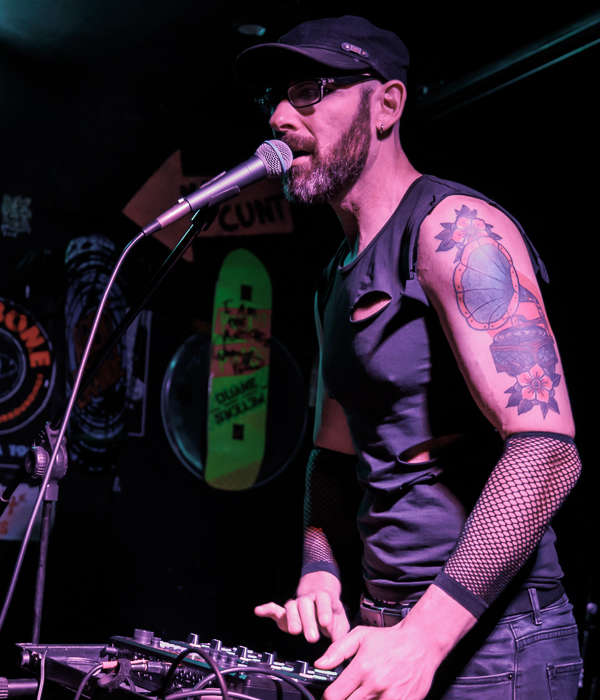 DAMIEN - image © Clea-marie Thorne
DAMIEN and punters are unfazed by this added texture but after the third song, the venue owner come sound techie (clearly a clever and welcomed jack of all trades) comes in to identify where the mischievous trio are hiding – in a direct box and he evicts them to resolve the glitch. Nice one! Hurrah!
The unfazed artist is now getting back to doing what they does best – that is, entertaining us without being bothered if we are being bothered, as we are not going anywhere.
We are ready to get on with bopping and grooving along to 'Human' as DAMIEN signals for punters to come closer. They continue on with a magic set that includes all the songs from their brand new EP and former album 'Girl'.
DAMIEN is owning the stage, singing with conviction and brutal honestly with a lyrical knack of exposing life's inequities and injustices even beyond the bounds of age, race and gender while transparently sharing personal challenges others may find relatable.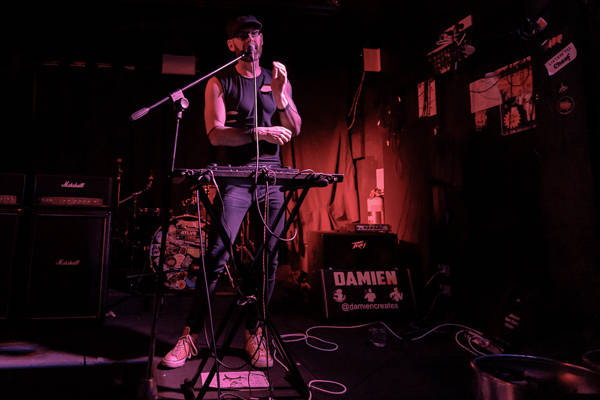 DAMIEN - image © Clea-marie Thorne
All the while this dynamic performer is executing their signature deck stances. I swear their voice is getting richer with each live performance I see.
Punters get excited as DAMIEN's jumping off stage to dance among us in the darkness before leaping back onstage behind his deck keeping at least one body part moving at all times. They are either tapping their toes or jumping around behind their deck, beside their deck or on the floor with punters in front of their deck!
There are many punters in the room that know DAMIEN's work well. Fans are singing along and know all the stops, starts and the more gradual tempo changes of their songs as they are dancing, bouncing or like me just nodding along absorbing the lyrics and intricacies of the music.
The vibe is warm, smiles are on most faces the rest have eyes closed and lips pursed, as they are basking in the tunes.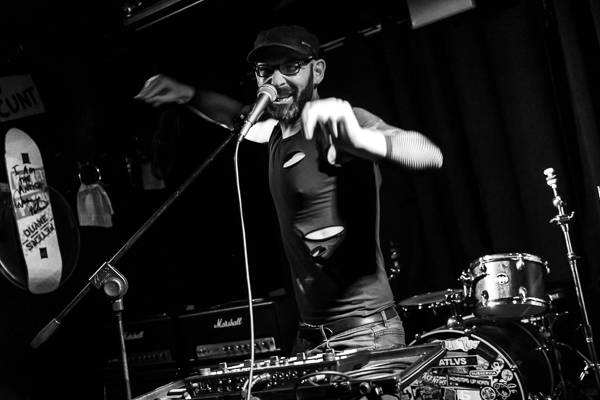 DAMIEN - image © Clea-marie Thorne
It is very fitting that DAMIEN's 'The Valley' is making the set list for the album launch, being it is indeed a wickedly witty song about Fortitude Valley. While being pun perfect, it also has a serious tang – have a listen. I think it's marvellous that they're writing songs about our city and recording them.
I am now digging the cynical and sexual flavour laced with a nu-wave undercurrent of their song 'Porn Star' ahead of 'Melbourne Afternoon', which unlike 'The Valley' I don't think it is about Melbourne at all. 'Body' is one of my favourites from the EP and reminds me a little of Depeche Mode.
Throughout the set DAMIEN has an energy for performing, enthusiasm for creating and a lust for making, playing and sharing their music and thoughts of life and love with others. The ability to make you sit up and listen and challenge generational thinking is very strong with this artist.
This EP is definitely something he should be proud to gift to the world. Many will resonate with his messages, some may only come for the energy of the beats, but I am guessing that many will follow his art for the synergies of both.
DAMIEN - image © Clea-marie Thorne
What is live music without the occasional imperfection. Strings break, drums sticks break, mic leads fail and direct boxes come under siege – to me it is actually the imperfections that can make it perfect.
I consider this launch to be an intimate bonding for all present tonight because only we were part of the live action and their story – the story of honesty and hope through awareness and of a fantastic unleashing of new music to the masses tonight.
Hot off the press, 'Wrong Age. Wrong Race. Wrong Gender' just made 4ZZZ's Album Of The Week. Congratulations, DAMIEN.
More photos from the show.