Adelaide's Bonython Park has been the home of the head-banging metal extravaganza Soundwave and the stein guzzling German beer and cultural festival Schutzenfest.


But it has never hosted anything like Summer Sounds Festival, a music festival that is not only COVID safe but also, in many ways, more enjoyable than the pre-pandemic equivalent.
Prior to COVID, we all knew the music festival routine. You meet up with your mates, either outside the gates or the pub around the corner for pre-drinks. You line up together, get your wrist band together, maybe see the first band together, then someone says: "I'm heading to the bar."
While they wait in the snaking line for a couple of cans, you shoot off to get a sneaky hot dog or the rarely pleasant trek to the communal portaloos and you spend the rest of the day and night playing SMS tag and hide-and-seek.
At Summer Sounds, though, you and three-to-five mates are penned into a pod: temporary metal fencing, or, in the VIP, a more civilised white picket fence. You have a bin, a square white tub for drinks and bar staff at your beck and call via app drink orders.
The cans or bottles of wine arrive promptly – certainly quicker than wandering to a bar – and you never miss a moment of the action on stage, which is simultaneously visible from a pair of screens on either side of the stage.
Image © Saige Prime
You can sit and converse with your friends easily (choose your fellow peas in pod wisely) and maybe even wave and call to your neighbours – shout-out to the cheerful fella next to us who was quick at the draw with his finger pistols every time he walked by.
You can even stand up and dance. You just can't dance with strangers in a sweaty throng. Some punters bend the rules a little by dance walking to the toilet.
For the bands, though, the format does pose some challenges. Co-headliner Mallrat graced the stage (15 January) in a black KISS tee, and it was appropriate because a socially-distanced festival is not too dissimilar to stadium rock.
The spacing of fans and the capacity to talk in your pods, means it's more challenging to capture and maintain the attention. Why do you think Gene Simmons and Paul Stanley wore facepaint, head-to-toe leather and wielded flaming guitars?
Mallrat, with her exuberant personality and between-song banter, bag full of triple j hits like 'Charlie', 'Circles' and 'Rockstar', and Japanese Wallpaper aka Gabriel Strum on the decks, had no trouble getting the pods popping.
Mallrat - image © Saige Prime
Gab, Mallrat's housemate, was her third pick, with her two previous DJs sidelined by border restrictions; not a bad COVID-collab and sharehouse success story.
Before introducing 'UFO', she gave a shout out to "the prince of Adelaide" Allday, who featured on the track. It was little moments like that which built engagement.
Cub Sport also had some stadium rock ready aspects to their set. Lead vocalist Tim Nelson wore full-body black leather, but no face paint, and the lighting and cinematic visuals beamed onto the screens for their Like Nirvana-heavy set was impressive.
There wasn't much audience interaction though, and some notable omissions from the set list; Mallrat didn't make an appearance on stage for 'Video' (which she features on) and their recent cover of Powderfinger's 'These Days' would have been a festival favourite.
The Mallrat absence could have been caused by COVID complexities and not being able to squeeze in a preshow run-through maybe. Anthems like 'Party Pill' and set closer 'Come On Mess Me Up' had the pods set to burst, but there was definitely a mid-set lull.
On an unseasonably cold summer night, the early evening was heated up by a pair of soulful young voices: Stellie and Sycco, who both, despite their diminutive statures, filled the stage with their charisma and expansive voices.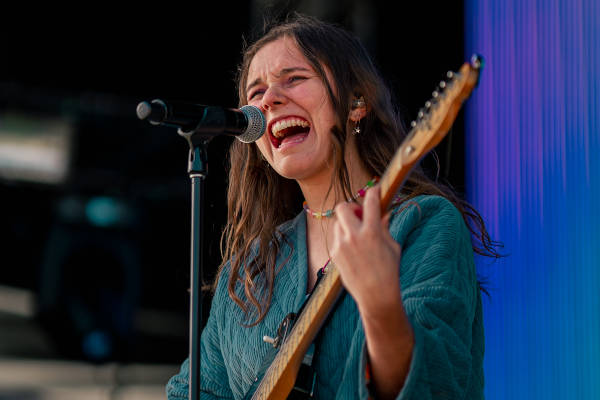 Sycco - image © Saige Prime
Sycco's 'Dribble' is a 2020 ear worm and Hottest 100 shoe-in.
If you are hesitant to invest in a Summer Sounds pod because it seems unusual or abnormal – don't be.
Sometimes change, even forced change, is for the better. Sometimes you don't realise how much you've been missing live music like this until you are back in front of the stacks of speakers.
Once you do remember, you'll be back for more, for as much as you can get.